How to go night fishing – your big summer guide to all the essentials
Want to know how to go night fishing? Matt Sparkes is here to help you catch more carp and other fish after dark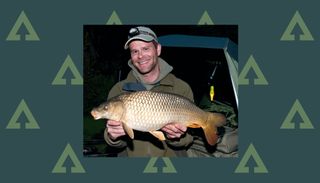 (Image credit: Angler's Mail)
Welcome to Advnture, the new home of AnglersMail.co.uk
At the minute it's hard to know how to go night fishing. Night fishing, unlike camping (for now), is permitted again in England. Many venues are allowing it – but do check before you travel to avoid disappointment.
Overnight sessions during the hot months of June, July and August will often yield the best sport.
Night fishing is the key to unlock venues which see heavy pressure during daylight hours. This pressure can see the inhabitants switch off the feed.
They may only get their heads down for a bit of grub during the hours of darkness, when the lake goes quiet and bankside vibrations and criss-crossing lines have disappeared.
Plus you'll be there for those magical sunsets and dawns… the kind of moments we all dreamed about during the UK's full lockdown.
The key factor for any all-nighter is organisation. Night fishing can be a fairly miserable experience if you are undergunned for a long night of darkness.
Be sure to go well prepared with the appropriate kit and night fishing can be an exciting and very rewarding part of your fishing.
Sit there with a hot mug of tea or coffee, watch the sun rising and you'll soon be drawn into it – this can be very addictive stuff!
Below are 20 top tips for better night fishing sessions, with pointers to useful products, too.
If you enjoy hiking, camping and the great outdoors, there's plenty for you on Advnture:
• The best head lamps for outdoor pursuits
• Best sleeping bags: get a good night's sleep camping
• Best camping stoves: essential for cooking up a camping feast
How to go night fishing: why you need to get organised beforehand
Carp pools of all shapes and sizes take on a completely different character at night.
Having everything ready before the sun begins to set is far better than trying to sort your swim out in the darkness.
Sitting quietly, watching the water with all your kit well organised around you means less bank disturbance and more quiet time to wait for your alarm to suddenly burst into life.
The water can come alive too as canny fish which refuse to feed during the day will let their guard down and begin to confidently pick up anglers' baits.
How to go night fishing: why you need to take a torch
Fumbling around in the inky darkness is asking for trouble when night fishing.
Taking a couple of lights with you helps to quickly locate items of kit, tie rigs and bait up.
Modern LED lights are far superior to the earlier versions, and those traditional bulbs of old.
Most LED torches give enough beam to illuminate your immediate vicinity. You'll easily get ten times the battery life compared to old style bulbs.
Head torches are tops for hands-free illumination. Maybe it's time you treated yourself to a new one?
How to go night fishing: should you use a summer shelter?
Summer nights usually offer pleasant mild conditions, so those bulky twin-skinned bivvies can comfortably be replaced by a single-skinned brolly type shelter.
Decent robust screw type pegs will secure your shelter against windy weather and storm sides offer that extra protection, should it rain.
This storm shield brolly easily accommodates my bed chair and luggage. It weighs very little and can be easily stored away in even the smallest of rod quivers.
Many major carp and specimen manufacturers now have really quick and easy to assemble shelters, for those cheeky overnighters.
But if the weather is fine, a brolly may be all you need.
Some hardcore anglers will sleep raw, under the stars, on hot nights… but that's not for everybody!
How to go night fishing: why you need to take a hot drink
A decent hot meal is very welcome, but a mug of hot tea or coffee is absolutely essential on all night fishing sessions!
I personally wouldn't even contemplate doing an all-nighter without facilities for making a brew at first light.
Leave those bulky gas cookers for camping holidays, or long-stays if you must. Do you really need one for a short fishing session?
Take a single compact burner, small pan and kettle. Sandwich makers, like the classic by RidgeMonkey, are popular and versatile, too.
Make sure there's enough gas in that bottle for multiple brews, or take a spare if you're on a longer session. The small bottles don't weigh much.
There's nothing worse than running out of fuel when you are really looking forward to a nice fresh cuppa!
Some anglers, such as experienced carp hunter Shaun Harrison, are loyal users of an old-skool Kelly Kettle to make a brew. And he knocks up an impressive range of meals, also without a gas stove.
There is no need for carrying fuel with a Kelly Kettle as they burn twigs… efficiently, too. And that form of fuel is abundant and free!
How to go night fishing: why you need to round up end-tackle
Organising your terminal tackle so it's ready to go is a wise move.
Half a dozen or so tied rigs saves you time in the night, when dulled hooks need to be quickly changed and re-cast.
Here's a great time saving tip. It's not easy to hang baited rigs with PVA bags inside buckets or on rig racks with the hook buried in the PVA mesh.
Kia Sanger of Todber Manor solves the problem with this modified rack drilled out to take a series of little hooks to suspend the traces from their clips or loops.
There's a magnet with the rack to secure it to the bivvy table or bivvy wall.
How to go night fishing: what's the best way to cast?
Accurately hitting pre-baited spots in the hours of darkness is obviously not as straightforward as pin-point accuracy in the daylight hours.
What you need to do to ensure baits land in the desired area is to use a visual marker, decided on in the daylight hours.
I've used the big oak tree in the distance as my marker for when it gets dark.
It stands proud of everything else. Even on those really dark nights I can still see it silhouetted on the horizon. At least I know I'll be in the general area come nightfall.
It's even possible now to find features in your swim at night with castable devices like the Deeper sonar.
The makers of that popular fish-finder clearly spotted a gap in the market when one of its extras was launched – a cover for better visibility when night fishing.
How to go night fishing: why you should use casting clips and sticks
Clipping up will drop your rig right on the money and should be done before any night-time casts are attempted.
Don't forget to feather the cast with your forefinger towards the end of the casts.
And don't forget to remove the line from the clip after the cast either. Forgetting to do this will almost certainly result in your rod arrowing out of the rests and disappearing into the drink. Yes this can one day will happen… as a hooked carp takes off out of your swim at a rapid rate of knots!
For extra accuracy, more and more carp anglers and serious stillwater specimen hunters wrap their line around two 'distance sticks'. They also have other brand names.
Even some match anglers are getting onto using sticks for their feeder fishing ranges.
One distance stick is put into the bank at one end of the rod, and one at the other. It therefore marks a 'rod length' distance.
When you hear an angler say "I caught it at 14.5 wraps, mate" that means the angler wrapped his or her line around the spaced-sticks 14 and half times. They then clipped up the line, often marking it too.
Should they need to re-set the distance, they can, at any point in the session by marking the same number of wraps around those sticks. Or they can modify the number to target a slightly closer or further spot where the fish might prefer.
It pays to mark these distances down, with pen and paper or in your smartphone notes. Log the number of wraps to hit a likely 'carpy' spot or spots in a certain swim, or where you have caught fish before. England team carp aces Billy Flowers and Jamie Londors do this… and, boy, does it save them time and help them catch fish!
How to go night fishing: what's the best way to land a night catch?
Have everything ready to deal with a landed fish on the bank.
The last thing you want to be doing is hastily fumbling around in the middle of the night locating your unhooking kit, still stowed away in your luggage.
I place my unhooking station on flat ground, close by, but not in the immediate path from my shelter to my rods. You don't want to be tripping over them as you rush to strike your rod.
A proper unhooking station should include a substantial mat, some lake water to douse the mat and fish, forceps, antiseptic, sling and scales.
How to go night fishing: Are bivvy lights useful?
Handy little isotopes emit enough glow for quickly locating essential items.
Many fishing items have recesses for fitting isotopes which will last for years and cost as little as a fiver.
Fitting them to your bobbins is a good idea and gluing one on the boss of your landing net makes it easy to locate in the dark.
Some bivvies have isotopes built in the zips, allowing you to quickly vacate to hit nocturnal one toners.
Proper bivvy lights, like the very popular versions from RidgeMonkey, have become popular.
How to go night fishing: do you need to pack an alarm?
I'm a light sleeper, especially on overnight fishing sessions. I've got a couple of carping buddies that sleep through just about anything.
The last thing you need to sleep through is a screaming run.
Remotes, connected wirelessly to your alarm, are ideal for heavy sleepers.
You can place them close to your head when you settle down for some shuteye. And they'll stir any angler from their slumber.
How to go night fishing: what furniture do you need to bring?
Modern bedchairs are the height of luxury. They have fully padded elasticated mattresses, reclinable backs and adjustable legs.
Frames constructed from high grade aluminium help to bring weight down, and mud feet stop you from slowly sinking into soft ground.
Some carp companies offer sleeping systems – a luxury bedchair and sleeping bag combined.
The pretty standard bedchair model I'm seen with above cost around £120 and has given me over years of good, reliable service.
How to go night fishing: what sleeping gear should you use?
Bedding is crucial for a comfy all-nighter.
Sub zero nights might call for a jumbo thermal sleeping bag. For the weeks ahead, in the summer, you can easily get by with something far more light weight.
This crash bag, costing £39.99, is tops for fair weather night sessions and takes up little space.
On slightly chillier or damp nights I'll drape this  fleece cover over my crash bag to keep the chill and dew off.
They're waterproof too and cost around £35. You can pay a lot more for added comfort and a bag which will be practical in all sorts of weather, which may be worth you investing in.
How to go night fishing: what's the best way to avoid back-ache?
Standard chairs aren't necessarily vital if you've already set up with a bedchair.
Sometimes it's nice to sit back and chill out, while you gaze over the water for any signs of fish activity.
This bed buddy, and others like it, is designed to position across your bedchair. This helps to avoid the classic problem of bedchair back-ache from sitting hunched forward.
It is very well padded and reclinable, yet still compact enough to be stored within your bedchair.
How to go night fishing: is a bedchair pouch useful?
This is a great little item for night fishing sessions.
It's a bedchair pouch and quickly fastens onto the bedchair frame via Velcro tabs.
A main compartment and two outer pockets all zip up for storing those small items you definitely don't want to be losing – car keys, wallets, phone and baiting tools.
Other accessories you might want to consider include a lightweight fold-away bivvy table and a compact power pack, for recharging the phone and other gadgets. There is even a product by RidgeMonkey that does both jobs!!
How to go night fishing: why is sunrise a prime time to fish?
Aahh…the sunrises of June, July and August…. Isn't it great to get back outdoors!
The first signs of daybreak can be the prime time for locating feeding fish, whether it's clusters of bubbles, disturbed silty patches or topping fish.
Binoculars, as well as a pair of quality polarising sunglasses, will of course aid your vision immensely.
We all have good intentions of being awake with the larks, but a night of broken sleep can often see anglers snoozing away.
Those sleep-heads will be missing out on potentially the best time for some action. Don't miss out – take an alarm clock.
Set it for just before sunrise and get that kettle on, sit back and look out for all those feeding fish.
Often the window of best opportunity is short, so not only do you need to be there, you need to be alert.
This is what Tim Knight did in June 2019, proving that making the effort for quick dawn sessions can also pay off.
He got up just before the crack of dawn in France, during a break with his missus, for a quick river session before the day's red-hot 45 Celsius-plus temperatures. It worked… he caught the biggest known mirror carp in the River Lot… over 70 lb!
How to go night fishing: what food should you take?
Take plenty of grub with you for your night fishing sessions.
And remember that hot weather will spoil certain foods in no time at all.
Store it correctly to avoid a nasty bout of bankside food poisoning.
A decent sized cool bag is ideal. Put a couple of freezer blocks inside and your grub will stay fresh and edible for the entire session.
Storing it in the shade will also ensure it maintains its cooling temperature.
Bait also needs to be stored correctly. Freezer baits especially spoil in hot temperatures, so include them in your cool bag.
And don't forget to take plenty of drinking water. It's no joke running out halfway through a summer session. This  container has a 5 litre capacity and sees me through a 24-hour session no problems.
And do not forget tea and/or coffee. Plus milk and sugar, if they're essential to you!
How to go night fishing: why should you use glow in the dark baits?
Baits have the same appeal day or night, but carp obviously rely on their keen sense of smell in the hours of darkness.
Baits can be jazzed up though for added appeal and these small grains of artificial corn actually glow in the dark.
Whether it entices more takes is anyone's guess but it won't hurt to give them a go and see for yourself.
Glow in the dark baits will glow indefinitely but a quick charge up with your head torch really improves their effectiveness.
If you don't want to go the full way with glowing baits, you can use your normal favourite bait with glowing hair rig stop.
How to go night fishing: how can you protect yourself from rats?
Nearly all fishing venues have a rat population. A rat or two will make short work of any bait left on the floor, so make it impossible for them to get at it by elevating your bait well clear of the deck.
A decent bucket with a secure lid is a good rodent deterrent, but it's not fail safe.
I prefer to store my bait a good way off the ground, securing it on a long bank or storm stick. Just try getting at my boilies now, you 'orrible little critters!
How to go night fishing: do you need to take an emergency kit?
A small emergency kit is strongly recommended. My personal kit takes up little space and includes basic essentials such as plasters, antiseptic cream, insect repellent and sun block.
Our mobile phones are invaluable in emergency situations. If you don't have a signal, but need to make an emergency call, dial 112. This will automatically put you through another network's signal to reach the emergency services.
And what about the call of nature? It's now possible to have a 'Number 2' in comfort with an easily portable toilet, made by anglers for anglers.
Yes, RidgeMonkey released that with their Cozee system. It raised eyebrows, but netted a lot of sales… and they make life more bearable for male and female anglers at venues with no facilities.
20. Running repairs & spares
How to go night fishing: what should be in your repair kit?
Include a small tube of superglue and some electrician's tape in your tackle box for carrying out basic bankside repairs. It can save the day, or night, if something vital breaks or falls apart.
A quick dab of glue or some tape can fasten loose rings and temporarily seal small holes in brollies, shelters and waders. You can also glue pellets onto your hair rigs, too.
Ever tried to mount a bait on a hair without a boilie needle? I have and believe me, it's not easy! I now make sure I take a couple of spare baiting tools with me, in case one breaks.
Spare batteries are also worth having, especially for drained head torches, bite alarms and digital scales.
Some dry spare clothes can save the day too. There's nothing worse than being too chilly, and soaking wet feet caused by dewy mornings can be pretty miserable.
All the latest inspiration, tips and guides to help you plan your next Advnture!
Thank you for signing up to Advnture. You will receive a verification email shortly.
There was a problem. Please refresh the page and try again.