Choosing the best fishing line to use
How to choose the best fishing line for the type of fishing you're planning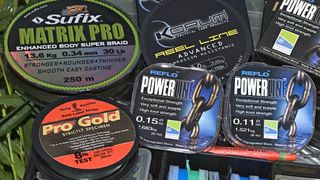 (Image credit: Angler's Mail)
Welcome to Advnture, the new home of AnglersMail.co.uk
One of the first things you do when you get to the water's edge is decide what strength (or diameter) of fishing line you are going to use and what size hook will be tied to it.
The common belief is that light lines and small hooks equal more bites – heavier lines and bigger hooks mean less bites but more chance of landing the fish.
I don't think that generalisation is always the case. And in our haste to get a few more bites I think we unnecessarily risk losing our prized captures.
Until a few years ago I would always think along the lines of how small and light can I fish.
Now I think how heavy can I go and what size hook will I get away with.
It's good to get bites and hook fish but a waste of time if you lose them all. But it's also a waste to sit there not getting bites.
The obvious answer to the above is to change hook and line sizes if you lose fish or can't catch – but how many anglers actually make those changes? Or more important, how long do they take to make them?
Changing tackle
As a general guideline, match the hooks and line to what you are fishing for and the swim you are in. Clearer swims can handle light gear, snaggier ones need heavier – and you will get away with it because fish are more confident with those snags around.
Balanced tackle is also vital. That means light lines and small hooks only with rods that are forgiving, that bend a lot, are soft. On the pole line and hooks need to be balanced to the elastic to use, whether that is solid or hollow.
I know it costs more but hollow elastic is definitely more beneficial and will helps you land more fish, especially if used with a puller bung. Hollows stretch more and as they stretch more – that is with bigger fish – they tighten up better. And if they don't tighten enough use the puller bung!
There's no hard and fast guideline to what line to use. But remember that you don't need to use a 4 lb breaking strain line to land a 4 lb fish!
You might need heavy gear in those snaggy swims but most of the time balanced tackle and playing skill will land fish much bigger than the breaking strain of your line.
Need proof? Tie a 1 lb trace to the end of you gear, loop it over a fence post and then keep pulling your rod back until the line snaps. It won't break as easily as you think!
I'd say if fish are shy bitters and the water is clear scale down on line diameter. When they are feeding well or there is colour in the water, step up the gear.
Match bait to hook size
Hooks are a lot easier to sort. You can't get much more than one, maybe two, maggots on a 20 hook. An 18 is ideal for two.
Match the bait to the hook size. Don't struggle with a lobworm on an 18 – get those 12s or even 10s out. Don't try to fish a piece of meat on an 18 – you can bury a big hook even in a small cube of meat.
And don't forget that all sizes and types of baits can be hair-rigged if you want to use a bigger hook with a smaller bait.
Still not sure? Still wondering? Ask anglers who are catching what end gear they are using or experiment yourself.
The best anglers in the country don't fish light and small – in fact I know quite a few who fish heavy and big and get the results.
Fishing is about confidence, feeding and presentation. And sometimes presentation on the right hook and line will win you a lot more bites than even the best of baits.
All the latest inspiration, tips and guides to help you plan your next Advnture!
Thank you for signing up to Advnture. You will receive a verification email shortly.
There was a problem. Please refresh the page and try again.