Buyer's guide: Barbel hooks
Duncan Charman puts barbel hooks through their paces...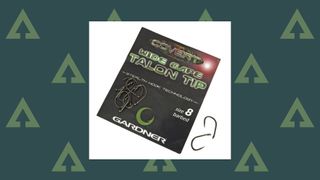 (Image credit: Angler's Mail)
Welcome to Advnture, the new home of AnglersMail.co.uk
We test some of the best barbel hooks on the market...
Korda Wide Gape X
£3.99
A stepped up version of the original Wide Gape this heavy-duty wire gauge hook has an advanced PTFE coating creating a smooth and durable finish and incorporates a micro barb and in-turned eye of 15 degrees. I did find that the claimed 'ultra sharp curved point' on every hook questionable, as the odd hook did lack sharpness. Available in barbed or barbless in sizes 2, 4, 6, 8, 10 and 12.
SCORE: 25/30
Nash Fang Gaper
£5.12
An extra wide gape hook with an ultra short shank, in-line eye and in-turned point classified as the ultimate for use with short hook links and subtle rigs. Coated in a low-friction coating they're classified as unrivalled in strength, sharpness and durability. A quick check on each point of the hooks showed the odd one lacked its cutting edge! Barbed and barbless and sizes 2, 4, 6, 8 and 10.
SCORE: 26/30
Fox Arma Point SSBP
£4.25
Powerfully strong hooks due to a hi-tech tempered process, which increases hardness and strength, but they still retain plenty of finesse for precise bait presentation. Coming complete with a non-reflective coating, the straight point of all but one hook was consistent. A short shank, wide gape hook with a 'macro' barb, which ensures easy penetration and secure hook holds. Slightly undersized in barbed sizes, 1 to 10 including intermediates and barbless 4, 6, 8 and 10, all presented in unique packaging complete with rig instructions.
SCORE: 27/30
Pallatrax - The Hook
£3.25
My only reservation regarding these hooks is that they're not Teflon coated. Every hook was checked carefully, all but one was seriously sharp. Having an in-turned point, short shank and an exaggerated barb, once a fish is hooked it's unlikely to escape. The wide gape between point and shank creates a firmer hook hold. Chemically sharpened, the point lasts, doesn't blunt and the slight in-turned eye creates strength. Available in sizes 4 to 14 barbed or barbless.
SCORE: 27/30
Drennan Super Specialist Barbel
£3.85
A seriously strong hook that I have reverted to when other hooks have pulled out of shape. Strong, yet still lightweight, allowing for precise hook bait presentation which together with its Teflon coating can be the difference between catching and blanking. Every hook I inspected was seriously sharp but the slightly longer shank and lack of in-turn on the hook point does give me some reservations. Available in sizes 4 to 14, which includes intermediates!
SCORE: 28/30
Gardner Covert Wide Gape Talon Tip
£4.25
Chemically sharpened beaked point is resistant to blunting and consistent with a stealth finish-reducing glare. The strong forged high carbon steel wire even suits hit and hold fishing. The wide gape exposes more of the hook point which increases hook-ups and the non-reverse bend aids penetration. Slightly oversized but available in 4, 6, 8, 10 or 12 sizes in barbed or barbless.
SCORE: 29/30
NOTE: All products tested December 2010.
All the latest inspiration, tips and guides to help you plan your next Advnture!
Running from 1964 until 2020, Angler's Mail was the UK's leading weekly magazine devoted to coarse fishing, telling readers everything they needed to know about which fish to catch, where to catch them, and what kit they needed to do it. Now, loads of the magazine's expert advice can be found on Advnture.com, as a helpful resource for angling newcomers and experts alike.