About Advnture: who we are and what we do
All you need to know about the home of outdoor buying advice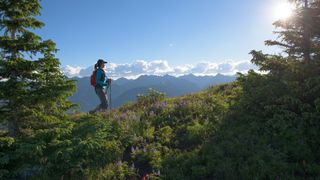 (Image credit: Jack Affleck)
If you love the great outdoors, Advnture is your ideal destination. Whether you're into camping with the family or epic solo hikes through the wilderness, we've been a key part of an adventurer's kit since we launched in July 2020.
As the home of outdoor buying advice, Advnture is packed with buying information to help you to choose the best equipment to suit your needs, as well as expert guides to help you make the most of your time in the outdoors. If you love camping, hiking, running, climbing, winter sports or fishing, Advnture has got you covered.
Our international team of writers are all experts in the field, having clocked up many years braving the elements, whether up mountains or under canvas. When they say a hiking boot, backpack or tent is the best on the market, you can rest assured they know what they're talking about – and that they've put the gear through its paces on the trails it's designed for.
So whether you're looking for the best equipment for your next adventure or simply want to learn how to pitch a tent, Advnture is the destination for you.
Contact Advnture
If you want to discuss kit reviews or tell us about an upcoming event or potential news story, please email advnture@futurenet.com.
Here are our office addresses:
NEW YORK
130 West 42nd Street
7th Floor
New York
NY 10036
BATH (UK)
Quay House
The Ambury
Bath
BA1 1UA
Editorial team
Cat Ellis, Editor
Cat is the editor of Advnture, She's been a journalist for 13 years, and was fitness and wellbeing editor on TechRadar before joining the Advnture team in 2022. She's a UK Athletics qualified run leader, and in her spare time enjoys nothing more than lacing up her shoes and hitting the roads and trails (the muddier, the better). When she's not leading club runs or marshalling events, she also loves to explore the hills and valleys around her home town of Bristol, or taking to the water by paddleboard or kayak.
You can contact her at cat.ellis@futurenet.com
Julia Clarke, Staff Writer
Julia Clarke is a staff writer for Adventure.com. She is an author, mountain enthusiast and yoga teacher who loves heading uphill on foot, ski, bike and belay. She recently returned to her hometown of Glasgow, Scotland after 20 years living in the USA, 11 of which were spent in the rocky mountains of Vail, Colorado where she owned a boutique yoga studio and explored the west's famous peaks and rivers. She is a champion for enjoying the outdoors sustainably as well as maintaining balance through rest and meditation, which she explores in her book Restorative Yoga for Beginners, a beginner's path to healing with deep relaxation. She enjoys writing about the outdoors, yoga, wellness and travel. In her previous lives, she has also been a radio presenter, music promoter, university teacher and winemaker.
You can contact Julia at julia.clarke@futurenet.com.
Pat Kinsella, Consulting Editor
Writer, editor and enthusiast of anything involving boots, bikes, boats, beers and bruises, Pat has spent 20 years pursuing adventure stories. En route he's canoed Canada's Yukon River, climbed Mont Blanc and Kilimanjaro, skied and mountain biked through the Norwegian Alps, run an ultra across the roof of Mauritius, and set short-lived records for trail-running Australia's highest peaks and New Zealand's Great Walks. He's authored walking guides to Devon and Dorset, and once wrote a whole book about Toilets for Lonely Planet. Follow Pat's escapades here.

You can contact Pat at pat.kinsella@futurenet.com.
Richard Edwards, Managing Editor
In a previous life, Richard spent over a decade on market-leading sci-fi/fantasy magazine SFX, where he talked movies, TV and books with some of the biggest names in the genre. Having swapped Star Wars and Star Trek for the great outdoors, he's worked on Advnture since it launched in July 2020, and looks after the day-to-day running of the site.
You can contact Richard at richard.edwards@futurenet.com.
Contributors
Alex Foxfield
Alex is a freelance adventure writer and content creator with an insatiable passion for the mountains. A Cumbrian born and bred, his native English Lake District has a special place in his heart, though he is at least equally happy in North Wales, the Scottish Highlands or the European Alps. Through his hiking, mountaineering, climbing and trail running adventures, Alex aims to inspire others to get outdoors. He is currently President of the London Mountaineering Club, training to become a qualified mountain leader, looking to finally finish bagging all the Wainwright fells of the Lake District and hoping to scale more Alpine 4000ers when circumstances allow. Find out more at www.alexfoxfield.com
Fiona Russell
Fiona Russell is a widely published adventure journalist and blogger, who is better known as Fiona Outdoors. She is based in Scotland and is an all-round outdoors enthusiast with favourite activities including trail running, mountain walking, mountain biking, road cycling, triathlon and skiing, both downhill and back country. Her target for 2021 is to finish the final nine summits in her first round of all 282 Munros, the Scottish mountains of more than 3,000ft high. Aside from being outdoors, Fiona's biggest aim is to inspire others to enjoy the great outdoors, especially through her writing. She is also rarely seen without a running skort! Find out more at Fiona Outdoors.
Sian Anna Lewis
An award-winning travel and outdoors journalist, presenter and blogger, Sian regularly writes for The Independent, Evening Standard, BBC Countryfile, Coast, Outdoor Enthusiast and Sunday Times Travel. Life as a hiking, camping, wild-swimming adventure-writer has taken her around the world, exploring Bolivian jungles, kayaking in Greenland, diving with turtles in Australia, climbing mountains in Africa and, in Thailand, learning the hard way that peeing on a jellyfish sting doesn't help. Her blog, The Girl Outdoors, champions accessible adventures.
Matthew Jones
An outdoors writer and editor, Matt Jones has been testing kit in the field for nearly a decade. Having worked for both the Ramblers and the Scouts, he knows one or two things about walking and camping, and loves all things adventure, particularly long-distance backpacking, wild camping and climbing mountains – especially in Wales. He's based in Snowdonia and last year thru-hiked the Cambrian Way, which runs for 298 miles from Cardiff to Conwy, with a total ascent of 73,700 feet – that's nearly 2½ times the height of Everest. Follow Matt on Instagram and Twitter.
Emily Woodhouse
An adventure writer based on Dartmoor, England, Emily is an active member of Mountain Rescue and a summer Mountain Leader, but loves all things adventure – before her third birthday she had lived on three continents. Founder of Intrepid magazine, she works to help break stereotypes about women in the outdoors. Her expeditions have included walking all Dartmoor's 119 tors in a single two-week outing, cycling to Switzerland and back, and riding the Rhine from source to sea.
Claire Maxted
The co-founder and former editor of Trail Running magazine, Claire now runs the YouTube channel Wild Ginger Running, creating films packed with trail- and ultra-running content. An award-winning journalist, writing for outdoor and adventure sports magazines and websites, her first book The Ultimate Guide to Trail Running 5k to 50k is out in January 2021. Claire also speaks and presents at events and races.
Jonathan Manning
After spending a decade as editor of Country Walking, the UK's biggest-selling walking magazine, Jonathan moved to edit Outdoor Fitness magazine, adding adrenaline to his adventures and expeditions. He has hiked stages or completed all of the UK's national trails, but was once overtaken by three Smurfs, a cross-dressing Little Bo Peep, and a pair of Teletubbies on an ascent of Snowdon. (Turns out they were soldiers on a fundraising mission.)
Jessie Leong
A former brand ambassador for Merrell and current Ordnance Survey #GetOutside Champion, Jessie Leong's lifelong outdoor odyssey began with Duke of Edinburgh's Award walks in the Peak District. This segued into long hill hikes in the Yorkshire Dales, multi-day treks in the Lake District, scrambles in North Wales and adventures scaling alpine pinnacles. When not walking, she can be found rock climbing, wild swimming, cycling, photographing, filmmaking, writing and modelling. Jessie's most recent claim to fame is playing a Miss World contestant in the 2020 feature film Misbehaviour.
Berne Broudy
Vermont-based writer, photographer and adventurer, Berne reports on hiking, biking, skiing, overlanding, travel, climbing and kayaking for category-leading publications in the U.S., Europe and beyond. In the field, she's been asked to deliver a herd of llamas to a Bolivian mountaintop corral, had first fat-biking descents in Alaska, helped establish East Greenland's first sport climbing and biked the length of Jordan. She's worked to help brands clean up their materials and manufacturing, and has had guns pulled on her in at least three continents.
Jasper Winn
After a wild childhood in west Cork, Jasper Winn began embarking on long cycles, walks, horse journeys and kayak trips across five continents – adventures he's decanted into books, magazine articles, radio and television documentaries. Keen on low-tech but good gear, Jasper is an advocate of slow adventures by paddle, pedal, saddle, boot and sail. He has circumnavigated Ireland by kayak and cycled across the Sahara. Twice. Having ridden north-to-south across Algeria he discovered the only way to get back was to turn round and pedal north again.
Abbie Barnes
Abbie runs Spend More Time In The WILD, a campaign and YouTube channel that seeks to inspire and empower individuals to get outside for the benefit of mental and physical health, while building meaningful connections with the natural world and each other. Abbie's area of expertise is long-distance backpacking – in other words, she likes to hike a long way carrying heavy stuff. She loves wildflowers, dogs, playing the handpan and maintaining her existence through drinking a never-ending stream of tea.
Casey Blaine
A seasoned writer and editor in the endurance sport space, Casey has worked with top athletes and coaches on training books and memoirs. A regular contributor to Women's Running, she especially loves writing about running and hiking adventures, which have taken her on trails around the world – including to the Indian Himalaya, the DMZ in Korea and the Tibetan Plateau. She lives in Colorado, where she's slowly chipping away at hiking all the state's '14er' mountains.
Dwayne Fields
Dwayne came to the UK aged six and spent his formative years in inner-city London where, wrapped up in the world of street gangs, he became a victim of both knife and gun crime. After a life-threatening incident, Dwayne decided to change his life and reconnect to nature and the outdoors, which he'd enjoyed in his early life in the forests and hilltops of rural Jamaica. In 2010, Dwayne successfully set out to become the first black Briton to walk over 400 miles to the magnetic North Pole. Ever since he has lived a life of adventure and exploration, inspiring young people nationwide to explore the 'great outdoors' which has earned him the City of London's highest honour, the Freedom of the City.
Brian Metzler
Brian is an award-winning journalist, photographer and podcaster who has written for Runner's World, The Times, Outside, Men's Journal, Trail Runner, Triathlete and Red Bulletin. He's also the author of several books, including Kicksology: The Hype, Science, Culture and Cool of Running Shoes. He lives in Boulder, Colorado, and loves to run, bike, hike, camp, ski and climb mountains. He has wear-tested more than 1,500 pairs of running shoes, completed four Ironman triathlons, as well as numerous marathons and ultra-distance running races.
Phoebe Smith
Creator and host of the Wander Woman Podcast, extreme sleeper Phoebe Smith is an award-winning travel and adventure writer, photographer, broadcaster and author of 10 books about the outdoors. She's the first person to have slept at all the extreme points of mainland Britain, solo on consecutive nights. In 2021, Phoebe and Dwayne Fields will take a group of underprivileged young people to Antarctica through their #WeTwo Foundation. The strangest place she ever wakes up is in her own bed – as she's so rarely there…
Mary-Ann Ochota
A broadcaster and writer specialising in anthropology, archaeology and outdoor adventure, Mary-Ann is the Hillwalking Ambassador for the British Mountaineering Council, and a patron of The Tony Trust. She likes nothing more than tramping across peat bogs to hunt for lost stone circles, and once trapped herself inside a bivvy bag with her dog and almost died. Oops. Her new book, Secret Britain: Unearthing Our Mysterious Past is out now.
Matt Swaine
Former Editorial Development Director for Lonely Planet, editor of Trail and BBC Wildlife magazine, and editor-in-chief of Trail Running magazine, Matt got the outdoor bug as a teen on gruelling UK Ten Tors events around Dartmoor. He has hitch-hiked to Egypt, cycled through India, enjoyed the delights of the High Atlas, slept on volcanoes while living in Central America, climbed in the Alps and tackled some of Scotland's really big routes, from Tower Ridge and the Cuillin to the Aonach Eagach. He's got a passion for butterflies and ukuleles. If you see him in a campfire situation… approach with caution.
Amanda Loudin
A US-based freelancer with a penchant for dirt, when she's not writing about the outdoors, Amanda is in it, running trails with two-legged and four-legged friends alike. You can find her work in the Washington Post, Outside magazine, REI's Co-op blog and many other outlets. Visit Amanda's website to read some of her latest pieces.
Adharanand Finn
Runner, podcaster, journalist and author, Adharanand's books involve immersive research, from attempting to run with elite Kenyan athletes, to travelling across Russia by train with his three small children, and completing 10 ultra marathons in two years. He's not sure which was the hardest. He was twice shortlisted for the William Hill Sports Book of the Year and his first tome, Running with the Kenyans, was named Sunday Times Sports Book of the Year. His other books are The Way of the Runner and The Rise of the Ultra Runners.
Lou Dzierzak
A journalist specializing in outdoor recreation, Lou has covered product design innovations, participation trends and environmentally sustainable manufacturing for over 20 years. On the other hand, he's had some less than successful outdoor adventures: once, completely spent after a hard day on the trail, he managed to set a vintage MSR Whisperlite stove ablaze before accidentally kicking the burning contraption into a lake. A published author, his book about invasive fish threatening the Great Lakes watershed will be published in 2021.
About Future
Future is a global platform for specialist media with scalable, diversified brands. We connect people to their passions through the high-quality content we create, the innovative technology we pioneer, and the engaging experiences we deliver. We're the name behind more than 220 market leading brands that span the technology, games, TV and entertainment, women's lifestyle, real life, music, creative and photography, sports, home interest and B2B sectors. Visit Future's press room.
Advertising
If you're interested in advertising with Advnture, please contact Nathalie Adams at nathalie.adams@futurenet.com
Newsletter
To get a weekly dose of the great outdoors delivered direct to your inbox, subscribe to the Advnture newsletter.
Editorial standards
Reviews policy
True to the independent spirit of the outdoors, Advnture takes pride in our reviews being free from commercial considerations. We don't take money for reviews – all our star ratings are based on the honest opinion of our expert contributors.
Code of conduct
Advnture is a member of the Independent Press Standards Organisation (which regulates the UK's magazine and newspaper industry). We abide by the Editors' Code of Practice and are committed to upholding the highest standards of journalism. If you think that we have not met those standards and want to make a complaint please contact us by calling 01225 442244 or writing to us at Future Publishing, Quay House, The Ambury, Bath, BA1 1UA, UK. If we are unable to resolve your complaint, or if you would like more information about IPSO or the Editors' Code, contact IPSO on 0300 123 2220 or visit www.ipso.co.uk.
Affiliate & Advertising disclosure
We always aim to provide unbiased editorial created by our journalists and writers. We also need to pay our teams and website costs so we make money in a number of ways. We sometimes use affiliate links to products and services on retailer sites for which we can receive compensation if you click on those links or make purchases through them. From time to time we also publish advertorials (paid-for editorial content) and sponsored content on the site. When this is the case the content is clearly marked as sponsored or promoted, so you'll always know which content is editorial and which is not. Future PLC is our parent company and has an in-depth terms and conditions page with a lot more information that you can read right here.
Privacy policy
Advnture is part of Future PLC. We are both fiercely committed to protecting your privacy. Please take a look at our in-depth privacy policy to find out more.
All the latest inspiration, tips and guides to help you plan your next Advnture!