Sign up for the Advnture newsletter and we'll send you a FREE World's Greatest National Parks ebook
The Advnture newsletter brings you regular advice, inspiration and reliable buying tips. Plus, if you sign up now you'll also get a free 148-page The World's Greatest National Parks ebook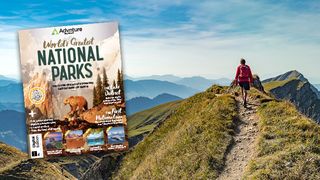 (Image credit: Future)
If you haven't signed up for the Advnture newsletter yet then you're missing out on all of our expert guides and recommendations, and the opportunity to escape the daily grind from the comfort of your chosen media device. So sign up today and let us bring the outdoors to your inbox.
If you sign up now, you'll also get a 148-page ebook about the World's Greatest National Parks, absolutely FREE.
The Advnture newsletter contains a round-up of the best articles on the site, whether that's how to use a compass, how to go night walking or how to assemble the ultimate camping checklist… Plus, we highlight the best kit available right now, in our buying guides. Our expert reviewers actually use the gear they recommend for you, so you can trust that we'll direct you to the best new products.
You can unsubscribe from the newsletter at any time and The World's Greatest National Parks ebook is yours to keep.
Newsletter sign up
We'd love to stay in touch! Sign up for the Advnture newsletter for news, advice, inspiration and buying guides.
All the latest inspiration, tips and guides to help you plan your next Advnture!