Buyer's guide: Carp rods
Duncan Charman assesses a range of affordable 12 ft 3 lb test curve carp rods.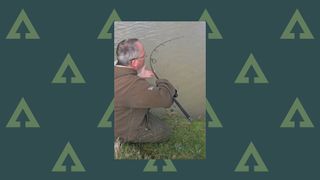 (Image credit: Angler's Mail)
Welcome to Advnture, the new home of AnglersMail.co.uk
We check out an extensive range of carp rods...
Korum Carp

Comes complete with an understated matt black carbon blank offering six quality guides ranging from 40 mm and 14 mm. The quality line clip, screw-style reel seat, abbreviated handle and ergonomic rear grip offer great functionality. Great value for money as well – and a rod that will appeal to those on a budget where multiple rods are required or as a first time carp rod. Its responsive, steely action is ideal for casting a Method feeder to the horizon or taming big fish in weedy situations.
A good all-round carp rod that will cope with most angling situations. Coming with plenty of grunt in the blank, it will appeal to those targeting catfish too.
Greys Prodigy GT3
£99.99
This rod is a bit of a looker with its slim matt grey carbon blank with stylish understated graphics and weave above the handle. It features six G-Lite TM SiC guides ranging from 40 mm down to 15 mm. It's well balanced with a progressive action that's good for casting long distances, but it still has a nice feel, when playing a big fish close-in. A full shrink-wrap handle, reinforced joints, DPS reel seat and quality line clip help create a very capable rod for carp of all sizes. A great all-round rod that will appeal to many, especially those progressing from their first rods, anglers that are looking for quality and reliability as well as the experienced carper.
Fox Warrior S
£69.99
This slim matt black low resin carbon blank comes with six SLIK guides ranging between 40 mm and 14 mm, spaced for long distance casting. It comes with a quality line clip, 18 mm DPS reinforced steel headed reel seat as well as an abbreviated ergonomically tapered butt grip (full cork option available). This feels like a rod that should have a much higher price tag, a great choice for anglers wanting to progress from their first rod or decide on, from the off. These feel like a rod that will last. Well balanced, offering a progressive through action ideal for distance casting, with a soft enough tip for playing carp under the rod tip without fear of pulling the hook.
Chapman's Angling Stillwater BPX
£39.99
Coming with a popular matt black finish and understated graphics this slim high modulus carbon rod is coupled with six SiC double-legged well spaced guides, ranging from 40 mm to 15 mm. It features a quality line clip as well as an 18 mm screw style reel seat and Duplon abbreviated full-length handle with a laser etched butt cap. Having such a low price tag this is a fantastic rod for the carper on a budget, especially if three rods are required as Chapmans Angling offer three rods for £99.99! The rod's progressive through-action and soft tip create a balanced rod which will cast a good distance, yet it still retains an enjoyable feel.
JRC Extreme XLR
£109.99
The slim, lightweight 40T matt black carbon blank incorporates a stylish abbreviated 1K-wrap handle between butt and reel seat. Understated graphics and six well spaced quality guides from 50 mm down to 18 mm help create a great casting rod. The responsive powerful blank feels well-balanced, it also has an enjoyable playing action. This rod also comes with a quality carbon line clip and screw style reel seat. A great all-round rod capable of targeting carp of all sizes and one that will appeal to most, including those wishing to upgrade as well as the experienced carper who needs complete trust in his kit.
E-S-P Paragon Plus
£79.95
Designed on a multi modulus carbon blank with a black gloss finish and understated graphics. This rod is built for distance casting too with its six oversized and SiC guides ranging between 50 mm and 16 mm. A top quality line clip gets the thumbs up too, so does the quality screw style ergonomic reel seat and full length shrink rubber handle with flared casting grip. It comes with a steely, responsive action with loads of power, especially in the middle of the blank that's ideal for distance casting and taming big carp and even catfish. An additional nice touch are the rod protector sleeves the rods are supplied with so top marks for that.
Nash Entity
£131.99
Slightly outside of our mid-priced £120 RRP limit, but one that can be picked up for around this figure if you hunt around, is Nash Tackle's 12 ft 3 lb Entity. Designed on a good-looking sixth generation woven carbon low diameter blank with understated graphics. It comes with six well-spaced, quality guides ranging 50 mm down to 18 mm. The Entity is ideal for distance casting, yet with a forgiving tip for playing fish close in. A genuine Fuji reel seat, abbreviated handle (full shrink handle option available) and carbon line clip complete a rod that will appeal to a vast range of anglers, especially the more specialist big carp angler who's looking for a rod that'll last.
Shimano Tribal Velocity
£149.99
Another rod just outside our mid priced £120 RRP, but one that can be picked up for around £110 if you shop around a bit. The Shimano Tribal Velocity is built on a classy looking XT 60 carbon blank with a 3K-carbon weave for added strength. It comes with plenty of backbone, but a forgiving tip too, that feels great for playing big fish at close-quarters without any surprises. It's rung with six well spaced guides for distance casting from 50 mm down to 16 mm and also includes a line clip, stainless butt cap and rod pod stopper. All in all a well-balanced quality carp rod ideal for the intermediate and experienced carp angler.
NOTE: All products tested April 2014.
All the latest inspiration, tips and guides to help you plan your next Advnture!
Running from 1964 until 2020, Angler's Mail was the UK's leading weekly magazine devoted to coarse fishing, telling readers everything they needed to know about which fish to catch, where to catch them, and what kit they needed to do it. Now, loads of the magazine's expert advice can be found on Advnture.com, as a helpful resource for angling newcomers and experts alike.