Advertisement Feature
Go further and explore more with the Raleigh Centros – an e-bike with extraordinary capability
The Centros, Raleigh's versatile and powerful new e-bike is perfect for all-day trail-riding adventures and overnight bikepacking escapades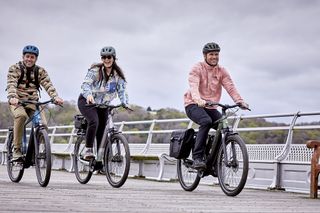 (Image credit: Raleigh)
Now spring has sprung, and country lanes and singletrack trails are beckoning bikers back for a fresh round of outdoor adventures, it's time to get the maps out and start planning some exciting new escapes. The first few cycling outings of the year are always a little tricky to gauge, though. Many of us feel a little rusty in the pedal-pushing muscle department after a long season of indoor play, so it's natural to be a bit wary about setting your sights on anything too big. However, British bike brand Raleigh recently launched a top-of-the-range e-bike that can make even the most ambitious-looking rides feel almost effortless. Meet the Centros.
The evolution of e-bikes has been a revelation for lots of riders. With a battery on board you can go further, climb faster and keep up with those infuriatingly in-form friends who make a habit of disappearing over the crest of every hill. But, often e-bikes come with a new set of worries – the most prominent of which is 'have I got enough charge to get myself back to base?' This concern is compounded by the extra weight most e-bikes come with, which leave you in double trouble if and when the battery does give up the ghost.
Imagine, though, how brilliant it would be if the boundaries of your next day-long cycling tour or overnight bikepacking foray were unlimited, and you could cast aside quibbles about the fitness of your legs or the prospect of your bike losing power (or you losing sight of your biking buddies).
The new Raleigh Centros is an e-bike that not only helps cyclists conquer the stiffest climbs without getting out of the saddle, and has a Bosch motor that provides all the extra power required to enable you to explore a whole lot more of your chosen destination, it also boasts a 625w internal battery that can take you up to 130 miles (210 kilometres) on a single charge.
To put this into perspective, with that kind of range you could cycle from London to Brighton and back, via the rugged route, or ride the classic Ridgeway bikepacking trail in both directions, twice, and still have juice left to power-pedal to the pub. And if that's not enough, there's even an option to fit a range extender via an additional battery.
The Bosch motor is silent, and the power assistance provided can be dialed up or down, according to how much you require at any given point in the ride. So you can continue to push yourself and gain fitness, but there is always back-up available when you want it. This is invaluable when you want to avoid having to dismount on erstwhile impossible technical ascents, or you're looking for an extra push to get that little bit further around the trail or make it home before nightfall.
Besides the Bosch motor and battery, the Centros comes equipped with all the kit required for rugged trail adventures and off-road riding, including full mudguards, hydraulic Shimano disc brakes, lights and a pannier rack. It is available in two versions, one with a 9-gear drive chain and a derailleur (RRP £2,999) and an 8-gear model with a hub gear system (RRP £3,099). There are also two frame options to choose from, a low-step design and a more sport-orientated rig with a crossbar.
The two models have 650b wheels, perfect for mixed-terrain cycling, and front forks with a suspension system offering 63mm of travel, to keep you comfortable while riding rough trails. Weighing in at around 28kg, both also boast a built-in Modular Rail System (MRS), making it extremely easy to click-and-add all the accessories you might need while out exploring (including that extra battery for those truly epic expeditions).
Battery life will, of course, vary according to the settings you choose, the terrain you tackle and the weight you carry, but you can use the excellent Bosch Range Calculator to figure out how far you can ride each day. The battery can be completely recharged in 5 hours, so plug it in overnight and you're good to go the full distance again the following day.
A versatile and sturdy steed, built for trails and offering excellent range, the Raleigh Centros is a true freedom machine that opens up adventure opportunities far and wide. Simply charge it up and head for the horizon.
All the latest inspiration, tips and guides to help you plan your next Advnture!
Launched in July 2020, Advnture is the ideal destination for anyone who loves the great outdoors. Whether you're into epic hikes through the wilderness, camping trips with the family, climbing with your friends, or looking for a trail running personal best, our team of experts will point you in the right direction, with top buying advice and in-depth guides to help you get the most of your time in the backcountry.