The best wader boots for fishing: expert picks the best waders available to buy right now
The best wader boots you should be slipping on this season, from budget–friendly waders to high–end specialist pairs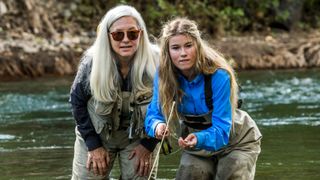 (Image credit: Getty)
The best wader boots keep fisherfolk dry, comfortable and warm, and protect feet and legs from underwater obstructions – anglers need water boot protection in freshwater and saltwater for a variety of reasons. Waders also offer superior foot traction over areas such as slick rocks and potentially dangerous places where razor–edged shells and other submerged debris may prove hazardous.
While some anglers shun wader use in the hot sun and warm water of summer, getting soaked head–to–toe in pounding surf or by driving wind can be off–putting even in ideal conditions – especially during the cool hours of dawn, dusk and night time. The best wader boots protect feet from sharp stones, shells, sunken rocks and sticks, plus they thwart potential hazards such as stinging jellyfish and rays.
And while most anglers choose waters for fishing that are pristine and safe, some may have strains of water-transmitted viral pathogens (viruses) that can result in infection should a vulnerable person have an open wound or abrasion to allow a virus into the bloodstream. Wader boots that cover the feet, legs and lower torso offer good protection from such water hazards.
The best wader boots you can buy for all angler shapes, water types, fishing styles and budgets
The best wader boots described below were chosen for their overall quality and ease of use. They cover a wide wader gamut; from bargain models desired by occasional summer dabblers to higher-end waders needed by experienced, avid anglers.
Some types are best for cold river wading, others tops for warm water. There are models for careful wading over slick rocks, and others for distant walking comfort to reach the next hot fishing hole around a river bend or across an inlet sandbar.
Duck and Fish Brown Neoprene Chest Waders
Budget–price neoprene chest waders for wading and fishing in streams
Specifications
Wader type:
Stocking-foot budget chest waders
Reasons to buy
+
There's not much to dislike about this product, especially for this price
Reasons to avoid
-
The only drawback may be that different types of over-boots may be required for varying fishing conditions: felt-bottoms for slick-bottom river or stream wading, for example, rubber cleat over-booties when lots of walking over hard ground or trails may be required to reach distant fishing spots. Each pair of over-boots may cost as much, or more, than these waders
These stocking–foot, chest–high neoprenes make for good cool to cold–weather wading, especially in rivers and streams where comfortable and quality wade shoes are desired. Many good features of these boots are found in waders costing many times their price. Thus, for a budget entry into neoprene waders, this model stands tall.
Not many boots in this price range offer warm pockets, sliding gravel guards to keep bothersome pebbles and debris from leaching into boot tops, and reinforced knee pads that protect boots when crawling along stream-side areas to reach a perfect fishing spot. Another plus is the wader size chart available to accommodate almost any angler, including beginning youngsters and others who may only use the boots occasionally.
These all-brown boots are available in over a dozen sizes from youth and small to large stature anglers, with shoe sizes from 6 to 14. Neoprene material is 4mm thickness, with durable knee pads. They have adjustable suspenders with rugged YKK buckles, sliding gravel guards on the legs and two-layer hand warmer pockets for cold days on the water.
An adjustable strap waist belt fits through boot loops and a quality plastic snap affords quick and secure use. Boot feet are double taped and glued plus stitched to prevent leaks. Shoulder straps are adjustable and wide H–shaped–style for comfort. Good plastic snaps attach straps to the front of the boots, with quality stitching at boot-suspender connections. A pair of thick plastic D–rings at the chest-wader front allow for angling gear attachments such as nets, pliers, etc.
Frogg Toggs Men's Amphib Neoprene Waders
Good no-nonsense, warm neoprene waders with felt-sole bottoms are a winner for cold stream, river, jetty and surf fishing over slick bottoms
Specifications
Wader type:
Warm high-backed chest waders
Reasons to buy
+
A big plus for the Frogg Toggs is the extra high chest and back coverings, to help ensure no water-over-the-top boot misstep
+
The boots come in several colors (including camo), and in cleated sole or stocking foot models
Reasons to avoid
-
The negative for these boots is also a positive – they are a cold weather boot, covering much of the body with neoprene and the boots are insulated. Great choice for cold weather fishing, but for summer wading in warm water, another choice may be better
Frogg Toggs has come on strong in the outdoor industry in recent years, and these waders are a good example of some of the best wader boots available to buy at a reasonable price.
These warm boot-foot waders are not the best for long walks along a river bank to reach a prime fishing hole, but for all-day warmth and comfort, this is a good choice, especially with felt soles. Wader anglers slogging along a concrete jetty or sloshing into crashing surf will like the warm, soft feel of these boots, plus the non-slip traction felt soles provide.
The boots are available in a good selection of sizes, and for cold weather fishing anglers may opt for a size slightly larger than usual so additional socks, pants and other garments such as rain gear can be worn. These waders do not come with a belt or even belt loops, which many anglers desire for a snug waist fit. However an old (oversize) belt still can be used around the waist if needed.
Designed for the cold water, deep wading angler in mind, the Amphibs have a high–back design covering more of the torso than many other boots. This makes them a good choice for float tube and kayak fishing. Thick 3.5mm neoprene uppers offer comfort and warmth, while 200–gram Thinsulate insulated rubber boot bottoms insure feet stay toasty and dry.
Wide and comfortable shoulder straps attach to the chest boot front with a dependable hoop-and-loop system, and high-on-the-chest handwarmer pockets are a good design. Reinforced knee pads are nice for wading off–color water when obstructions such as submerged limbs and stumps may be encountered.
HISEA Neoprene Chest Waders
These cleated sole chest–high boots boast a remarkable number of features at a rock-bottom price for well-made neoprenes – great for surf and saltwater wading fishing
Specifications
Wader type:
Cold–weather saltwater chest waders
Reasons to buy
+
For fishing in surf, beach and sandy bottom areas, these boots have just the right sole type
+
Any wader boot deal that includes a free waterproof phone case and wader hanging harness is hard to beat
+
They come with a one–year warranty
Reasons to avoid
-
Perhaps the only shortcoming of this boot is the cleated sole, which wade anglers walking over slippery bottom may dislike
These are best wader boots for cold water work, given their toasty 4.5mm neoprene, and 200–gram Thinsulate lower boots. While perhaps not the best wading boots for exploring a summer redfish flat off Texas, they shine in colder climates for anglers chasing striped bass, bluefish, surf perch, corbina, flatfish and float tubing or kayaking during cool water of spring, fall and in spring-run waters of summer.
One often overlooked asset for cleat-sole waders is they are good for distance walking over soggy ground, common along river and stream trails. Such rubber–boot soles withstand more scuffing abuse than felt–sole boots. Once nice touch is a raised ridge of heavy rubber on the upper boot heal that allows for easy removal of the waders at day's end. Toe–to–heal boot removal is simple and easy.
These waders come in a wide size selection for a good fit. Anglers may consider that neoprenes usually are a snug fit, and should perhaps choose at least a full size larger, considering heavy under clothing, socks, jackets, etc. Features include adjustable neoprene and nylon shoulder straps with quick-release buckles and a nylon wading waist belt provide a comfortable, customized fit. Front pocket with hook-and-loop closure includes a large double hand-warmer pocket. They also have three handy D-rings for easy accessory hanging, such as nets, pliers, etc.
Warm and flexible 4.5mm neoprene construction traps and holds body heat to shield an angler from water chill, while padded knees add extra durability for long wader life. Extra solid and durable ozone-resistant rubber boots are lined with 200-gram 3M Thinsulate Insulation to keep feet dry and warm, and they have cleated soles for good bottom traction on mud, sand and fine gravel.
Cabela's Classic Series II Neoprene Waders
With the rock–solid Cabela's name behind it, these camo-colored boots (two patterns available), are a good choice for cold weather outdoors folk
Specifications
Wader type:
All-round comfy cold-weather chest waders
Reasons to buy
+
The rubber cleated boot soles have a rather aggressive cut to aid in bottom traction, but the groves are not so deep or wide to accumulate much mud, shell or debris
+
These waders are nicely cut with slight "dips" in the neoprene for ease of arm movement – beneficial to anglers desiring free arm movement for casting, especially fly fishers, and float tube or kayak anglers
Reasons to avoid
-
These are made for cold weather use due to their heavy neoprene and thick Thinsulate boot insulation, making them not the best choice for wading fun in the sun
-
A negative to some folks may be the boots only come in camouflage colors. But blending in with terrain can have its benefits in fishing, too, especially in clear water environments to avoid detection by fish
The reliable Cabela's brand is a comfortable addition to the neoprene wader market. Designed more for hunters than anglers, the mid–range price waders are made to last and are the best wader boots for cold weather fishing when tackling slippery conditions.
The shell holder pocket along the front of the boots is a nice place for anglers to stow useful items like clippers or small scissors for trimming lines and leaders, compact eyeglasses for tying line or lures, split shot, etc. The oversize handwarmer pocket can be used to stow extra tackle, line, hooks, lures, even a sandwich and gloves, and it has a pair of drain holes to let water run out should an angler wade a bit deeper than desired.
These boot-foot waders have many quality features including flexible, insulating 3.5mm neoprene/nylon jersey laminate construction. Other features are a wide crotch for better leg comfort and rubber boots at the foot with a cleated outsole and 600-gram 3M Thinsulate Ultra Insulation. They come with adjustable webbing suspenders having quick–release YKK buckles. Built–in wading belt loops are included with a rugged nylon wading belt. Reinforced knees stand up to shark sticks, rocks and other sunken encounters.
A D–ring at the wader back near the neck is useful for attaching items such as a fishing net or even a line to a small float tube as an angler works a river or stream while wading. The waist belt fits nicely to the boots with large, oversize and rugged neoprene loops. Boots are available in men's sizes 6 to 14, and the smaller sizes will work for youths and women.
Repel Footwear PVC/Nylon Waders
You will not find a better entry–level pair of lightweight waders at this price
Specifications
Wader type:
Lightweight boot-footed chest waders
Reasons to buy
+
Because they are made of thin nylon and PVC, they fold and stow nicely in vehicles, duffle bags for traveling, and in a boat or canoe for use when needed
+
At this price an angler can outfit his whole family, uncles and cousins, too
+
Another plus is that if they become damaged or torn during use, they can be repaired with a rubber or tire patch
Reasons to avoid
-
One negative for the boots is they're light so not the best for cold water or weather. However, if a larger size is purchased, layers of under–clothes can be put on if desired. Short pants can be worn in warmer weather
-
Lug soles make these Repel boots best used on sand, mud or fine gravel where slippery conditions are minimal
If there were ever a pair of wader fishing boots that could be considered disposable, this is the model – the Repels are the best wader boot for a small budget that we've seen. That doesn't mean they're not serviceable to plenty of anglers, but there's no need to spend a bundle to have boots just fine for a lot of fishing. At this price, some anglers could have several pairs, using them for various trips to far–flung locations.
Their lightweight and easy compact nature make them ideal for airline travel, and if they're roughed up at the fishing location, they don't have to make the trip home and not much is lost in expense. Their super light weight also makes sure they're among the best wader boots for backpack and off-road anglers trekking up mountain trails or to remote sites to tap a distant or hidden fishing spot.
Construction-wise, the Repel Footwear boots are 100 percent waterproof boot-foot PVC/rubber waders that are lightweight with a sturdy lug sole. They feature a 420–denier nylon upper and convenient interior utility pocket at the front chest. Wide adjustable nylon web suspenders offer a quick release buckle, with the comfortable "H" pattern at the back for fatigue–free wading . They're available in a wide range of sizes from men's 36 pants to XL size 42 pants, and they come with a 100–percent satisfaction guarantee.
Fishing Chest Waders
Don't judge these women's wader boots by their color – they're well-made with lots of angling accessories tailored to just the right sizes for female anglers
Specifications
Wader type:
Women's boot-fotted chest waders
Reasons to buy
+
They're available in six women's sizes from 7 to 12, and there's a detailed size chart available to choose from a wide selection of hip size, inseam and overall length to ensure a good fit
+
Since they are lightweight, anglers make choose slightly larger sizes if extra under-clothes or socks will be worn
Reasons to avoid
-
About the only downside of these boots is they're only available in a rubber sole, so slick–rock traction afforded by felt-bottoms is unavailable
These distinctive waders aimed at female anglers have all the lightweight qualities of a high–end wader, and the company offers a 30–day full money back guarantee for any reason.
The custom fit charts helps ensure they'll not only keep the person wearing them dry and safe, but they'll be comfortable for all-day when fishing, especially if significant walking to and from fishing locations is involved. We reckon they're the best wader boots for women anglers on a budget.
These stylish boot-foot waders are made of upgraded nylon with two-ply waterproof fabric. They're 100–percent waterproof, having wide fabric elastic shoulder straps with a desirable H–back pattern helpful to distribute weight across the shoulders and back. They have heat–welded sealed seams and precision stitching. Boots are rugged rubber with a well–defined cleated sole for good grip and a storage inside front–boot pocket for storing small items like sunglasses, etc.
They also have an adjustable waistband fabric belt with heavy plastic closure that secures to the boots with well-made loops. Suspenders and belt have rugged heavy plastic quick release buckles, and there are a pair of D–rings at the boot front for attaching ancillary angling gear.
Simms G4Z Waders
The Mercedes–Benz of fishing waders, these are the ones you want if you spend a lot of time fishing, or want to treat yourself like royalty
Specifications
Wader type:
The best waders money can buy
Reasons to buy
+
Made of breathable Gore-Tex material, these waders offer remarkable comfort and superior inside bootie for all-day fishing comfort
+
Another remarkable innovation is a full length waterproof front zipper that allows easy on-off of waders, but more importantly, a cold-weather bathroom break is easy
+
The ingenious adjustable wader straps are comfort plus and designed to stay put on the shoulders and back
Reasons to avoid
-
It's difficult to find anything about these waders that comes up short, except for the price, which is eye-popping for anything but the most well-heeled anglers or pro anglers spending more time on the water than most folks do at work
Simms G4Z Waders are perhaps the most durable waders available to buy and they've been meticulously refined to offer features and functionality that meet the demands of the world's most discerning guides and anglers.
Simms G4Z Waders really are the best of the best wader boots, made by a top-flight company centered in the heart of Southwest Montana trout country. It's obvious this is the evolutionary pinnacle of wading boots designed by anglers and guides offering continuous input on wader design to produce a product that's virtually unsurpassed outdoors.
Made from three–layer Gore-Tex Pro Shell upper and four–layer Gore-Tex Pro Shell lower for rugged durability in the water and on the trail, they have patented compression–molded stocking feet for enhanced comfort and improved boot fit and lace bite. An extended YKK waterproof zipper allows for quick bathroom relief and easy on/off procedure. Two zippered chest pockets with integrated retractor docking stations offer strategic access to fishing essentials.
Other features include; zippered, micro–fleece lined handwarmer pockets for added storage and cold-weather reprieve plus built–in, low–profile belt loops for enhanced strength and durability. Boots have patented front and back leg seams for enhanced mobility and increased durability - their patented 2mm abrasion-resistant, built-in gravel guards are the best on the market. And for those important feet deep in boots on a cold trout river, the Simms G4Z Waders have anatomically-engineered neoprene stocking feet with anti-microbial finish.
However, note these are stocking-foot boots, meaning that wading shoes must be purchased in addition to the boots themselves, which puts this package at or well over $1,000. A wide variety of wading shoes offer anglers many options for walking in water. Lug-sole rubber over-boots with tight narrow grips (for mud) or wide lugs for more traction can be chosen, or felt-sole over-shoes for slippery rock wading. Many types of over-boots are available from Simms (including some designed for saltwater flats, others made for free-stone streams, etc.) ranging from $100 to $300. But the price tag is worth it – these truly are the best wader boots you can buy right now.
All the latest inspiration, tips and guides to help you plan your next Advnture!
Bob McNally has been around fishing and the outdoors all his adult life. He caught his first sailfish at age nine, his first tarpon and bonefish at age ten.
In addition to writing thousands of newspaper outdoor stories and feature magazine articles on fishing, multi-award-winner Bob is the author of 11 outdoor books, including the definitive, best-selling Fishermen's Knots, Fishing Rigs, and How To Use Them. Bob has fished throughout Canada, Mexico, Central and South America, Europe, Cuba and the Bahamas and lives near Jacksonville, Florida with his wife.