How Advnture tests products
We put gear to the test in the field to bring you the best buying advice possible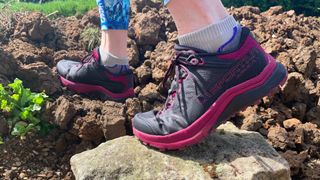 (Image credit: Claire Maxted)
At Advnture, we know that buying outdoor equipment is a very important decision. You need gear that you can rely on for your safety, comfort, and enjoyment - sometimes in extreme conditions. Nobody can buy a review from us, or pay to receive a particular score. We only recommend the tents, hiking boots, waterproof jackets and other equipment that we'd be happy using ourselves.
We test every product on the trails and roads, and in the hills and mountains, putting gear through its paces exactly as you would. We camp out in all conditions, hike up mountains, and cross rivers and streams to be certain that the products we recommend will keep you safe, comfortable, and happy outdoors. As people who love the natural world, we also consider the environmental impact of products, including the materials they're made from, longevity, and reparability.
All our reviewers have a deep understanding and experience of outdoor activities and pursuits, and will aim to tell you how a new product compares to others on the market so you can decide which is best for you.
How we test apparel
We test running and hiking apparel in varied conditions that match the ratings given by the manufacturer, and put in serious mileage before giving our verdict.
For example, we test hiking boots across varied terrain, including technical trails, in a range of conditions, with and without backpacks. Specific features (including foot and ankle support, toe and heel protection, cushioning, waterproofing, breathability, grip, materials used and general comfort) are tested against claims made by the brand, and we assess factors such as durability, environmental impact and value for money.
Our reviewers test waterproof jackets and shell layers during wet and wild weather in a range of environments, from hills and peaks to coastal paths and woodlands, on day hikes and longer treks. Features (including waterproofing, breathability, ventilation, materials, style, pockets, hoods, snow skirt, weight and overall comfort) are tested against claims made by the brand, and we assess factors such as value for money, durability, functionality and environmental impact.
How we test equipment
We put camping, hiking, and fishing equipment to the test in a range of outdoor scenarios – car camping, backpacking, base camping – assessing their value and performance against the claims of the brand in terms of comfort, weight, ease of assembly/packdown, transportation, robustness and features.
For tents, for example, that means sleeping overnight outdoor conditions, temperatures and terrain appropriate to the rating assigned to the product by the manufacturers/ brand. For lightweight tents, we will also carry them in a backpacking scenario to test its performance as a shelter for multi day hikes.
We also test sleeping bags, mats, and liners outdoors overnight in appropriate conditions. Specific features (weight, warmth, loft, zip quality, hood, footroom, packability and so on) are tested against claims made by the brand. They will also carry the sleeping bag in a backpacking scenario to test its performance during multiday hikes.
Our star ratings explained
Five stars
Outstanding – among the best of its type. You can rely on this product to live up to its promises, and it would be our number one choice for our own adventures.
Four stars
A good all-rounder that doesn't quite match the performance of the best-in-class, but is still a dependable choice.
Three stars
Generally good, but there may be some compromises. Think carefully about where you'll be using it, as it may not be suitable for all weather conditions, temperatures, and terrain.
Two stars
Suitable for some casual use, but we wouldn't rely on it in challenging conditions. There are better options that will serve you better in the long run.
One star
Not recommended. We wouldn't advise buying this product, and it's probably not worth the investment even if you see it at a steep discount.
Get in touch
For details of the team and what we do, take a look at our About Advnture page. You can contact us individually, or reach the whole team by email at advnture@futurenet.com.
All the latest inspiration, tips and guides to help you plan your next Advnture!
Launched in July 2020, Advnture is the ideal destination for anyone who loves the great outdoors. Whether you're into epic hikes through the wilderness, camping trips with the family, climbing with your friends, or looking for a trail running personal best, our team of experts will point you in the right direction, with top buying advice and in-depth guides to help you get the most of your time in the backcountry.