Buyer's guide: Fluorocarbon Lines for Hook Lengths
Duncan Charman tests six fluorocarbon lines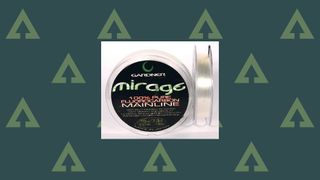 (Image credit: Angler's Mail)
Welcome to Advnture, the new home of AnglersMail.co.uk
We put various fluorocarbon Lines through their paces...
Carp Fishing Group – 15 LB X Line
£14.99 (250 m of 10 lb, 12 lb, 15 lb, 17 lb, or 20 lb)
The thinnest fluorocarbon tested, at 0.31 mm, and although described as a main line, it can double for flexible rig presentations and as a leader in its higher breaking strains. Excellent light refractive properties, good sinking qualities, which allow it to lay flat on the bottom, and being extremely supple it knots very well. Diameter was inconsistent in tests, and abrasion resistance was far from the best tested, breaking between 8.3 and 11 lb!
SCORE: 23/30
Korda – 15 LB IQ2
£8.99 (20m of 10 lb, 12 lb, 15 lb, or 20 lb)
The diameter of this fluorocarbon when tested varied from 0.40 mm to 0.41 mm. However, it sinks like stone, and its light refractive qualities make it almost impossible to see, as well as laying flat on the bottom. Not as soft or supple as some, but still allows hook bait movement, which is great for flexible rigs and makes it suitable for a range of other presentations as well as a good leader in its higher strengths. Very good abrasion resistance properties when tested, but broke at around 13.2 lb consistently.
SCORE: 24/30
ESP – 15 LB Soft Ghost
£4.50 (20 m of 10 lb, 12 lb, 15 lb, or 18 lb)
With a consistent diameter of 0.37 mm, this soft fluorocarbon is ideal for a wide variety of more flexible rigs and presentations, as well as using as a leader. Being limp and supple, it makes for easy knot tying, has a very good memory as well as having good sinking properties, and becomes almost invisible once submerged.
Its abrasion resistance isn't the best, and when it was tested for its 15 lb breaking strain, results varied between 12.1 and 16.5 lb.
SCORE: 25/30
Nash – 15 LB TT Stealth
£6.99 (20 m of 8 lb, 10 lb, 15 lb, or 20 lb)
A consistent diameter of 0.41 mm means this was always going to have good abrasion resistant qualities. However, due to this, it loses much of its suppleness and softness, which isn't a bad thing if you like creating rigs that are quite stiff. Sinks like a stone and has great light-refraction qualities, making it almost invisible. The higher breaking strains are ideal for shock leaders. Broke at around 15.4 lb consistently.
SCORE: 26/30
Kryston – 15 LB Incognito
£9.99 (50 m of 5 lb, 7 lb, 9 lb, 11 lb or 13 lb, or 30 m of 15 lb, 18 lb, or 24 lb from £7.99 to £10.99)
Having a diameter of 0.39 mm, this fluorocarbon sinks exceptionally well and lies straight along the bottom. Coupled with good transparency, being soft and supple it lends itself perfectly to creating rigs that require some flexibility. Diameter tests showed an inconsistent reading between 0.39 and 0.40 mm, however, it fared very well on abrasion tests and breaking strain, parting slightly higher than its stated 15 lb. The higher breaking strains make great shock leaders, and its softness knots very well.
SCORE: 27/30
Best Buy
Gardner – 16 LB Mirage Mainline
£10.99 (100 m of 8.5 lb, 10 lb, 12 lb, 16 lb, 18 lb, 20 lb, 25 lb, or 30 lb from £10.99 to £17.99)
This fast-sinking, low-diameter fluorocarbon lies flat on the bottom, perfect for flexible rig presentations, a main line or a leader in the higher breaking strains. Has a refractive index of 1.42, very close to that of water, making it almost impossible for fish to spot. Being soft and supple means easy tying of strong knots, and its 0.37 mm diameter was consistent throughout. Comes out on tops easily when tested for its abrasion resistance, as well as breaking at a slightly higher strain than its stated 16 lb.
SCORE: 29/30
NOTE: All products tested August 2010.
All the latest inspiration, tips and guides to help you plan your next Advnture!
Running from 1964 until 2020, Angler's Mail was the UK's leading weekly magazine devoted to coarse fishing, telling readers everything they needed to know about which fish to catch, where to catch them, and what kit they needed to do it. Now, loads of the magazine's expert advice can be found on Advnture.com, as a helpful resource for angling newcomers and experts alike.