Buyer's guide: Margin poles under £300
Looking for a margin pole that doesn't cost the Earth? Steve Lockett tests some excellent choices for under £300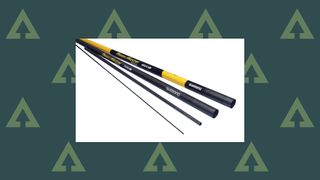 (Image credit: Angler's Mail)
Welcome to Advnture, the new home of AnglersMail.co.uk
Six of the best margin poles under £300...
GARBOLINO VIPER CARP
£69.99
This pole is undoubtedly strong, but looks rather old-fashioned. The gloss finish will make shipping difficult in wet weather. Carbon composite construction makes it heavy, and although it feels reasonably stiff, it is floppy when moved.
Measuring 9.1 m with only seven sections gives decent balance at full length. Very long, possibly 100 per cent carbon top-two adds stiffness and allows a good length of elastic. Rated to No.20 elastic, the 2.7 mm tip will take this with little cutting back needed. A strong reinforced area at the base of the second section adds extra strength where it will be needed most. Strangely, the top-two look like they belong to a different pole, but this may explain the reasonable balance. A pole for those on a very tight budget.
SCORE: 20/30
BROWNING DRAG 'N NET
£65.50

The shortest pole on test, at 5.5 m, really looks like it has been designed specifically for catching big weights of large fish at close-range. With only five sections, balance and stiffness are not issues.
Strength is not in question, as this pole is rated to No.24 elastics. The tip section will take a 4.1 mm bush with no cutting back needed. Hoops over under a load, which helps with cushioning fighting fish, but may compromise elastic performance.
Precision point markers on the butt section allow spot-on positioning of baits such as paste. The slim sections are easy to handle and hold for long periods of time. Comes in a soft bag only, with no spares, but is a good looker. One for confined spaces, or fishing just down the shelf.

SCORE: 22/30
FISHEAGLE EXTREME POWER
£79.99

The butt section promises great things, but the main blank of this tough Chapmans Angling pole is built for strength, not really performance. A high gloss finish on the other seven sections will not be easy to ship back.
At 8.7 m, it is a reasonable length, tipping the scales at 850 gr. Not so heavy, but also not as stiff as some of the competition.
The sections seem to be random lengths and the overfit of joints is not consistent. This could affect handling by adding extra weight where it is not needed and gives concern that sections may slip when under pressure.
Supplied in a soft case, it also comes with a spare top three, which is a plus. The tip section should need very little cutting back to be set up with the maximum rating 24 elastic.
SCORE: 22/30
GARBOLINO MAXIM POWER CARP
£179.99
A top quality pole with trade mark long sections from one of the top pole manufacturers around. Only six sections are needed to take this to its full 9.5 m.
A 3.2 mm bore on the very long top section should need little cutting back for a bush and No.20 elastic. Every section is numbered and reinforced for strength.
Joint alignment markers make setting up and getting maximum performance an easy task. With all sections lined up, the Maxim feels very stiff and can be comfortably used with only one hand.
Slides smoothly for superb performance and balances very well. No hint of droop at full length, this is a great pole. Supplied in a soft sleeve case, but although extras such as spare kits are readily available, they would have been better included in the package.
SCORE: 23/30
MIDDY XM10
£269.99
A smart, modern looking pole supplied with a carry case, spare top kit and half extension. The XM10 is a proper pole package befitting its top end price. A 1.5 m extension is also available to take this powerful pole further than most.
Markers on the top kits show where to cut them back to bush them for differing strengths of elastic. It is a very nice touch, but takes this pole outside being strictly a margin pole.
At full length the XM10 balances very well and shows very little droop. Under pressure it gives slightly more than would be expected for a pole at this price point.
Measures up at 10 m when fitted with the half extension and the match kit. With the power kit on, it is only 9.5 m.
SCORE: 24/30
SHIMANO BEASTMASTER MARGIN
£159.99
A fabulous package backs up a top quality pole to give a worthy winner. Coming in a tough carry case, with plenty of room for spare sections, brolly and bank sticks, this is also the easiest pole here to carry. Strong reinforced wraps at the base of each section can be drilled to take an Elasti Gate puller kit, one of which is supplied. EVA stoppers at the top and base hold the pole for transporting, and include a specially designed plug to stop the sections rattling around.
A spare top-two is also supplied, and both pole and spare kit are in tough tubes. Weighing in at only 478 gr at the full 8.5 m, this is a six-section featherweight packing an extreme punch. Shame the extra-long number one section needs nearly a metre removing to take sensible elastic.
SCORE: 27/30
NOTE: All products tested July 2012.
All the latest inspiration, tips and guides to help you plan your next Advnture!
Running from 1964 until 2020, Angler's Mail was the UK's leading weekly magazine devoted to coarse fishing, telling readers everything they needed to know about which fish to catch, where to catch them, and what kit they needed to do it. Now, loads of the magazine's expert advice can be found on Advnture.com, as a helpful resource for angling newcomers and experts alike.