Advertisement Feature
Föhn: outdoor clothing that adds to the adventure
By Sponsored Post published
Enjoy your adventures in style and comfort with high performance clothing from Föhn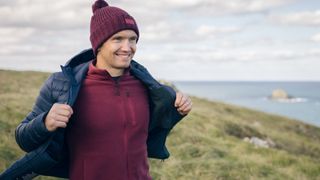 (Image credit: Föhn)
Are you ready for adventure? Then Föhn's range of versatile, multi-sport kit is here to help unlock the outdoor experience for you. Whatever your open-air challenge of choice – trail running, hiking, paddleboarding, cycling or surfing – Föhn's clothing is rooted in technical performance and functionality, designed to keep you out there and comfortable, in any terrain, in any conditions. And you'll look great too.
Smart Föhn
Föhn (pronounced fern) is a type of dry, warm, down-slope wind that occurs in the downwind side of a mountain range (it originally referred to a specific Alpine wind, but has since become a more generic term). So Föhn clothing is the wind on your back, pushing you on to your next adventure.
Welcome to the coolest kit for opportunists and the trailblazers from an exciting, cutting-edge young brand. Their just-released new autumn/winter 2020 range of waterproof jackets, insulated jackets, dry-release tees, merino base layers, hats and more once again proves how they're committed to giving outdoor adventurers a new dimension in style, comfort and practicality. This is epic clothing for epic adventures, made to endure. They've even reinvented the fleece.
Föhn clothing is designed based on three main principles in mind – passion, performance and sustainability.
Passion
Launched in 2018 and based in the South of England, Föhn is a brand fuelled by a passion for outdoor adventure, run by a team who live that life who pour their passion into everything they make.
"Being surrounded by amazing landscapes, nature, exploring new places, dealing with the weather (good or bad), we believe that life is an adventure and we should make the most out of every moment; big or small," they say. "By creating good kit that fits well, looks great, and is packed with all the features you need for an active lifestyle, we want to give our customers the ability to say 'Yes' to adventure."
Föhn is quickly growing a family of Föhn fans and ambassadors equally as enthusiastic about their collection, and you can join them on online on Instagram and Facebook.
High performance
Föhn's team includes designers and developers who are experts in fabric technology and know how to maximise the performance of a garment. Föhn choose fabrics specifically for their strengths, whether that be weather protection, breathability, insulation, weight or packability. Everything is then tested to ensure it offers the benefits you need to enhance your experiences.
This has involved partnering with some of the best technical suppliers in the industry, including Polartec, PrimaLoft and Drirelease, working hard to source fabrics that deliver high performance, quality and durability.
Sustainability
Föhn is committed to looking after the world we live in and love! Packaging is made from 70% recycled material and is also fully recyclable. Their synthetic down jackets use 100% post-consumer recycled insulation made from plastic bottles. Their fleeces are made from 100% recycled fabric. More importantly, their clothes are made to last. Their aim is that once you've bought something from Föhn, you won't need to replace it. What's more sustainable than that?
Föhn's collection is currently available through their retail partners Wiggle and Chain Reaction Cycles and you can find the entire range here. Their new autumn/winter 2020 has also just been launched, and here are some of the highlights for potential best-dressed thrillseekers:
Mirco-Grid Fleece A fleece, re-invented. The patterned knit of Polartec® Grid™ fabric creates air channels for epic moisture-wicking and breathability. A minimalist design that maximises fabric performance.
Mountain Polartec Waterproof Jacket Powered by Polartec® NeoShell®, the Föhn Mountain Polartec Waterproof Jacket is highly breathable, versatile and packed with performance, built to keep you pushing on towards your next epic adventure.
Synthetic Down Jacket Hooded and non-hooded, the synthetic down jacket is packed using Primaloft® Insulation ThermoPlume®, a 100% post-consumer recycled polyester that perfectly mimics the lightweight warmth, softness and packability of natural goose down.
Recycled Fleeces Made from super-soft recycled fleece fabric, they're lightweight and warm – a great addition to your layering system. Perfect for cooler days, with a close but non-restrictive fit for when you layer up in colder weather.
2.5L waterproof jacket Super lightweight, fully waterproof and totally breathable, the 2.5 layer waterproof offers ultimate freedom in changeable weather. So light, this jacket is a rucksack or back-pocket essential on any run, bike or hike.
Polartec Alpha Jacket Extra protection, lightweight warmth. This windproof packable shell uses Polartec® Alpha® Direct to offer unrivalled breathable insulation that's so light you'll hardly notice you're wearing it.
Polartec Big Pile Fleece Big, fluffy, warm and breathable, this fleece uses Polartec® Shearling – the ultimate game-changer for outerwear. The result is unparalleled comfort and advanced functionality in a classic, high-pile look.
Dry Release Tee Keeping it simple – whether you like to run, ride, hike or paddleboard, the fast-wicking, soft-to-touch drirelease® fabric will keep you dry and comfortable all day long.
Merino base layers A collection of base layers made from 100% merino wool.
So if you want to look good and feel even better when you're taking on everything that nature has to throw at you, Föhn has the perfect kit to help make your outdoors adventures unforgettable.
All the latest inspiration, tips and guides to help you plan your next Advnture!
Thank you for signing up to Advnture. You will receive a verification email shortly.
There was a problem. Please refresh the page and try again.