Advertisement Feature
Meet the TERREIN hiking boot – engineered to protect your ankles on the trail
By Sponsored Post published
The brand new TERREIN Hiking Boot is set to transform the outdoor footwear market with an innovative design intended to limit pesky ankle injuries on the trail and keep you moving further, for longer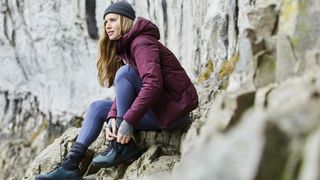 (Image credit: Betterguards)
Here's a scenario you've probably experienced before on the trail: you're moving quickly over rocky terrain, distracted by the incredible views, when suddenly you take a wrong step and feel a sharp pain in your ankle. It could be a tiny tweak or a full-blown sprain, it doesn't matter; any ankle injury is every hiker's worst nightmare. But while accidents do happen, they can often be avoided – with the right gear.
In fact, Revolutionary technology brand, Betterguards (opens in new tab) is working on a solution for you right now. Integrating the Betterguards technology, the brand new TERREIN (opens in new tab) Hiking Boot is set to transform the outdoor footwear market with an innovative design intended to limit pesky ankle injuries on the trail and keep you moving further, for longer.
Ankles are the most frequently injured area of the body for hikers, accounting for 40% of all injuries, according to the German Journal of Sports Medicine, and members of mountain rescue agree that ankle injuries are the number one cause for callouts. So why are ankle injuries so common among hikers? Well, take a weight-bearing hinge joint consisting of small, fragile bones and limited mobility, add some steep downhills, slippery surfaces, precipitous woodland and unfamiliar terrain and you definitely increase the stress on your ankle, and elevate the risk of painful twists and strains . Worse still, as you may have already learned the hard way, once you've sprained your ankle once, you're more likely to reinjure it.
So do you have to quit hiking and take up a spectator sport instead? Not if Betterguards (opens in new tab) has anything to do with it. The new TERREIN hiking boot is designed to stabilise your ankle faster than your nervous system can respond to a slip or fall. You read that correctly. Reacting three times faster than the human body, the TERREIN hiking boot, which is designed for the outdoor adventure sports you love such as walking, hiking and speed hiking, features the Betterguards integrated mini piston system which mimics the function of your ligaments and muscles to safeguard your ankle against injury.
Here's how it works: Typically, when you roll your ankle on a hike, you don't know what's happened until it's too late. One minute you're walking along happily, enjoying the fresh air and sunshine, the next minute you're in so much pain you can't bear weight on your ankle. This is because your muscles need 100 milliseconds to activate – it doesn't sound like a lot, we know, but it's enough to make the difference between stabilisation and collapse. The TERREIN hiking boot, on the other hand, needs just 30 milliseconds to react, so it is engineered to step in during that split second before you collapse and act for your muscles until you have time to register what's happening and respond.
If you're concerned that such a supportive hiking boot must sacrifice some range of motion, don't be – TERREIN allows you to focus on your outdoor experience without restriction. The boot's sock-like construction allows full freedom of movement, whilst the power adaptor is encapsulated in high abrasion fabric to ensure durability, increased comfort and breathability. Meanwhile, Velcro® has been utilised to provide a customised fit for all shapes and sizes.
Better still, the boot's engineer's have thought proactively about the key risk factors for ankle injuries on the hiking trail, and the outsole of the shoe includes a high grip rubber compound to generate maximum control during your ascent and descent, with a proprietary high side-wall outsole construction for greater traction, essentially helping to reduce your risk of tripping in the first place.
Using exclusively European suppliers and manufacturers, TERREIN (opens in new tab) has been produced in sensible numbers, tailored to the local demand. By manufacturing locally and responsibly, the brand is developing a shorter, less complex supply chain which is ultimately kinder to the planet as a result of the reduction in carbon footprint. TERREIN (opens in new tab) is investigating how future models can be made using exclusively locally sourced recycled materials, to ensure you continue to tread lightly on the earth during your adventures.
What are you waiting for? TERREIN (opens in new tab) is available to purchase from June 2022 in two striking colour ways, sand and turquoise. The boot can be purchased at https://terrein-footwear.com (opens in new tab) at a RRP of £180.
Manufactured in Germany, Betterguards' technology has undergone more than 11,000 hours of trials on athletes. Each and every adaptor is evaluated for safety and functionality in a rigorous quality control process.
All the latest inspiration, tips and guides to help you plan your next Advnture!
Thank you for signing up to Advnture. You will receive a verification email shortly.
There was a problem. Please refresh the page and try again.