Alternative supermarket baits to try
Colin Mitchell, delves deeper into baits this week, finding some supermarket alternatives which have been used to catch fish.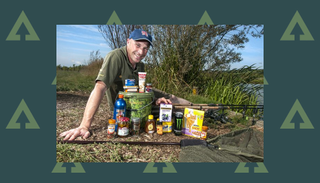 (Image credit: Angler's Mail)
Welcome to Advnture, the new home of AnglersMail.co.uk
Anglers have always searched for the Holy Grail – that wonder bait that will catch fish when everything else fails.
Well here's some bad news for you – it simply doesn't exist!
However, sometimes it can pay to find something just a little bit different that might give you and edge, particularly on waters where fish wise up to baits used regularly.
Carp anglers have for years experimented with different flavours, enhancers and colours and it recent times many other branches of our sport have learnt to follow their lead.
This in turn has resulted in the plethora of different baits that now dominate tackle shops shelves.
But how often have you tried something different, something totally off the wall!
Recently I've been trying a few different items as bait and have caught on them.
More than anything this has given me confidence to experiment with both tackle shop and supermarket bought baits.
And it's also helped me realise that if I can't get to the tackle shop for bait, or it's closed, there are usually alternatives to try!
It started when the wife decided to ditch some liver pate that was coming up to its past-eat date.
I thought it had to be worth a go… meat paste! And sure enough it caught.
Two words of advice: mix in a bit of flour or groundbait to stiffen it; and don't try freezing pate to keep it longer, it just doesn't work.
Cream cheese that was also destined for the food waste bin was brought into play and no surprise that it too caught, although once again it needs a bit of stiffening.
Next up was marzipan I spotted in the cupboard for cake making. Don't tell the other half… but this was awesome!

It's got the right consistency, a lovely smell and is a great paste that caught carp and tench (guess it would work for bream too but there were none in the lake!).
The only down side… I might end up eating it all myself!
Going veggie could be the way forward
I don't know if my red cabbage juice – rescued from the pan after the leaves had been cooked – worked, but it certainly added a bit of a smell to the bait and a nice colour.
Most of you will have used sweetcorn so why not other canned vegetables?
I know peas work because I know other anglers who have had great baits of roach on them.
Next up for me will be carrots cut into different shapes, round, punched, cubed and most likely hair rigged.
Come to think of it… beetroot has to be worth a bash too!
Other cans destined for the dustbin that are also ready to be tried include various forms of fish.
That has to be good in groundbait because I have already have success with tuna in my mixes.
And the Carnation Milk is spot on for putting in your mix to form a great sweet cloud that just hangs for ages in the water.
I've got mates who have used pasta and rice, both flavoured and coloured and those are something I really want to try.
I will let you know what happens…
* Remember 'eat by' dates of supermarket products are just a guide, and on canned foods you will find the contents edible for well past what they say.
All the latest inspiration, tips and guides to help you plan your next Advnture!