Best trail running shoes: for hitting the hills, running ridgelines and tackling technical singletrack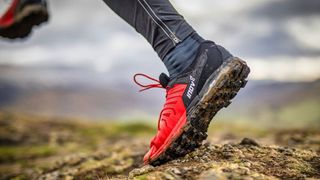 (Image credit: Inov8)
Having the best trail running shoes can open up a world of opportunities for you. Why on Earth would you run on the road when there's a wide wild world of alpine trails, ocean-hugging paths and woodland-, riverbank- and hillside-hugging singletrack to explore? 
That question has clearly been pondered by many over the last decade, because there's been a revolution in the running world, and the ranks of the once-small trail tribe has swollen enormously. 
Elite trail runners such as Kílian Jornet are becoming bona fide sporting celebrities, off-road events have blossomed all over the planet, from entry level suburban parkruns to ultras and skyrunning mountain marathons, and people are leaving the pavements behind and hitting the rough stuff in ever-increasing numbers.  
And when a worldwide community explosively expands like that, so does the universe of kit that floats around it. Shoe shop shelves and websites are now stacked high with off-road options to choose from, with myriad muck-loving brands claiming to cater for every foot and trail type you can possibly conceive of.
So, how can you choose the best trail-running shoe for you, amid this embarrassment of riches? Well, you're in luck, because we've been out there, getting down and dirty with all the latest offerings, putting them through their paces on trails amid the mountains of Colorado, the moors and tors of Southwest England, and even the arid deserts and verdant rainforests of Central and southern Australia. 
All of the trail shoes featured here have been included on merit, but we particularly like the Inov8 Roclite 275s for their endurance and ability to tackle any terrain. The Brooks Divide is perfect for those just starting out on trails, the Hoka One One Torrent 2 is a great shoe for people who want to take their running up a level, and the On Cloudventure Peaks are excellent for fleet-footed fell and trail-running racers.
The best trail running shoes in 2020
Fleet-footed as a greyhound, with the bite of a Rottweiler, these attractive, high-performing trail shoes are extremely versatile
RRP: $160 (US) £140 (UK) | Weight (per shoe): 260g/9.2oz | Materials: EVA/Polyolefin midsole; Vibram outer sole; Polyester mesh and thermoplastic polyurethane film upper | Drop: 9mm | Colours: Pytheas and trail blaze/Exosphere and Yukon/Pulse and paradigm | Compatibility: long-distance runs on tracks and technical trails up to lower level mountain tracks.
Versatile and comfortable
Super grippy
Lightweight
Not waterproof (GTX version also available)
Low thermal qualities for cold conditions
Potential durability issues after heavy use
Lighter and tougher than the original Norvan LDs, these trail shoes immediately impress with their luxurious straight-out-the-box comfort levels, high-end construction and well-considered stylish looks. This shoe's most impressive feature is easily the  'all-season Vibram Megagrip' outsole, which features little lugs, but has a mighty grip on even the most slippery of surfaces. The small studs don't collect dirt, and they're comfortable to run on, even on sealed surfaces.
The LD stands for Long Distance, and much emphasis has been placed on keeping weight down, while maintaining high comfort and performance levels. To this end, a mesh material is used in the upper, which also helps with airflow and drainage, but does mean they're not particularly warm in wintery conditions. A pocket on the outside of the tongue swallows the laces, once tied, preventing them coming undone mid run.
The tongue is also fully integrated to the chassis, connected right down to the midsole by elasticated wings that create an inner sock, which very effectively prevents the ingress of grit and gravel. There's a re-enforced rand around the footplate, which provides some protection to both the runner's toes and the lighter material used in the upper, and an internal rockplate is in place to prevent punctures.
In a small-but-positive nod to sustainability, the insoles are made with recycled EVA. The midsole strikes a good balance between offering adequate cushioning and trail feedback. Some trail runners might find the 9mm drop a tad excessive, but we didn't note any stability issues. 
A lightweight all-terrain wondershoe that can handle rocky and technical trails in any conditions
RRP: $135 (US) £130 (UK) | Weight: 275g/9.7oz | Materials used: Hard wearing mesh upper, graphene-grip (G-grip) sole | Drop: 8mm | Compatibility: Comfortable and capable anywhere, these really excel on technical trails and wet rock
Featherlight but highly durable
Exceptionally grippy
Instantly comfortable
Not as comfortable on sealed surfaces
Producing ferociously fast footwear forged amid the famous fells of England's Lake District, Inov8 is a brand much beloved by British trail runners, including some of the country's brightest lights like Damian Hall – who recently smashed the Fastest Known Time record on the Pennine Way wearing a pair of Inov8s – and Jasmin Paris, who set a course record on the 268-mile Spine Race in 2019 while wearing these very shoes. 
Weighing in at just 275g (clue in the name), the combination of comfort and traction control offered by these extremely lightweight shoes is sensational. As with all Inov8's recent releases, this high level of performance is founded on the technology and material used in the soles. The Inov8 G-Grip family all feature a rubber outersole made from graphene – a substance extracted from graphite, claimed to be the planet's sturdiest material, 200 times stronger than steel no less, but also boasting impressive elasticity to offer excellent grip (via 6mm lugs) as well as durability. 
The 'powerflow' midsole delivers both cushioning and rebound, and a rockplate provides extra protection for your foot – just in case something does manage to get through that hard-as-nails graphene. The upper is made from a mesh that manages to be lightweight but exceptionally hardwearing, and which is capable of expanding to allow for swollen feet after a long day on the trails. As an all-terrain shoe the Roclite 275 absolutely excels. It's comfortable straight out of the box, keeps you upright on even the slippiest of wet rocks, and the materials are super robust.
A great entry-level trail-running shoe for novice trail runners, or people looking for a shoe with high value and a lower price
RRP: $100 (US)/£100 (UK) | Weight (per shoe): 292g/10.3 oz | Materials: Bio Mogo DNA cushioning, TrailTack sticky rubber outsole | Drop: 8mm | Compatibility: 3-season trail running shoe for mild to moderate low-alpine terrain, available for men and women
Great value
Soft and comfortable
Rock-plate protection
Average flexibility and agility
Average interior comfort
Relatively heavy
A new model from Brooks in 2020, the Divide is a trail running shoe aimed at providing ample cushioning, comfort and protection for novice and infrequent trail runners. Although it does a lot of things well, it's a master of none. And that's just fine because it's cozy, versatile and protective. 
The best aspect of the Divide is the value it offers. For the pricetag it's an excellent shoe for people who just want one shoe for running all kinds of trails. But don't get the idea that low price means this is a low-end shoe. There are many more expensive shoes that aren't as good as this one. The forefoot rock plate and copious amounts of midsole cushioning of the Divide are items typically found in pricier shoes. The step-in feeling of the Divide is soft and snug, while the ride is sufficiently uninhibited despite lacking exceptional flexibility and agility. 
It's not a performance-oriented shoe that we'd recommend for fast training sessions or trail races, but it's certainly a model that can help you escape the real world and allow you to enjoy the many unique splendors of trail running. We loved this shoe for slow to moderate 5 to 10km training runs on undulating terrain.
For people seeking class-leading comfort and gritty grip on long rugged runs, the Torrent 2 features a winning mix of cushioning and responsiveness
RRP: $120(US)/£110(UK) | Weight (per shoe): 264g/9.3oz | Materials: ProFly midsole, Unify REPREVE recycled plastic yarn | Drop: 5mm | Compatibility: Technical and buffed singletrack; ultra distances
Grippy 
Lightweight
Comfy
Question mark on durability
No rock plate
Foot lockdown can be sloppy
If you're not familiar with the brand, Hoka One One produce trail running shoes with mega-thick soles and a pronounced rocker, which means instead of the bottom of the shoe being flat, it's curved – like the bottom of a rocking chair. (It feels strange when you're standing around, but is perfect when you're running, especially for heel and mid-foot strikers, rolling you forward from footfall to lift off.) 
Despite the maximalist soles, there's not much drop in the shoe between heel and toe – it's all about the cushioning, which people either love (it helps with sore knees) or hate (because you can't feel the trail). The Hoka One One Torrent V1.0 was a classy performer: a lightweight running shoe offering sumptuous plushness without sacrificing agility. And fortunately, Hoka hasn't messed around with it too much for the reboot. The Torrent 2 still treads a perfect balance, where max cushioning doesn't completely deaden the trail experience. Indeed, these shoes afford a pleasing amount of agility with more intuitive trail feedback than you'd expect from a maximalist design on technical ground. 
Hoka have added a reconfigured grip, specifically at the rear, offering more sticky control on big descents – a welcome addition. A new, recycled-yarn derived from post-consumer waste plastic (environmental kudos) also delivers what seems to be a more durable upper. This is a killer shoe for those tasting the Hoka elixir for the first time, or for runners considering stepping up to ultra-distances on trail.
If you run a mix of mild to rugged trails on a weekly basis, the Wildhorse could become your new workhorse
RRP: $130 (US)/£ 110 (UK) | Weight (per shoe): 298g/10.5oz | Materials: React Foam midsole, Segmented Rock Plate, Dynamic Flywire lacing system | Drop: 8mm drop (30mm to 22mm) | Compatibility: 3-season trail running shoe for moderate to rugged, low-alpine, high-alpine and fell terrain; available for men and women
Exceptional traction
Soft, energetic cushioning
Rock-plate protection
Sock-like fit
Runners with narrow feet may find these too wide 
Average agility
Traction isn't as good on wet terrain
Relatively heavy
A shoe designed to run wild on gnarly trails, the thickly cushioned Wildhorse 6 combines a protective rock plate and an aggressively lugged outsole with a subtly reinforced upper and a padded tongue that secure a runner's feet with a wrap-like fit. It feels durable, secure and protective on rugged terrain, but it serves up a soft, springy ride on smooth surfaces. 
This edition of the Wildhorse features an interior bootie construction with a gusseted tongue that, combined with the FlyWire lacing system, creates a snug, performance-oriented fit for every foot size and shape. It's finished off with a lightweight and very breathable durable mesh upper, a sock-like collar and a lacing system that effectively locks down the midfoot. Although it's built for technical terrain, it runs well on smooth surfaces, too, thanks to the responsive React Foam midsole. 
Designed to provide maximum grip on challenging terrain, the Nike Wildhorse 6 has been updated with a better fit, more breathability and greater stability. The result is an outstanding trail running shoe with the ideal blend of comfort, protection, traction and durability. It fits well, looks cool and runs great. 
For fast, furious, technical trail or fell racing
RRP: $150 (US)/£135 (UK) | Weight (per shoe): 260g/9.1oz | Materials used: Missiongrip rubber, Zero gravity heel clouds, ripstop upper | Drop: 4mm | Compatibility: technical trails, mountains, steep terrain, racing
Lightweight and fast
Uber-grippy
Great trail feel 
Thin last 
Harsher ride 
Fiddly laces
Where the aim is to move light and ridiculously fast through mountains, and where grip and confident footing are the preferred currency, On Cloudventure Peaks are pinnacle performers. These shoes are for intense, shorter-format racing on technical mountain trails where nimble footedness is key. 
This is a supremely comfortable, yet somewhat fashion-challenged trail-racing shoe (depending on your taste). The light, white ripstop mesh upper delivers comfort and breathability, but also looks like sanctioned Star Wars' Stormtrooper footwear. These are no door-to-trail shoe: they want the good dirt from the get-go. An initially stiff ride transforms as soon as you get off the buff and onto the rough. The more technical the better. A lowered drop of 4mm means they favour good running mechanics and a natural footfall. The sock-like inner and good tensioning through laces and welded skeleton gives a sublime fit with zero hotspots. 
At the rear, a rigid heel holds your foot in place and reduces lateral roll, translating to more confidence and running fast over technical, rocky terrain. On's signature cloud pods do feature, although to a diminished degree compared to some of their other shoes, with the front pods closed-in, while the ones on the rear grip zone do all the hard work, providing cushioning during downhill landings. Ground bite is as vice-like as you can get. Running up hill, it's like you have teeth on the front; while downhill is like cloudsurfing. 
Fast, lightweight, comfortable out of the box, and made for speedy missions in the mountains or racing on gnarly technical singletrack, we really do like these shoes, but that white duco colour scheme… well, let's say the sooner you dirty them up the better.
Saucony Peregrine 10
A comfortable, relatively light-and-nimble high performer on a wide variety of mild to moderately technical trails
RRP: $120 (US) /£95 (UK) | Weight: 303g /10.7oz | Materials used: Formfit upper; PWRRUN+ (a TPU-based bead foam) topsole; PWRTRAC outsole | Drop: 4mm | Compatibility: A 3-season trail running shoe for mild to semi-technical, low-alpine, desert and fell terrain
Pros
Exceptional traction
Versatile
Uncomfortable on sealed surfaces
The Peregrine 10 is a versatile, well-rounded trail-running shoe with the smooth, low-to-the-ground fit and feel of a road running shoe, and just the right mix of cushioning, traction and protection for almost any train terrain – perfect for those who enjoy a few days a week running a wide variety of trails. 
Although the previous model of the Peregrine was a very good shoe, Saucony completely overhauled this year's edition and came up with an even better version with enhanced grip, improved durability, a better fit and a smoother ride. It's comfortable, relatively light and nimble, and performs well on a wide variety of mild to moderate terrain. The knobbly array of outsole lugs provide exceptional traction on wet terrain and loose dirt. It has a moderate amount of cushioning, enough to help dull the feel for the ground and keep sharp pointy obstacles and trail debris at bay. Our wear-testers loved running over muddy trails, wet grass and wet, sloppy terrain in this shoe. 
The outsole has been updated with larger, more aggressive, 6mm lugs made from a new sticky rubber compound that is distinctively adhesive on wet and dry rock and wooden stair steps, but sheds mud with surprising ease. A full-length, flexible, plastic rock plate provides ample protection against pointy rocks, roots and other irregularities on the surface of the trail without inhibiting the ability of the foot to move nimbly. Saucony replaced the Everun foam in the midsole with its new, more responsive PWRRUN cushioning. As a result, the new Peregrine gives off a more energetic and protective feeling under foot, especially when running at moderate to fast speeds. 
The Peregrine runs well on smooth dirt trails, but the aggressive lugs aren't conducive to running on paved roads or bike paths. It can still be used as a road-to-trail shoe if you start your trail runs on tarmac, but it will feel a bit cumbersome and not nearly as smooth as it does on natural surfaces.
Aggressive shoes that corner trails like you're on rails
RRP: $130 (US)/£120 (UK) | Weight: 320g/oz | Materials used: Contagrip sole, EnergyCell midsole, Sensifit upper | Drop: 10mm | Compatibility: Muddy trails, soft ground, wet, technical trails, mountains and fells
Grip
Comfort
More grip
High stack, meaning less ankle stability
Harsh ride on anything firm
Not the best at draining
Grip, grip, grip and more grip. Oh, you'd like extra grip with that? Certainly. How about with a side of grip? The Salomon Speedcross 5 has an angrier bite than a double-crossed crocodile. They munch on earth like it's candy, but manage to remain as comfortable as a croc-skin slipper. So long as you don't try running them on anything firm, that is – they do not like that one bit. These are out-and-out soft-ground slushers. 
Pummelling down a mountain, or gritting it out up a slope, where technical trail is the terra firma special of the day, these inspire confidence in your footing that directly translates to speed. This is the Speedcross DNA, and the Salomon lab boffins have drilled directly back to their source code here, but amped it up a few notches for V5. The sole has larger, even more aggressive lugs with extra space between them (good for shedding muck) and an updated geometry, delivering better push-off and braking grip in most surface conditions. The lugs are so stud-like and aggressive, we reckon you could actually play football in them. 
The catch? Big, luggy grip comes at a price. These are not all-rounders, and when trails start firming up they get twitchy, and a bit painful. These are not made for running mixed terrain, with any extended bits of road or even constant wet rock bounding. They are a little on the heavy side, too, and a traditionalist's high heel stack makes weak ankles a red flag. But on tight, technical terrain, swooshing around singletrack trails, they are a killer piece of kit. 
A barefoot beauty, that allows you to truly feel the trail you're running on
RRP: $120 (US)/£105 (UK) | Weight (per shoe): 215g/7.6oz | Materials used: Durable rubber outsole, engineered mesh upper, moisture-wicking interior lining | Drop: 0mm | Compatibility: A 3-season minimally designed barefoot-style trail running shoe ideal for a variety of types of terrain
Superior traction
Featherweight design
Exceptional feel for the trail
Minimal protection
Only for experienced barefoot-style runners
The hyper-agile Mesa Trail is the most footloose and fancy free trail-running shoe ever made by this American brand, who continue to evolve the category of minimally designed products with zero drop for dedicated barefoot enthusiasts. Xero Shoes bases all its products on the principles of natural running, allowing a runner's feet to uninhibitedly interact with the ground. 
The Mesa Trail has been designed for light, fast and agile running on a variety of trail surfaces, from smooth dirt to technical, rocky routes. It has a low-to-the-ground construction that is essentially a 5mm flexible rubber outsole, an interior 3mm foam layer and a 2mm insole that's cushy, breathable and removable. The interior feel is bolstered by a thin breathable, moisture-wicking lining. The chassis is decidedly thin but, still offers 'just enough' protection from rocks, roots, gravel and other obstacles on the trail, while the outsole is made from durable rubber with 3.5mm lugs that serves up great traction and a tad more protection, and the reinforced toe bumper provides security against stubbed toes. 
The Mesa Trail is exquisitely comfortable for such a sparsely cushioned shoe, but it still provides exceptional feel for the trail, which, depending on your experience with barefoot shoes and the surface you're running on, could be a good thing or a bit of a challenge. Remember, running in minimally designed shoes takes know-how and experience, and initially you're bound to endure some awkward landings and get some 'stingers' from pointed rocks and roots. (And avoid hard and sealed surfaces, otherwise your calves will be screaming.) But, if you're a barefoot fan and like the concept of feeling the ground beneath your feet, you'll love the comfort and agility of this shoe.
Choosing the best trail-running shoes for you
Selecting the best trail-running shoes for you is a fairly involved process, but only because the range is so rich. Of course, much depends on when and where you intend to run, and your personal preferences in terms of how much or little you like to 'feel' the trail. If your local trails are steep, rocky and often wet, then prioritise a shoe with good lugs offering great grip. If you're going to be doing a bit of road running en route to your nearest trails, perhaps choose a shoe with a less aggressive outersole that can cope well with both sealed and unsealed surfaces. 
Comfort and fit
Striking a balance between weight and comfort is always an important consideration. You need a shoe that will remain comfortable (and light, ideally) when wet, because trail running often involves legging it through mud, puddles, bogs, wet undergrowth and foliage, and tackling stream crossings. Try before you buy – make sure you have enough room in the toe box, and that the collar, tongue and lacing system won't rub or cause you discomfort or hotspots.
 If you're doing any technical running at all, especially on tight twisty singletrack, it's important to get your shoe as tightly cinched to your foot as possible, to avoid internal slippage. People's feet vary enormously – if you have a wide foot or suffer from bunions, some brands (Salomon, for example) might be a bit tight. Other brands allow too much room in the toe box for runners with narrow feet. Often people have subtle differences between their left and right feet – try both shoes on (with running socks on) to make sure they're comfortable and don't have immediate rubbing concerns.
Protection
Unlike names, sticks and stones definitely can hurt you, and you will encounter plenty of both while trail running – and lots more besides. The wilderness is ungroomed – that's why we love it. Inevitably, a trail-running shoe won't offer you as much protection from trippy roots, knobbly rocks and other natural obstacles as a hiking boot or trekking shoe, but look carefully at how substantial the outersole is, and check to see is there is a rockplate in the midsole, which will prevent the worst foot injuries (punctures) should you run over something seriously sharp. An integrated tongue will help keep grit out. 
Grip
Arguably the most important job of a trail-running shoe is to keep you the right way up. Check out the configuration of the lugs on the outersole of the shoe you're looking at, to see how aggressive they are. Think about it like the tread on the tyre of your car or mountain bike – simplistically put, the chunkier the tread the better grip and traction you will have on rough terrain, but the slower you'll be in smoother conditions. 
Very aggressive lugs can make it feel like you're walking around in football boots when you're on sealed surfaces or rockhard ground. Rear-facing lugs on the heel can help you stay in control during steep descents. Materials are important too, softer rubbers provide a better, more bitey grip, but they're not as hardwearing and will rub away relatively.
Waterproofing and breathability
There is a tendency for outdoorsy types to automatically gravitate towards footwear with Gore-Tex (or equivalent) membranes in the uppers, but often this is overkill in a trail running shoe, making them run unnecessarily hot and pushing the price up. Trail-running shoes tend to have a low cut cuff, well below the ankle, so it doesn't take much for water to get in over the top – and if that happens then no amount of waterproofing will keep your socks dry. It's often better to go with a shoe that incorporates lightweight mesh or materials that will drain and dry quicker, and allow your foot to breath much better.
Durability
While you can't expect to get the same lifespan out of a pair of trail-running shoes as you would hiking boots or walking shoes (because they're made from lighter materials and get subjected to more sustained and intense treatment), a degree of robustness should be sought. Check out materials, stitching and seam sealing, and look carefully at lacing systems for any signs that they might be vulnerable to failure. Harder outsoles are more longlasting, but softer rubbers supply better grip. Inov8's graphene outersoles claim – with a fair amount of justification – to offer both.
Performance
While we often spend a lot of time inspecting the design of the upper or analyzing how well an outersole will perform, much of the magic in a trail running shoe happens in the typically hidden midsole. Do your research or inspect the shoe to see how much cushioning it offers, and what the rebound is like. Pick a pair of shoes with a high lace eyelet – most do have at least one on either side of the shoe, higher up than the standard  lacing system goes – which is useful for preventing shoe loss during bog crossings.
Drop, cushioning and rockers
Traditionally, running shoes were typically made with a 'drop' (which refers to the difference between the height of the heel and the toe) of around 12mm. In more recent years, trail running shoes have trended towards reducing that drop to 8mm or less, to better tune into the human bodies inherent, natural running style and because trails are much more forgiving on joints than roads are. 
Minimalist shoes have a very small drop, and true 'barefoot' shoes have none at all - taking a very tactile approach to the trail, where you fully engage with and can feel the terrain you're running over, and have to think carefully about foot placement. Confusingly, you can get shoes with loads of cushioning in the sole, often called 'maximalist', that also claim to be minimalist because of their small drop. It's better to think about the two things separately: how much drop do you prefer, and how much cushioning do you like? 
Some maximalist shoes have a 'rocker', which means instead of being flat to the floor, the bottom of the sole curves like the legs of a rocking chair, helping (it's claimed) with forward propulsion from foot strike to lift off. Whether you love or hate these options is very subjective, and often comes down to your running style (whether you're a heel, midfoot of forefoot striker). Try them on the trails and see what suits you best. 
Value
We've all got budgets limits we need to stay within, and trail running shoes aren't cheap, but if you find a hardwearing trail running shoe that's suitable for all your off-road running needs, then it's worth shelling out a bit more for it. Better to buy a shoe made with robust materials, than to go cheap and end up needing to replace more often. 
All the latest inspiration, tips and guides to help you plan your next Advnture!
Thank you for signing up to Advnture. You will receive a verification email shortly.
There was a problem. Please refresh the page and try again.