The best water shoes and sandals 2023: protect your feet in the water
Our pick of the best water shoes for men and women are lightweight, fast-drying, and perfect for protecting your feet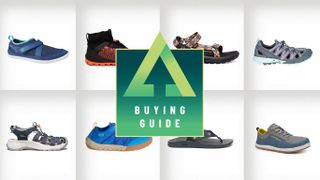 (Image credit: Future)
You'll know how important it is to get the best water shoes you can find if you love fording rivers, following streams, exploring waterfalls and wet canyons, swimming in lakes and the sea, paddling a canoe, kayak or SUP, or simply messing about in rockpools. Particularly in the warmer months, water shoes and sandals are brilliant for swimmers, aquatic sports enthusiasts and coastal walkers who want the freedom to get in and out of the water, with some protection for their feet.
For us, the best water shoes are the Vivobarefoot Esc Tempest thanks to their excellent grip, durable build, and versatile design that even lets them do double duty as running shoes. If you prefer a water sandal, the affordably priced Keen Astoria West comes highly recommended due to its tough toebox and robust build that keep your feet protected in pools and rivers.
We've put each pair of water shoes in this guide to the test in a variety of wet conditions, paddling through streams, crossing rivers, and during watersports to check the fit, grip, and durability of each pair. If you're unsure of any of the terminology or whether or not you need them for your sport at all, check out our guide what are water shoes?
The best water shoes
Best water shoes
The best sneaker/water shoe hybrid for athletes and explorers
Specifications
Sizes:
Women's: 3–9; Men's: 6–14
Suitable for:
Swim running, triathlons, kayaking, coasteering
Reasons to buy
+
Excellent grip
+
Good protection
+
Double up as running trainers
+
Recycled materials used
Swim runners and dedicated open-water swimmers in need of a water shoe that can keep up should look no further than Vivobarefoot's excellent Esc Tempest, our pick of the best water shoes for serious athletes, racers and outdoor instructors who regularly work in the water. The Esc Tempest feels like a hybrid of a running shoe and wetsuit bootie, and is designed to help you move fast and feel protected in and out of the water.
Like all of Vivobarefoot's designs, the Tempest features a flexible but tough sole – this one is made by Michelin, technology that is usually applied to hiking boots rather than the best water shoes, and it makes this shoe brilliantly grippy even on muddy trails or wet submerged rock. When we were in the water, the Tempest felt light and buoyant, and back on land the shoes dry quickly and are comfortable to run in – we like the snug sock-like ankle opening.
The Tempest is perfect for the swim run racers it was designed for, but is also one of the best water shoes for coasteering, canyoning and river swimming. These shoes are also vegan friendly, and have been made using recycled materials and ethical methods.
Read our full Vivo Barefoot Esc Tempest review
A water slipper for all sorts of aquatic adventures
Specifications
Sizes:
Men's 6.5-12.5 , women's 5.5-10
Suitable for:
Watersports, low level wet scrambling
Reasons to buy
+
Superb grip on slippery decks
+
Highly packable
+
Easy to take on and off
Reasons to avoid
-
Runs large
-
Not as versatile as some other water shoes
Sturdy, light, and super-fast to dry, there's more to the Crest than meets the eye. This slipper-style water shoe has an EVA midsole and a flexible rubber outsole under a breathable mesh upper that's tight-knit to keep out sand and debris. It's also overprinted on the outside to protect the mesh from abrasion.
The low-cut Crest is free of Velcro, laces, and straps that could get caught in windsurfer rigging, paddleboard bungies, or cause pressure points in foot harnesses of any kind. The sole is siped for superb traction on wet and slippery surfaces like rocks or boat decks. And it protects from hazards like Zebra mussels, coral, and submerged junk. We advise going a half size smaller than you would normally wear for a snug fit.
Read our full Helly Hanson Crest Watermoc review
The best multi-function water shoes for aquatic adventures
Specifications
Suitable for:
Hybrid land and water pursuits
Reasons to buy
+
Morphs from shoe to slide
+
Comfortable with or without socks
+
Vegan
Reasons to avoid
-
Not suitable for hardcore adventures
-
Women's sizes only
A cross between a meshy espadrille and a sneaker, the breathable, easy-to-get-into Ki'ihele is a shoe that's ready for summer fun. The upper is breathable lined mesh, designed to keep out sand and to give feet some protection, with a drop heel that folds down, turning the shoe into a slide. The mesh pairs with lightweight canvas and sueded microfiber. Stretchy elastic panels on both sides make getting it on and off a hands-free affair.
The dual-density polyurethane footbed is built around a shock-absorbing gel insert that runs the length of the insole, and felt comfortably squashy in our tests. That insole overlays a fatigue-busting midsole. The Ki'hele's non-marking wet grip rubber sole won't slip on boat decks, beach rocks, or anything else. And they're a shoe that gives back: For every pair purchased, OluKai donates a portion of proceeds to the Ama OluKai foundation honoring those who preserve and celebrate the cultural heritage and Aloha spirit of Hawai'i.
Read our full Olukai Ki'hele review
The best cheap water shoes
Aqua-loving sneakers, perfect for paddling, portaging and walks
Specifications
Sizes:
Men's 7.5 - 13.5, women's 4 - 8
Suitable for:
Watersports, walking, traveling, rock scrambling
Reasons to buy
+
Super grippy sole
+
Built-in sock liner
+
Treated with anti-stink tech
+
Waterproof laces
Reasons to avoid
-
Less convenient than slides
With a grippy rubber sole, a supportive midsole, and quick-dry mesh with hydrophobic canvas in the shoe's body, the Brewer (male)/ Brewess (female) 2.0 sets the standard for technical footwear for water-based recreation. It looks like a sneaker and is as comfortable as your favorite pair of sneakers, but it sheds water instantly and is so tenacious on wet rocks, you'll forget where you're standing. Even the laces are waterproof. Thanks to a built-in sockliner, you can wear them with or without socks.
An EVA midsole cushions feet and protects them from pokey rocks, while razor-siped proprietary G.15 rubber gives wearers high grip-contact that's also non-marking. Drainage ports at the arch and outside of the foot help shed water, though most of it squishes out or evaporates through the shoe's breathable materials. Ideal for kayaking, canoeing, rafting and SUPing, a slightly rockered sole and a sturdy midsole – combined with the great grip – also make these comfortable and practical for short walks and hikes, and perfect for adventures that involve river crossings or portaging sections. The shoes are treated with silver-based Polygiene, so they never get stinky.
Read our full Astral Brewer 2.0/Brewess 2.0 review
Aquatic shoes that will protect your feet on wild swimming escapades
Specifications
Sizes:
Men's 6 -12, women's 3 - 8
Compatibility:
Wild swimming
Reasons to avoid
-
Only offer light grip
-
Can be a pain to pull on and off
If you're strictly shopping for a water-only shoe rather than a hybrid sandal, one of the best water shoes is Speedo's Zanpa. These close-fitting rubber booties are designed to protect feet once you're in the water, with a thick rubber outer material and springy light soles.
We didn't find that the Zanpas gripped the ground well enough to work for activities such as coasteering where you're clambering over rocks and need sticky grip – they're better suited for swimming in lakes and rivers where you aren't sure what's underfoot, when want added protection when getting in and out of the water, or just for tackling slippery poolside tiles at your local lido.
The Zanpas trap in heat nicely, adding a bit of warmth and comfort in cold water year-round. While there are tabs on the heels to help pull the snug Zanpas on and off, they can take a minute or two to get on properly.
Read our full Speedo Zampa AM review
A versatile, meshy multitasker, made to be submerged and perfect for walking and water sports
Specifications
Sizes:
Men's 7 - 14, women's 6 - 11
Suitable for:
Warm, wet-weather hiking, multisport adventures
Reasons to buy
+
Quick draining
+
Fast drying
+
Vegan friendly
Reasons to avoid
-
No shank to protect from rocks
-
Shallow lugs struggle with mud
Designed and developed with the US men's white water rafting team, the meshy, bungee-lace Torrent Pro is a great shoe for transitioning from kayak, canoe or paddleboard to hiking trail, or for treks with lots of river and stream crossings. The Torrent's mesh upper gets support from welded and stitched overlays tied into the lacing. The body of the shoe drains quickly through the knitted polyester mesh and drainage ports in the toe bumper. Drainage ports where the midsole meets the sole also channel water away from your foot.
Chaco's gender-specific midsole makes the Torrent also a great day hiker, not just another water shoe. The dual-density midsole also has a supportive arch, and it's bonded to a non-marking outsole that has decent grip on rocks and river bottoms, but struggles in mud due to the shallow 3mm lugs. There is no insole, which would interfere with drainage; instead, Chaco uses a layer of mesh between your foot and the midsole, which is more comfortable than it sounds. The Torrent's laces tighten with a plastic slider, and extra lace tucked into an elastic loop on the tongue.
Read our full Chaco Torrent Pro review
Simple and affordable unisex water shoes with good comfort and grip and versatile looks
Specifications
Sizes:
36 - 47 (European)
Suitable for:
In the water, poolside, casual walks
Reasons to buy
+
Comfortable
+
Quick-drying
+
Very affordable
Reasons to avoid
-
Not much grip
-
No arch support
Decathlon's unisex Aquashoes are perfect for warm water swimming, paddling and snorkelling – they're lightweight and quick to dry thanks to their mesh uppers, and their rubber soles offer fair grip and stop you feeling even sharp stones underfoot.
Where we think the Aquashoes stand out is that once out of the water this unisex design looks like a casual summer trainer and can be worn with shorts around town or on relaxed walks as well as in the water, which can't be said for most dedicated water shoes. While the soles are thick and bouncy enough to walk on established paths or stand on the seabed and feel like your feet are protected, there's no decent grip to speak of.
The Aquashoes offer great value for money, and are a comfortable and fuss-free pair of shoes to pack in your backpack for coastal adventures, or in your suitcase for beachy holidays.
Read our full Decathlon Aquashoes 500 review
Best water shandals
A great quality, grippy shandal that protects feet on active adventures
Specifications
Suitable for:
Rock pooling, sailing, paddling, river crossing
Reasons to buy
+
Great grip in water
+
Protective toe box
+
Robust and long lasting
Reasons to avoid
-
Narrow fit
-
Relatively heavy
Keen's hiking sandals are deservedly popular with walkers, and we've yet to review one of their summer shoes we didn't like. Our top pick for 2021 is the female-specific Astoria West (men after a similar style will get on with the Clearwater Shandal (opens in new tab)).
Designed to go from trail to town to waterfront, the Astoria Wests stood out on test for the walking comfort they offer – oversized but very cushioned soles make these sandals feel barely there despite their middling 400g weight, and we liked the close-fitting but comfortable webbing straps, designed to let your feet breathe and quick to dry once wet. The Astoria Wests have a wide protective rubber toe box (something Keen is known for) that's brilliant if you encounter rocks both under the water and on shore, and their 'Aquagrip' soles are designed to be superbly sticky even on wet surfaces. A good do-it-all summer shandal. This design fits on the narrow side – if you have wide feet they may not suit you.
Read our full Keen Astoria West review
A shandal with excellent grip and protection for hikes and water sports
Specifications
Sizes:
Men's 6.5-13, women's 2.5-8.5
Suitable for:
Summer walking, paddling
Reasons to buy
+
Tough enough for the mountains
+
Great grip
Reasons to avoid
-
Heavy
-
Less breathable than a lighter sandal
The most trainer-like shandal we reviewed, Merrell's Choprock Sieve is brilliant if you like to go exploring off established trails and in and out of the water and need a summer walking shoe that can go anywhere you do. As the Sieve part of this design's name suggests, these shoes are basically active trainers with lots of extra drainage and breathability thanks to plentiful vents in the sides – these help keep your feet cool and dry but still far more protected than if you were wearing your average water shoe, with extra help from a wide toe box, built-up ankle and chunky, grippy sole.
The compromise is that the Choprock Sieve is heavier and less breathable than a barely-there sandal, and is thus perhaps less versatile if you want just on sandal to wear on your summer travels. But for active adventures such as hot weather mountain walking, summer scrambling or water sports such as canoeing and kayaking these are an excellent choice that will keep your feet cool and protected.
Read our full Merrell Choprock Sieve review
A great all-rounder of a walking and adventure sandal that can also hit the water when required
Specifications
Sizes:
Men's 6-13, women's 3-9
Suitable for:
Hiking near water
Reasons to buy
+
Good grip
+
Comfortable when walking
Reasons to avoid
-
No toe protection
-
Not lightweight
Teva sandals are a bit of a classic in the outdoor world, and the brand's more technical Hurricane design is one we find ourselves reaching for again and again for summer days out and travelling in hot climates. We've tested these walking sandals out everywhere from river crossings in the Himalayas to hiking the South West Coast Path – they're definitely built to last. The Hurricane's tough, adjustable straps sit in a T-shape around the foot and are easily adjusted for a snug fit around the ankle and across the toes.
The moulded rubber sole gives good ankle support and has reliable grip even on wet slippy ground. This is more of a walking sandal you can take into water than an aquatic-specific sandal, but it's quick to dry if you do venture into water – the only downside in water is that your toes aren't covered. The Hurricanes also aren't super lightweight, so you will feel you have them on when you swim. These smart sandals come in a range of bright patterned and retro designed straps as well as more subtle colorways.
Read our full Teva Hurricane XLT2 review
Best water flip-flops
The most supportive made-to-be-submersed flips you can buy
Specifications
Weight (women's US size 10):
187g / 6.6oz
Sizes:
Men's 3-14, women's 3-10
Suitable for:
Beach, lake, and riverside walking
Reasons to buy
+
Supportive (for flips)
+
Vegan-friendly
+
Quick drying
Reasons to avoid
-
Not available in custom colors
An update to a Chaco heritage product, the Classic Flips feature the brand's signature ultra-durable and mega-comfortable polyurethane construction with an arch-supportive footbed, jacquard straps, and a reinforced toe post. The wave fin is the big upgrade to these flips. Its rubber ridges bite into slippery surfaces, giving you extra traction in all sorts of slippery conditions, and even though the sole is black, it's non-marking and also long lasting.
Our tester found these slips to be a super-versatile summer all-round adventure shoe, perfect for everything from playing around in rivers to jumping in a kayak for a casual paddle on non-technical water. Unsurprisingly, they are extremely breathable, quick to dry and easily washable. They're also excellent as a recovery shoe, after you've been pounding the trails in a hot and heavy hiking boot.
Read our full Chaco Classic Flips review
What to look for when buying the best water shoes
As you can see, there is quite a degree of variance when it comes to footwear for aquatic adventures, so what are the best water shoes for you? Following are some considerations we'd recommend chewing on before you buy.
Water shoe or aquatic sandal?
Our round-up includes two kinds of water-ready footwear – the best water shoes and the best water sandals. The former are snug-fitting pull-on booties designed to be worn only in the water rather than for walking in, and are ideal for swimming and aquatic adventures such as canyoning and coasteering.
Water-friendly sandals (and 'shandals' – sandal/shoe hybrids with more coverage than a sandal) are usually designed to be hiked in but can also be worn in water, and this are great for walking near water, river crossings, rockpooling and wearing on holidays where you might be in and out of the water all day. They're quick-drying but usually heavier than water shoes. If you do want to the best water shoes for deep water, we recommend picking a design with toe protection rather than open toes. Some even double up as great walking shoes or as some of the best trail running shoes.
As a general rule, both water shoes and sandals are flexible enough to squeeze into a 3 to 5-litre dry bag.
Soles
Good grip is essential if you're planning on wearing your new water shoes or sandals on rocks or wet terrain. Look for a design with a tough rubber sole that has deep 'lugs' or indentations that grip the ground as you walk. A solid rubber toe cap is also a good choice for protecting your toes when you're on rockier ground or when walking immersed in water, such as when coasteering.
Fit and looks
Your new shoes or sandals may feel more casual than technical hiking boots, but it's just as important that they fit you well, to help you walk confidently in and around water and to prevent blisters, avoid chafing and stop discomfort if you're walking in them. Try on your new shoes or sandals and check they fit snugly, and that if they are adjustable that you can strap or bungee them tightly for a stay-put fit.
Make sure there's no tightness or rubbing, especially around the toes and heels. Hiking sandals come in all kinds of finishes, from smart leather to neoprene, but we recommend picking a fabric or nylon material, as these tend to be tough when walking but quick to dry if you do get them wet. If you're choosing a water-specific shoe, performance is your only real concern, but if you want a water sandal you can also wear on dry land, it makes sense to pick a style you like the look of, and can wear in town as well as in the great outdoors.
All the latest inspiration, tips and guides to help you plan your next Advnture!
An award-winning travel and outdoors journalist, presenter and blogger, Sian regularly writes for The Independent, Evening Standard, BBC Countryfile, Coast, Outdoor Enthusiast and Sunday Times Travel. Life as a hiking, camping, wild-swimming adventure-writer has taken her around the world, exploring Bolivian jungles, kayaking in Greenland, diving with turtles in Australia, climbing mountains in Africa and, in Thailand, learning the hard way that peeing on a jellyfish sting doesn't help. Her blog, thegirloutdoors.co.uk, champions accessible adventures.