The best running jackets 2023: ultralight windbreakers and waterproofs
Our roundup of the best running jackets will shield you from the worst of the conditions while packing down small and light in your pack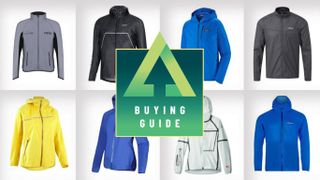 (Image credit: Future)
The best running jackets come into their own during the fall and winter running seasons. Whether you're an ultra trail runner or a checkpoint bagging mountain runner, having one of these lightweight shields against the elements is crucial. Usually weighing much less than standard waterproofs, they're also great for a spot of casual hiking during the colder months.
For runners, breathability is key, as a run obviously generates a great deal more warmth than a walk. We've hit the coastal trails, mountain paths and rocky ridges to thoroughly test the running jackets featured here to bring you this guide to the finest options in 2023.
You can expect the best running jackets to be much more minimal than a typical waterproof jacket – the aim of the game here is protection without a weight penalty. Typically, this means fewer pockets, much thinner face fabrics and, yes, not quite the same level of shielding from torrential downpours.
We rate the Gore-Tex Shakedry Trail Hooded Jacket as the best running jacket overall, mainly due to its excellent levels of protection and breathability. However, all the jackets featured are great options, with a range of features to suit the exacting needs of different types of runners.
The best running jackets
Best waterproof running jackets
The best running jacket overall
Specifications
Weight (variable by size):
5.64oz/160g
Best for:
Running, hiking, and fastpacking for long periods
Reasons to buy
+
Fully waterproof
+
Excellent windproofing
+
Breathable for warmer days
+
Suitable for use with a vest or bag
Reasons to avoid
-
Expensive compared to some
-
Only available in black
This shiny, jet black running jacket from Gore is completely windproof and fully waterproof. It's breathable fabric doesn't have any mesh or vents which is one of the reasons it's such a great windproof and waterproof.
The R7 Gor-Tex Shakedry has an adjustable hood with a visor that we found effective for keeping the rain off our face, and a drawcord at the waist for a snug fit that doesn't billow in the wind. Nobody needs extra air resistance when they're running. We also appreciated the elasticated cuffs, which keep the sleeves in place and allow easy access to your GPS watch, plus the large pocket on the back that's roomy enough for your running gels and other essentials.
This jacket really is all singing and dancing. Although it's the most expensive jacket we've reviewed, we think it's definitely worth the money if you need something that'll resist the rain for long training sessions. If the majority of your runs are less than an hour then we would say stick to a cheaper model, but if you're going to be out for hours then this is the jacket for you.
Read our full R7 Gore-Tex Shakedry Trail Hooded Jacket review
Best running jacket for protection
Specifications
Weight (variable by size):
230g / 8.1oz
Colors:
TNF Black / Deep Grass Green / Optic Blue / Summit Gold
Best for:
Running, hiking, and fastpacking for long periods
Reasons to buy
+
Very packable
+
Looks great
+
Eco-friendly manufacturing practices
+
Adjustable hem and hood
Reasons to avoid
-
Expensive when compared with similar competing models
The North Face Summit Superior FutureLight trail running jacket is a great-looking, slim-cut waterproof. As a part of the brand's Summit Series line, it's a jacket designed with the clear intention to solve the age-old issue of keeping runners dry in the rain. And while that means it comes with all of The North Face's leading technology – a FutureLight membrane, for example – it still delivers on the type of optics you'd expect from a brand that's as renowned in the outdoor space as it is in the fashion world.
The Summit Superior is an excellent piece of kit that we found performed valiantly out on the trails, offering best-in-class waterproofness and mind-blowing breathability, regardless of our pursuit. All in all, an incredibly lightweight, waterproof running jacket with above-average breathability and an impressively small pack size, the Summit Superior FutureLight jacket is perfect for stashing in your bag on longer trail runs.
Read our full The North Face Summit Superior FutureLight trail running jacket review
Best running jacket all-round
Specifications
Weight (variable by size):
138g / 4.8oz
Colors:
Men's: blue / light gray / light blue; women's: gray / red
Best for:
Running and hiking in wet and windy weather
Reasons to buy
+
Very lightweight at just 138g
+
Surprisingly thin and flexible material for a waterproof running jacket
+
Works well for running and hiking
Reasons to avoid
-
Small carry bag
-
Hood lacks a flexible rain peak
The Berghaus Hyper 140 jacket strikes the perfect balance between weight and waterproofing. We weren't expecting much from such thin, flexible fabric, but it did a fantastic job of repelling rain on test.
The cuffs and hem are close fitting, and we found that the high front zip offered great protection to keep your top dry. However, the hood lacks a flexible peak to direct the water out of your eyes, so we found it works best if you have a water-resistant baseball hat underneath. The jacket comes with a separate stuff sack, which would benefit from being slightly larger as it is not easy to achieve perfectly economical folds on the move.
This jacket is great for people who love the outdoors, be it hiking or trail running. It is comfortable, lightweight, will fight the elements and offers good breathability for a genuine waterproof jacket. Saying that you will need to provide additional ventilation on warmer days and on runs where you are making more effort.
Read our full Berghaus Hyper 140 lightweight running jacket review
Best jacket for long-distance trail running
Specifications
Weight (variable by size):
6.2oz / 175g
Colors:
Black / blue / red
Best for:
Trail running on wet and windy days
Reasons to buy
+
Soft, high quality waterproof fabric
+
Sleeves with thumb holes pull down over hands for protection
+
Close-fitting hood for warmth
Reasons to avoid
-
Not many reflective details
The Inov-8 Stormshell is as close as it gets to an all-round running jacket. This well considered design has extra features that make it handy for an array of climates throughout the year, but we found that it really comes into its own in challenging conditions.
Small thumb holes at the end of the sleeve meant we could easily pull the jacket down over our hands to help keep warm on chilly mornings, and we didn't have to burden ourselves with carrying gloves around in our pockets for most of our runs.
The snug hood and high front zip kept us nice and snug when the weather took a turn for the worse, with only a small part of our head exposed to the elements. The lightweight and breathable fabric means this jacket is very easy to wear.
It does come at a price, and for a new runner there are probably better entry options. However an experienced, long-distance runner will certainly appreciate all the features that it offers.
Read our full inov-8 Stormshell running jacket review
Best jacket for racing and training in winter
Specifications
Weight (variable by size):
6.7oz / 190g
Best for:
Short training sessions and races
Reasons to buy
+
Fully waterproof
+
Stylish design and great for visibility
+
Easy to wipe clean
Reasons to avoid
-
Not suitable for use with a running vest due to rear ventilation panel
-
Only available in white
-
Hood isn't adjustable
This smart running jacket from Columbia only comes in white, which won't suit everyone's preferences, but means you'll be nice and visible at night.
It's fully waterproof with sealed seams, making it a solid choice for rainy training sessions, and has a vented back to allow airflow. It's a smart design, but we found that it doesn't work well when worn with a running backpack or hydration pack that blocks the vent.
Also, the hood isn't adjustable, but in our tests it stayed in place even in high winds. On dry days, you can stash it out of the way to minimize wind resistance. The jacket can also be packed into its own chest pocket if you start to warm up.
If you are looking for a stylish waterproof at a great price then this jacket is a great option. We'd recommend it for shorter sessions when you don't need to carry additional water, gels, and other gear.
Read our full Columbia OutDry Ex lightweight shell jacket review
Reflective running jackets
Best affordable reflective running jacket
Specifications
Weight (variable by size):
7.4oz / 210g
Colors :
Black (men's) / honey (women's)
Best for:
Chilly trail runs
Reasons to buy
+
Waterproof
+
Good reflective features
+
Snug hood to prevent drafts
Reasons to avoid
-
Not as breathable as some
-
Quite noisy
We tested this running jacket on several sub-zero training sessions, and once we eased into the run, the jacket retained our heat very nicely. The fabric has a reassuring, yet sometimes distracting rustle, akin to a full on waterproof coat so you know it will put up a good fight against the elements. The flip side to these insulating properties is that you can easily get quite hot and sweaty as the fabric isn't as breathable as that of higher end jackets, but you could argue that a quick unzip to let air circulate will help restore homeostasis.
The jacket has simple yet stylish reflective lines on the front and some smaller lines on the back that are wonderfully illuminated by the light of a headlamp. A tight-fitting hood, along with a high front zip will offer your face a lot of shelter on wetter days. When you try the jacket on you will soon find a small carry bag nestled in one of the two front pockets, which is a nice addition. These features are often reserved for higher end jackets, finding them all in this very well priced jacket makes it a strong buy in our book.
Read our full Evadict Trail Running Waterproof Rain Jacket review
Sustainable running jacket
8. Patagonia Houdini Air Jacket
Best running jacket with recycled materials
Specifications
Weight (variable by size):
116g / 4.1oz
Colors:
Black, blue, green, and more
Compatibility:
Good for late spring, summer and early fall
Reasons to buy
+
Lightweight at 116g
+
Water-resistant for light showers
+
Breathable
Reasons to avoid
-
No reflective elements
-
Tight fit to stow into its own pocket
When the temperature drops during late summer and early autumn, when you are up early hitting the trails on fresh mornings and increasingly chilly evenings, this is a strong jacket to have with you on your adventures. As you would expect from Patagonia, the jacket has good eco credentials with 51% of the material coming from recycled sources.
We found the Patagonia Houdini Air Jacket very comfortable, lightweight and easy to run in. The fabric is quite breathable, and there are additional design considerations such as loose cuffs and hem to provide better air circulation, which we did notice and appreciate. When you want to stow the jacket away, you can stuff it into its own pocket and it will all but disappear.
This isn't a winter jacket, and won't keep you dry when the rain really comes down, despite the hood. Also, there are no reflective details (although you could always sew on your own if you're so inclined).
Best budget running jacket
9. Rab Vital Windshell Jacket
Best jacket for runners on a budget
Specifications
Weight (variable by size):
4.4oz / 125g
Colors:
Shadow, acid, ink, pine and more
Best for:
Runs and short hikes in light rain and wind
Reasons to buy
+
Packs into its own pocket
+
Shower-resistant
+
Can be unzipped and secured with buttoned tab for ventilation
When the weather is turning and you want to head out for a 30- to 60-minute run, the Rab Vital Windshell Jacket is a good choice. It's also well suited for the mountains and trail walking as a lightweight layer that won't take up loads of space in your bag, as it packs down into its own pocket.
In our tests, the jacket kept the wind at bay, and although it's not fully waterproof, its hydrophobic coating shrugged off light rain showers. To help you keep cool on the move, when you unzip the jacket you can secure the two sides together three quarters of the way up with a little buttoned tab, which stops the sides flapping around, while at the same time making the jacket nicely breathable.
Aside from a couple of small logos, there are no other reflective markings, which makes this a jacket best used on traffic free routes and trails if you are running at night.
Best lightweight running jackets
Best lightweight running jacket
Specifications
Weight (men's small):
125g / 4.4oz
Colors:
black, bright lime, charcoal and more
Best for:
hikes and trail runs in all but very wet conditions
Reasons to buy
+
Extremely light at 125g
+
No swishing sound
+
Packs into its own storage pocket
+
Moisture wicking and fast drying
Reasons to avoid
-
Limited reflective details
-
Not suited to really harsh conditions
The Nathan Stealth Jacket is well named. It lets you run light and silent on the trails, while providing a decent amount of protection against the elements. We found that the barely-there feel and ventilated back make it a great jacket for hitting the trails, whether you're hiking or running.
It's also wonderfully lightweight, weighing in at only 125g (4.4oz), packs down small, and is moderately priced too. Made from moisture wicking and fast drying nylon, it's a great, minimal soft shell windbreaker, perfect for chilly winter and shoulder season runs.
Of course, being an ultralight soft shell, it's not designed for taking on harsh and wet conditions, though there's a DWR (durable water repellent) finish for the occasional drizzly spell or sudden shower. We found that the Stealth effectively stops windchill in its tracks. However, when persistent rain is forecast, you'll need a running jacket that's more robust.
Read our full Nathan Stealth Jacket review
Best compact packable running jacket
Specifications
Weight (variable by size):
2.82oz/80g
Compatibility:
Super lightweight, compact, fair weather running only, stylish
Colors:
White/opal blue/dark denim
Reasons to buy
+
Super lightweight
+
Compact and packs way into small pocket
+
Stylish design
+
Soft to touch
Reasons to avoid
-
Fair weather running only
The Salomon Sense is so light, on test we'd often forget we were wearing a running jacket at all. It folds away into a tiny pocket and can be stored easily. It comes in two colour ways; white and opal blue. Both are very light, so we'd avoid wearing it on wet trails for fear that it would be stained, and the lack of pockets or a hood means we'd prefer to keep it as an extra layer for mild days.
It has a tapered fit, and although the soft fabric has laser cut air holes for breathability, it's also water repellent and wind resistant.
This jacket is perfect for those early morning chilly starts so you could whip it off later into the run when it warms up or for those chilly evening runs in the city. It's the softest running jacket we've tested, and there's no noisy rustling to interrupt your runner's high.
Read our full Salomon Sense Jacket review
Running jackets comparison table
Swipe to scroll horizontally
| | | | | |
| --- | --- | --- | --- | --- |
| Jacket | List price | Weight | Style | Compatibility |
| R7 Gore-Tex Shakedry Trail Hooded Jacket | $300 (US) / £299.99 (UK) | 5.64oz/160g | Waterproof running jacket | Waterproof, windproof, breathable, all weather conditions |
| The North Face Summit Superior FutureLight trail running jacket | $290 (US) / £270 (UK) | 230g / 8.1oz | Waterproof running jacket | Waterproof, windproof, breathable, all weather conditions |
| Berghaus Hyper 140 Waterproof Jacket | $250 (US) / £200 (UK) | 138g /4.8oz | Waterproof running jacket | Waterproof, lightweight and breathable, this is a real all rounder |
| inov-8 Stormshell | $230 (US) / £160 (UK) | 6.2oz/175g | Waterproof running jacket | Trail running, waterproof, windproof, reflective, breathable, lightweight, soft fabric |
| Columbia OutDry Ex Lightweight Shell Jacket | $199 (US) | 6.7oz/190g | Waterproof running jacket | Waterproof, Wind resistant, lightweight |
| Evadict Waterproof Trail Running Jacket | $90 (US) / | 7.4oz/210g | Reflective and waterproof running jacket | Trail running, waterproof, windproof, reflective |
| Patagonia Houdini Air Jacket | $169 (US) / | 116g /4.1oz | Water-resistant running jacket | Good for late spring, summer and early fall |
| Rab Vital Windshell Jacket | $89 (US) / | 4.4oz/125g | Water-resistant running jacket | Trail running, lightweight, windproof |
| Salomon Sense Jacket | $150 (US) / | 2.82oz/80g | Ultralight running jacket | Super lightweight, compact, fair weather running only, stylish |
How we tested the best running jackets
Our reviewers test runnning jackets during wet and wild weather in a range of environments, from hills and peaks to coastal paths and woodlands, on short runs and on longer adventure runs. Features (including waterproofing, breathability, ventilation, materials, style, pockets, freedom of movemnt and overall comfort) are tested against claims made by the brand, and we assess factors such as value for money, durability, functionality and environmental impact.
Meet the testers
After competing professionally in triathlon from 2006 to 2011 – including two appearances in the 70.3 World Championships in 2008 and 2009 – Tom turned to writing and adventure-style event management. He organises trail, road, night and mud races in the UK under the name Relish Running, a company he set up to share his love of running, and all the secret trails he'd found while exploring the wilderness. He also wanted a career which was less tiring than being an athlete, it turns out being a race director was a terrible choice, it's exhausting.
Alex is a qualified Mountain Leader and adventure writer with an insatiable passion for the high places. He prefers moving at speed in the mountains and, when he can't get to them, needs regular a trail runs to burn off some energy. Like a dog. The fells of his native English Lake District have a special place in his heart, though he is at least equally happy in North Wales, the Scottish Highlands or the European Alps.
The co-founder and former editor of Trail Running magazine, Claire now runs the YouTube channel Wild Ginger Running, creating films packed with trail- and ultra-running content. An award-winning journalist, writing for outdoor and adventure sports magazines and websites, her first book The Ultimate Guide to Trail Running 5k to 50k is out in January 2021. Claire also speaks and presents at events and races.
Growing up just south of the glorious Brecon Beacons National Park, Craig spent his childhood walking and running uphill. As he got older, the hills got bigger, his runs further, and his passion for spending quality time in the great outdoors only grew - falling in love with all forms of outdoor adventure. Having recently returned to the UK after almost a decade in Germany, he now focuses on regular micro-adventures in nearby Snowdonia and the Brecon Beacons, as well as frequent trips to the Alps and beyond.
How to choose a running jacket
The best running jackets can be quite an investment, so you need to consider what you will need from the garment. We've broken down some of the key considerations below and included a few frequently asked questions too, for good measure...
Waterproofing
If you are looking for the best running jacket for adventures in all weather conditions, and for long periods of time, then you should up your budget and look for fully waterproof and windproof jackets. Look out for products with durable water repellency (DWR), the layer that makes rain bead delightfully on your jacket. Even better still, a jacket with a membrane like Gore-Tex will stop water soaking through but also let sweat evaporate out as vapour, which is key for runners.
Waterproof qualities come at a price, both in terms of dollar and in terms of weight. Fair weather runners may be better served by getting a jacket that is water-resistant, rather than fully waterproof. A water-resistant jacket will fend off rain to a point but won't keep you dry if you're out for hours on end. On the plus side, it won't break the bank (quite as much) and it will probably weigh a little less.
Ventilation
As well as keeping rain out, we demand that the best running jackets also allow sweat to escape. However, on a long run in your jacket, you're going to get hot regardless of the conditions. The best running jackets have ventilation zips under the armpits that facilitate the flow of air, reduce condensation and cool you down.
Weight
Perhaps the biggest distinction between a hikers' jacket and a running jacket is the consideration that goes into its weight. Where speed is concerned, weight – or the lack of it – is key. There's often a trade off between a jacket's weight and its ability to repel the worst of the elements, but advances in materials mean that jackets like Berghaus' Hyper 140 strike a compelling balance. At just 138g, it performs the task of much heavier rivals commendably. If you're after something a little more featherweight, it might be worth checking out the best lightweight running jackets.
If you're looking for the best running jacket for short runs, as an extra layer, then perhaps you don't need to spend the big bucks. Water-repellent jackets are usually lighter, much cheaper and stow away more easily than fully waterproof garments. If you don't often find yourself running in the rain, garments like the Salomon Sense Jacket – which weighs in at just 80g – are a good option. Just don't expect it to keep you warm and dry on a mountain in January.
To hood or not to hood
This decision may come down to the kind of running you intend to do. If you're pounding the city streets a few times a week for an hour at a time, you will probably be fine without a hood. On the other hand, if you're looking to do long trail races in the hills and mountains, or multi-day races, having a hood is as wise a choice as having a pair of running gloves.
Fit
When you buy an outer shell for hiking, you want quite a loose fit because of all the layers you may have to wear underneath it in cold conditions. However, this is not the case with running. You want your running jacket to fit snuggly over your base layer, as the rest of your warmth will come from your exertion. However, don't go for too tight a fit, as you want as much freedom of movement as you can. This is the age old compromise with waterproof materials – protection vs freedom.
Frequently asked questions
What material is best for a winter running jacket?
A winter running jacket has a fine balance to strike between protection from wind and rain, warmth and breathability, all while being lightweight enough to comfortably run in. A waterproof outer layer will typically be made from polyamides, such as nylon. These strong fabrics are highly resistant to wear and tear, as well as having good weather repelling qualities, particularly when it comes to being effective windbreakers.
Sometimes, this face fabric is treated with DWR (durable water repellent), which adds further resistance to the drink. However, this resistance fades with use and repeated laundering. If you're after a waterproof running jacket, look for a waterproof yet breathable membrane, such as Gore-Tex. This is the most famous and most trusted waterproof tech out there, though many brands have quality proprietary membranes, such as The North Face's FutureLight and Columbia's OutDry.
How do you wash a waterproof jacket?
It doesn't matter how much it cost or how many zeros it has in its Hydrostatic Head rating, your waterproof jacket will lose its magic the more you use it and the more laundry cycles it suffers. However, there are products, such as NikWax's Tech Wash and TX.Direct Wash In, that can give your waterproofs a new lease of life.
You shouldn't wash your waterproof clothing along with other items, but instead treat them to a separate wash. Use a dedicated waterproof detergent, such as NikWax's Tech Wash, which cleans your garments without compromising their performance.
If you notice that said performance is starting to suffer on the trails, it's time to reproof. This time, after washing your garments with a dedicated detergent like Tech Wash, put them back in the washing machine with a reproofer, such as TX.Direct Wash In. This will restore your jacket's water repelling qualities.
How do you test a jacket's breathability?
The Moisture Vapor Transmission Rate (MVTR) is a commonly used measure of how breathable a fabric is and it can be tested using something called 'the Inverted Cup Test'.
The fabric in question is placed on a moisture vapor permeable membrane and secured to an inverted test cup, which is filled with potassium acetate. The cup is then placed in a water-filled container.
The potassium acetate pulls the water up through the membrane, thus altering the weight of the cup over a 24-hour period. The cup is then measured to see how much fluid passed through the membrane, providing an insight into its breathability.
All the latest inspiration, tips and guides to help you plan your next Advnture!
Alex is a freelance adventure writer and mountain leader with an insatiable passion for the mountains. A Cumbrian born and bred, his native English Lake District has a special place in his heart, though he is at least equally happy in North Wales, the Scottish Highlands or the European Alps. Through his hiking, mountaineering, climbing and trail running adventures, Alex aims to inspire others to get outdoors. He is currently President of the London Mountaineering Club, training to become a winter mountain leader, looking to finally finish bagging all the Wainwright fells of the Lake District and hoping to scale more Alpine 4000ers when circumstances allow. Find out more at www.alexfoxfield.com