Best running jackets: stay warm this winter on road or trail
By Tom Room , Helen Conner , Alex Foxfield published
Our selection of the best running jackets for escapades in the woods, hills, mountains or city, whatever the weather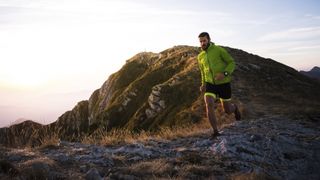 (Image credit: Getty)
We ask a lot of the best running jackets. As the seasons change, we'll often be hitting the trails and roads in inclement conditions, braving the elements to get our training quota done. Some revel in the gnarl, while others would rather do without it. Regardless of how you feel, your safety needs increase considerably at this time of year, especially when compared to those balmy, long summer evenings.
The best running jackets repel the three main scourges of the winter run: the wind, the rain and the cold. When this trio combine, they can be a potentially dangerous cocktail indeed, especially if you've taken your trail running shoes for a jaunt into the backcountry or up a mountain. You need kit that will keep you warm and dry and a running jacket is an essential addition to your running arsenal.
Besides, the best running jackets go beyond simply shielding us from the harsh elements. As well as sharing the kind of gnarl-repelling technology that characterize the best waterproof jackets, they are also lightweight and breathable – you're gonna be running in the thing after all. When your jacket is not required, it needs to pack down to almost nothing so that you can stash it away in your hydration pack. A good running jacket should also be able to carry items like energy gels and car keys in its interior and exterior zippered pockets.
You can see the very best running jackets coming, even at night. Reflective materials are a huge bonus at this time of year, when you'll likely be out with your headlamp's beam bobbing along the trail. When crossing busy roads on street-lit runs, a reflective jacket can be an absolute lifesaver.
Our running fanatics Tom and Helen have spent many years hitting the mountain paths, muddy woodland trails, city roads and open fields. They've ran in all conditions; suffice to say, the sage advice they offer has been hard won. From the best jackets for brutal conditions to the most environmentally friendly choices, they've testing the finest jackets out there.
The best running jackets for rainy conditions
Berghaus Hyper 140 Waterproof Jacket
A near perfect waterproof coat/ lightweight jacket hybrid
Specifications
RRP:
$250 (US) / £190 (UK)
Weight (variable by size):
138g /4.8oz
Colors:
men's: Blue/Light Grey/Light Blue; women's: Grey/Red
Compatibility:
Waterproof, lightweight and breathable, this is a real all rounder
Reasons to buy
+
Great all rounder
+
Lightweight
+
Waterproof
Reasons to avoid
-
Carry bag is a bit on the small side
When you first pick up a jacket you get an immediate sense from the weight and feel of the fabric where it's going to sit on the waterproof-versus-weight spectrum, but this jacket has you playing mind games…
The Berghaus Hyper 140 jacket just might nail both these key qualities. There is no doubting the waterproofing of the fabric, it rustles like a waterproof coat, but it is almost unfathomably thin, flexible and lightweight for such waterproofing. It almost defies explanation, but it is the real deal.
The cuffs and hem are close fitting. The high front zip allows you to hide from the elements, though the hood lacks a malleable peak to help project water away from your face that you find on other running jackets. The jacket comes with a separate stuff sack, which would benefit from being slightly larger as it is not easy to achieve perfectly economical folds on the move.
This jacket is great for people who love the outdoors, be it hiking or trail running. It is comfortable, lightweight, will fight the elements and offers good breathability for a genuine waterproof jacket. Saying that you will need to provide additional ventilation on warmer days and on runs where you are making more effort.
A superb all round jacket for the experienced or long-distance trail runner
Specifications
Gender specificity:
Male / Female versions
Weight (variable by size):
6.2oz/175g
Compatibility:
Trail running, waterproof, windproof, reflective, breathable, lightweight, soft fabric
Colors (men's):
Black/Blue/Red
Colors (women's):
Black/Blue/Red/Pink
Reasons to buy
+
Great all rounder
+
Breathable
+
Waterproof
+
Soft fabric
The Inov-8 Stormshell is as close as it gets to an all-round running jacket. This well considered design has extra features that make it handy for an array of climates throughout the year, but it really comes into its own in challenging conditions.
Small thumb holes at the end of the sleeve mean you can easily pull the jacket down over your hand to help keep yourself warm on chilly mornings, and so that you don't have to burden yourself with carrying gloves around in your pocket for most of your run.
A well fitted hood and high front zip means the jacket can quickly envelop you when the weather turns for the worse, so only a small portion of your head is exposed to the elements. The lightweight and breathable fabric means this jacket is very easy to wear. The jacket comes in black as well as some brighter colours. The logos are all reflective but a couple of additional reflective strikes would make for a valuable addition.
The silky smooth jacket does come at a price, and for a new runner there are probably better entry options. However an experienced, long-distance runner will certainly appreciate all the features that it offers.
Columbia OutDry Ex Lightweight Shell Jacket
A waterproof and wind resistance lightweight jacket that performs well when worn on its own in mixed weather conditions
Specifications
Gender specificity:
Male / Female versions
Weight (variable by size):
6.7oz/190g
Compatibility:
Waterproof, Wind resistant, lightweight
Reasons to buy
+
Fully waterproof
+
Stylish
+
Easy to wipe clean when it gets covered in mud
Reasons to avoid
-
Only vented on the back so not suitable with running vest
-
Only available in white
This fully waterproof running jacket from Columbia is a nice fit and longer than most jackets with reflective detail. It has elastic cuffs and drawcord adjustable waist.
It has a hood which isn't adjustable but when tested withstood very high speed wind and it can be stowed away on dry days. There is a large chest pocket with a drawcord for easy access and the jacket can pack down into this pocket.
This jacket is fully waterproof and has that noisy crunchy sound while running but does a fantastic job at keeping you dry. It has a vented back to allow airflow and the seams are fully sealed.
Since it's breathability is mostly provided through the back, we would recommend not wearing this jacket with a running vest or bag.
If you are looking for a stylish waterproof at a great price then this jacket is a great option. We'd recommend that you wear it without a running vest to ensure that you don't overheat.
R7 Gore-Tex Shakedry Trail Hooded Jacket
A fully waterproof and windproof jacket
Specifications
RRP:
$300 (US) / £300 (UK)
Gender specificity:
Male / Female versions
Weight (variable by size):
5.64oz/160g
Compatibility:
Waterproof, windproof, breathable, all weather conditions
Reasons to buy
+
Fully waterproof
+
Excellent windproofing
+
Breathable
+
Suitable for use with a running vest or bag
Reasons to avoid
-
Expensive
-
Only available in black
This shiny, jet black running jacket from Gore is completely windproof and fully waterproof. It's breathable fabric doesn't have any mesh or vents which is one of the reasons it's such a great windproof and waterproof.
The R7 Gore Tex shakedry has an adjustable hood with a visor to keep the rain off your face, and a drawcord at the waist. There is stretchable fabric at the cuffs to keep the sleeves in place and allow easy watch usage. There is a large pocket on the back of the jacket to store your essential items.
The jacket is made of tear resistant fabric, fantastic for rugged trails and for use with a running vest or bag.
This jacket really is all singing and dancing. Although it's the highest priced jacket we've reviewed, it is definitely worth the price tag especially if you are looking for a jacket that can handle all weather conditions over long periods of time. If the majority of your runs are less than an hour then we would say stick to a cheaper model but if you're out for hours in all weather conditions then this is the jacket for you.
The best waterproof jackets for night running
The best reflective running jacket on the market
Specifications
RRP:
$140 (US) / £90 (UK)
Gender specificity:
Male / Female versions
Weight (variable by size):
5.99oz/170g
Compatibility:
Reflective, night trails, city runs, cold weather, night race
Reasons to buy
+
Super reflective
+
Lightweight material
+
Great for cold weather
Reasons to avoid
-
Hot when wearing with a running vest
-
Blinds other runners when they turn their headlamp on you
The Proviz360 is made of millions of tiny, highly reflective glass beads, which reflect light back from vehicle headlights. During the daytime the jacket is silver and black and when it catches the light even on a gloomy day, the reflective material bounces light back.
At night the jacket comes into its own. It's highly visible when car lights hit the jacket grabbing the attention of all onlookers. It's also great on the trails as headlamps bounce off the jacket resulting in you becoming a beacon of light for others to follow.
The Proviz360 running jacket has a thicker material than most and has mesh panels on the back, sides and arms for breathability. However when worn with a running vest it can get quite hot as this blocks the main mesh panel on the back of the jacket.
This jacket weighs in at just 170g (size variable), it has a collar but no hood and there are two pockets on the front of the jacket. It also has elasticated cuffs and waist to stop the wind from penetrating.
We highly recommend this jacket for running at night on colder nights. It keeps you warm and more importantly helps you to be seen.
Evadict Waterproof Trail Running Jacket
All the features of a more expensive jacket for a bargain price
Specifications
Gender specificity:
Male / Female versions
Weight (variable by size):
7.4oz/210g
Compatibility:
Trail running, waterproof, windproof, reflective
Reasons to buy
+
Waterproof
+
Extra features
+
Good reflective features
+
Snug hood
Reasons to avoid
-
Not as breathable as some
-
Quite noisy
There is a whole lot of value packed into the Evadict Windproof Trail Running Jacket. We tested this jacket on several sub zero degree runs and once we eased into the run, the jacket retained our heat very nicely. The fabric has a reassuring, yet sometimes distracting rustle, akin to a full on waterproof coat so you know it will put up a good fight against the elements. The flip side to these insulating properties is that you can easily get quite hot and sweaty as the fabric is not as breathable as higher end jackets, but you could argue that a quick unzip to let air circulate will help restore homeostasis.
The jacket has simple yet stylish reflective lines on the front and some smaller lines on the back. A tight fitting hood, along with a high front zip will offer your face a lot of shelter on wetter days. When you try the jacket on you will soon find a small carry bag nestled in one of the two front pockets, which is a nice addition. These features are often reserved for higher end jackets, finding them all in this very well priced jacket makes it a strong buy in our book.
The best running jacket for sustainability
Patagonia Houdini Air Jacket
Lightweight, breathable jacket for use as summer segues into fall
Specifications
RRP:
$169 (US) / £120 (UK)
Weight (variable by size):
116g /4.1oz
Colours:
men's: Black/Blue/Green/Chartreuse; women's: Coral/Blue
Compatibility:
Good for late spring, summer and early fall
Reasons to buy
+
Environmentally friendly
+
Recycled material
+
Water-resistant
+
Breathable
Reasons to avoid
-
No reflective elements
-
Tight fit to stow jacket into its own pocket
When the temperature drops during late summer and early autumn, when you are up early hitting the trails on fresh mornings and increasingly chilly evenings, this is a strong jacket to have with you on your adventures. As you would expect from Patagonia, the jacket has good eco credentials with 51% of the material coming from recycled sources.
The Patagonia Houdini Air Jacket is very comfortable, lightweight and easy to run in. The breathability of the fabric is good and there are additional design considerations such as loose cuffs and hem to provide better air circulation, which you do actually notice and appreciate. When you want to stow the jacket away, you can stuff it into its own pocket and it will all but disappear.
This isn't a winter jacket – it is water repellent rather than water resistant. A lightweight hood will help keep you dry if you do find yourself caught out in a shower. Also, there are no reflective details.
The best running jacket for value
Rab Vital Windshell Jacket
A no fuss jacket to beat back the wind and the rain
Specifications
Gender specificity:
Male / Female versions
Weight (variable by size):
4.4oz/125g
Compatibility:
Trail running, lightweight, windproof
Colors (men's):
Shadow/Acid/Ink/Pine
Colors (women's):
Peacock/Geranium/Ink/Shadow/Acid
Reasons to buy
+
Value for money
+
Jacket becomes its own stuff sack
+
Water resistant
Reasons to avoid
-
Minimal bells and whistles
When the weather is turning and you want to head out for a 30- to 60-minute run, the Rab Vital Windshell Jacket is a good choice. It is also well suited for the mountains and trail walking as lightweight layer which can be ported without taking up loads of space in your bag; the jacket actually folds in its own pocket which becomes a tidy carry bag - a very nice feature as we all know separate carry bags like to wander off from their jacket at times.
The jacket fends off the wind nicely and it's hydrophobic coating will keep off light rain. To help you keep cool on the move, when you unzip the jacket you can secure the two sides together three quarters of the way up with a little buttoned tab, which stops the sides flapping around, while at the same time making the jacket nicely breathable. Aside from a couple of small logos, there are no other reflective markings, which makes this a jacket best used on traffic free routes and trails if you are running at night.
This is a very good value jacket for running, walking and hiking which saves the bank account from a big hit.
The best running jacket for going fast and light
Super lightweight and compact jacket
Specifications
RRP:
$150 (US) / £110 (UK)
Gender specificity:
Male / Female versions
Weight (variable by size):
2.82oz/80g
Compatibility:
Super lightweight, compact, fair weather running only, stylish
Colors:
White/Opal blue/Dark denim
Reasons to buy
+
Super lightweight
+
Compact and packs way into small pocket
+
Stylish
+
Soft to touch
Reasons to avoid
-
Fair weather running only
This stylish running jacket has a tapered fit. The fabric is beautiful to touch and very soft on the skin. It has laser cut air holes for breathability and is water repellent and wind resistant.
The Salomon Sense is superlight, so much so that it doesn't feel like you are wearing a jacket. It folds away into a tiny pocket and can be stored easily. This jacket comes in two colour ways; white and opal blue. Both are very light colours so I would avoid wearing this jacket on wet trails as I would fear that it would get covered in mud and would be difficult to clean.
This minimalist jacket doesn't have any pockets or a hood so I would wear it as an extra layer on warmer and drier days.
This jacket is perfect for those early morning chilly starts so you could whip it off later into the run when it warms up or for those chilly evening runs in the city. It is the softest running jacket I've experienced and looks the best on but I'd avoid wearing it on wet muddy trails and in poor weather.
What to look for when buying the best running jackets
The best running jackets can be quite an investment, so you need to consider what you will need from the garment. Does it need to be suitable in all weathers for long periods of time? Will you need to store things in it or will you be wearing it with a running vest or bag?
We've broken down some of the key considerations below:
1. Waterproofing
If you are looking for the best running jacket for adventures in all weather conditions, and for long periods of time, then you should up your budget and look for fully waterproof and windproof jackets. Look out for products with durable water repellency (DWR), the layer that makes rain bead delightfully on your jacket. Even better still, a jacket with a membrane like Gore-Tex will stop water soaking through but also let sweat evaporate out as vapour, which is key for runners.
Waterproof qualities come at a price, both in terms of dollar and in terms of weight. Fair weather runners may be better served by getting a jacket that is water-resistant, rather than fully waterproof. A water-resistant jacket will fend off rain to a point but won't keep you dry if you're out for hours on end. On the plus side, it won't break the bank (quite as much) and it will probably weigh a little less.
2. Ventilation
As well as keeping rain out, we demand that the best running jackets also allow sweat to escape. However, on a long run in your jacket, you're going to get hot regardless of the conditions. The best running jackets have ventilation zips under the armpits that facilitate the flow of air, reduce condensation and cool you down.
3. Weight
Perhaps the biggest distinction between a hikers' jacket and a running jacket is the consideration that goes into its weight. Where speed is concerned, weight – or the lack of it – is key. There's often a trade off between a jacket's weight and its ability to repel the worst of the elements, but advances in materials mean that jackets like Berghaus' Hyper 140 strike a compelling balance. At just 138g, it performs the task of much heavier rivals commendably. (If you're really looking for a layer that keeps the ounces to a minimum, check out our guide to the best lightweight running jackets.)
If you're looking for the best running jacket for short runs, as an extra layer, then perhaps you don't need to spend the big bucks. Water-repellent jackets are usually lighter, much cheaper and stow away more easily than fully waterproof garments. If you don't often find yourself running in the rain, garments like the Salomon Sense Jacket – which weighs in at just 80g – are a good option. Just don't expect it to keep you warm and dry on a mountain in January.
4. To hood or not to hood
This decision may come down to the kind of running you intend to do. If you're pounding the city streets a few times a week for an hour at a time, you will probably be fine without a hood. On the other hand, if you're looking to do long trail races in the hills and mountains, or multi-day races, having a hood is as wise a choice as having a pair of running gloves.
5. Fit
When you buy an outer shell for hiking, you want quite a loose fit because of all the layers you may have to wear underneath it in cold conditions. However, this is not the case with running. You want your running jacket to fit snuggly over your base layer, as the rest of your warmth will come from your exertion. However, don't go for too tight a fit, as you want as much freedom of movement as you can. This is the age old compromise with waterproof materials – protection vs freedom.
All the latest inspiration, tips and guides to help you plan your next Advnture!
Thank you for signing up to Advnture. You will receive a verification email shortly.
There was a problem. Please refresh the page and try again.