Picking the best bait flavours
Colin Mitchell gives us his thoughts on bait flavours and how to make the most of them...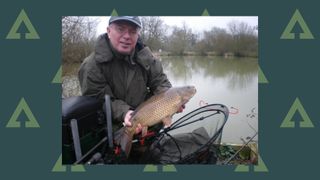 (Image credit: Angler's Mail)
Welcome to Advnture, the new home of AnglersMail.co.uk
Smells and bait flavours are all the craze in carp fishing. In fact over the past 30 years or so they have become ever more popular in all forms of angling.
Do they catch more fish? Or do they just get anglers hooked on the aroma? It's something that could never be proved beyond all doubt. But one thing is for certain – they often appear to work and they certainly give us anglers a lot more confidence in catching fish.
So where do you start? Sweet or savoury? Liquid or powder? Well here are a few tips and tricks I have picked up over the years and which have often proved more than useful.
First the liquid or powder decision. My theory is that you use both whenever possible, which usually means in groundbaits. Add any powdered additive to your basic groundbait and put the liquid attractor into the water you add to that mix. The powders stay in and around the groundbait that lies on the bottom of the river or lake. The liquid disperses into the water causing a bigger vapour trail for fish to home in on. Simples or what?
Sweet or savoury? I think it depends on the species, time of year, colour of the water and what makes you think you are going to catch. Like anything in fishing, there are no hard and fast rules on these things and what you expect to happen is often proved wrong!
Basically, I like sweet in summer and warm weather, savoury for the cold weather when water is coloured. Don't ask why, I can't explain it, just something that has worked for me more times than it hasn't. I will use sweet stuff when the water is cold and clear because savoury baits don't always appear to come good then. Never add too much flavour to your baits. Just think about it…unless you are a hardened curry eater you would be put off by too many spices. Likewise most fish. Too much smell or taste makes them back off.
If you enjoy hiking, camping and the great outdoors, there's plenty for you on Advnture:
How much?
Use what the manufacturer tells you… or use a bit of common sense.
Fish have much more acute smell than we do, so if a bait smell appears just ok to us it is probably plenty for the fish. The above easily applies to pastes, groundbaits and boilies. But have you tried flavouring – or colouring – other baits? Last week, when I knew the sudden rise in temperatures would turn on the bream, crucians and tench at my local lakes, I was soon headed to the waterside. The fish were feeding and everyone was catching but it wasn't easy. All of the species were a bit finicky as they came out of their cold water slumbers. You needed an edge to catch a few more, unless you were sat right on top of a shoal or two that were having a big munch.
I'd selected a nice swim but knew it would take a bit more to pull a nice bag. I dropped some liquid vanilla flavouring on my red maggots, just enough to take the edge off them, and make them smell almost good enough for me to eat (I said almost…). It worked. All the above species took an instant liking to the new hookbait and I caught lots more than those around me. I'd have done the same thing with sweetcorn but the fish didn't want a bigger bait.
All the latest inspiration, tips and guides to help you plan your next Advnture!
Running from 1964 until 2020, Angler's Mail was the UK's leading weekly magazine devoted to coarse fishing, telling readers everything they needed to know about which fish to catch, where to catch them, and what kit they needed to do it. Now, loads of the magazine's expert advice can be found on Advnture.com, as a helpful resource for angling newcomers and experts alike.