Choose bigger baits for better canal catches
Drennan and Bait-Tech star Dean Barlow discusses bigger baits and their advantages...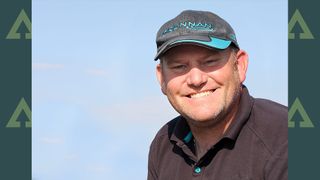 (Image credit: Angler's Mail)
Welcome to Advnture, the new home of AnglersMail.co.uk
Using bigger baits has paid dividends for Dean Barlow...
Since moving down to Wiltshire my fishing has taken a little turn, not having the amount of commercials on my doorstep like up north I've decided to have a good go on the local Kennet & Avon Canal.
The stretches I've been fishing are run by Hungerford AA and the sport can be very good but, like most natural venues, conditions play a massive part.
The canal has a good head of big perch, skimmers and roach to target. At this time of year the perch and skimmers are the mainstay. Unlike most canals in winter where you cut back on the bait, the K&A is a little different… as I was to find out the hard way!
The first couple of matches I fished I approached it like any other canal; small hooks with small baits etc. I caught about 6lb and 3lb, which was nowhere. I had to change tactics as I felt I wasn't getting the most from my peg.
Punching below my weight
The next match was a 'knock up' with about 15 brave souls fishing in the frost and snow. The canal was very clear so I decided to start on punch.
First chuck produced a skimmer then nothing. A change to my chopped worm swim got me a skimmer and a perch then nothing on any lines for three hours.
I decided to adopt more of a commercial fishery tactic and search around my peg. This gave me two more skimmers but I lost another two.
Luckily it didn't matter, as I won the knock up and learned something for next time. That was the fact that I only caught using a big bait on the hook. This was to pay dividends in the next match.
Going to church
The following week 30 anglers turned up at the church stretch. There was a tinge of colour in the canal and I drew where I had been on the very first match.
I decided to be more positive and fish the bigger baits that I hadn't done previously. Three quarters across I fed liquidised bread to my left and Pro Natural Dark to my right with a decent amount of finely chopped worms and maggots. I also had a lobworm line down the track in front of me.
Rig-wise I had a Drennan AS2 float for my lobworm rig with a Kamasan B512 size 10 hook. I also set up a 'small' worm rig consisting of an AS1 with a 16 Kamasan B560. I then started on a punch rig, which was an AS3 float with a size 18 B511 hook.
First chuck produced a roach then nothing, so I changed to double fluoro pinkie, the float sailed under and metres of 2-3 elastic sailing round the peg! Five minutes later a 1.5lb hybrid was in the net. Next chuck a small skimmer.
A change to my small worm rig with double red maggot produced another skimmer. A move to my groundbait line with the same rig resulted in a couple more skimmers.
That's how the match went; catching odd fish in little spells and also adding a couple of lobworm perch.
The scales arrived and my fish settled on just under 13lb. With the anglers having 5lb one side and 7lb the other I was very happy to finish third overall.
Fishing bigger baits had definitely done the trick. It's been a really good learning curve for me, so until it warms up properly I can see myself paying a few more trips to the Kennet & Avon.
All the latest inspiration, tips and guides to help you plan your next Advnture!
Running from 1964 until 2020, Angler's Mail was the UK's leading weekly magazine devoted to coarse fishing, telling readers everything they needed to know about which fish to catch, where to catch them, and what kit they needed to do it. Now, loads of the magazine's expert advice can be found on Advnture.com, as a helpful resource for angling newcomers and experts alike.