Do we need to do more about fish-eating birds?
Colin Mitchell asks if fish stocks be protected against fish-eating birds...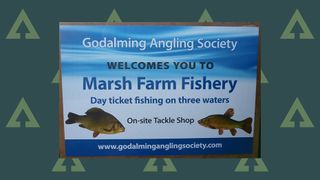 (Image credit: Angler's Mail)
Welcome to Advnture, the new home of AnglersMail.co.uk
Colin Mitchell ponders the problem with fish-eating birds...
Small decisions can make a big difference on some angling trips. Quite often changing your tackle or feed in a way you may never normally be able to work wonders.
Let's take last week when I went to Marsh Farm in Surrey, mainly because I wanted to catch a few tench, crucian carp and bream from Richardson's lake.
It's a great venue in my eyes because add the roach, rudd and perch and you never know what's going to be on the end the next time the float dips or the tip pulls round. And you know it won't be a carp… well OK, there are a few strays that do occasionally turn up, but in almost ten years I've only had one!
With a warm, sunny day, scattered clouds, a decent temperature and a slight breeze the omens were excellent. But after a very slow start nothing appeared to want to kick in.
A nice bream landed early on was followed by a small crucian and a few small roach. Music Mike had struggled on what should have been a good peg and decided to give up and try to plunder the tench stocks of Hill Pond.
I'd fed two lines, both with a few pellets and one of them with a few maggots too. It was time to try and kick start one swim with a bit of groundbait.
Feeding to get fish lining up
Cutting the story short, the groundbait worked but unlike normal without any pellets in the feed. I did have some crushed pellet in the mix and that appeared to be enough.
But the fish did not want a cup full of groundbait. Feeding a pot brought two fish and then nothing until you fed again. And I don't think that was because they had cleared out the feed.
Feeding a nugget of groundbait every few minutes via a pole pot – even if I had not had a bite – worked a treat. The fish queued up to be caught. Punched meat brought the most bites although a nice bunch of maggots added the occasional fish too. Pellets on the hook were just like feeding them, a failure.
On a venue that sees a lot of pellet usage would you have expected the above? Probably not. It just goes to show that sometimes you have to try something slightly different if you want to keep fish coming.
To be honest I reckon a good blast with chopped worm would have worked in these conditions but I was happy with the nice catch that I landed… although I do wonder what it was that stretched my elastic to its limit and then pulled off the hook!
Birds, birds and more birds…
Now one of the other things that happened during the above trip also made me think deeply about the future of some commercial fisheries.
Marsh Farm is slightly different as it's a club water that operates on a day ticket. It's very well maintained, has pretty good fish stocks and no carp.
But like many similar waters Marsh Farm is also home to a big population of bird life – and this is where I start to wonder about the future of angling.
Most anglers like bird life. It's great to watch and in many cases admire; although I didn't like the constant grebe action in my swim which disrupted sport.
One grebe, I believe, used my pole tip as a marker to know where I had fed and kept surfacing in my swim with a roach in its mouth. This was taken to its family of two, and its partner.
From where I was sat (I nearly said perched!) I could see another family of five grebes, at least 12 Canada geese, two herons and other assorted waterfowl that I couldn't identify (no expert in this field!).
That one grebe in my swim took five roach in the space of four hours. He or she could have taken more from other swims without me seeing. That's an awful lot of fish gobbled up in one day and I presume they feed most if not all days.
What is the answer?
Marsh Farm is not alone in attracting a host of birds like this. Some fisheries have even more!
So how many fish do these birds munch? Think of the cost and the potential long-term damage to angling.
Some waters will benefit from this pruning of stocks but my fear is how long can some fisheries sustain the birds' eating habits before angling suffers?
I don't pretend to know the answers to the above. But simple maths tells me that a few hundred fish can disappear pretty quickly from a venue with just a handful of birds in resident. And that is before any predation from cormorants, otters and any other beast that fancies a fish supper.
You do not see as many fish-eating birds on natural venues quite simply because there is not so much free food for them. More importantly, that grub can be caught much easier in small stillwaters.
Many of these bird species are protected and cannot be killed. Should we be asking for fish to be given some more protection?
All the latest inspiration, tips and guides to help you plan your next Advnture!
Running from 1964 until 2020, Angler's Mail was the UK's leading weekly magazine devoted to coarse fishing, telling readers everything they needed to know about which fish to catch, where to catch them, and what kit they needed to do it. Now, loads of the magazine's expert advice can be found on Advnture.com, as a helpful resource for angling newcomers and experts alike.