Supported
My Favourite Hike: the incredible Glyders Linear
A superb mountain journey across some of the Glyderau's most astonishing summits in the bristling heart of Snowdonia National Park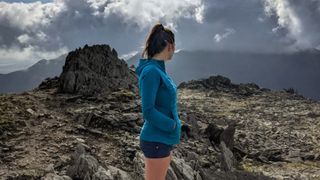 (Image credit: Bryony Carter)
The Glyders Linear
The latest in our My Favourite Hikes series sees komoot ambassador Bryony Carter tackle the Glyders Linear, a glorious traverse across the southern half of the Glyderau in Wales' Snowdonia National Park.
"What I love most about this hike is the pure drama of it," she says. "You get a sense of true respect for the mountains in this space, and I guarantee you will find your mouth aghast most of the time at the backdrop before your eyes, one that no camera picture will give any justice to."
The route
Start: Capel Curig (car park by Joe Brown – LL24 0EN)
Finish: Nant Peris Car Park (LL55 4UF)
Distance: 8.9 miles / 14.3 km
Elevation gain: 3,018ft / 920m
Difficulty level: Moderate
Duration: ~7 hours
The route is 14.3km long and takes in the spectacular peaks of Glyders Fach and Fawr but also the quieter summits to the east, which give 360 degree views of some of the best of what Snowdonia has to offer. Five mountain summits are tackled en route and I would describe it as a challenging itinerary if you intend to ascend the stacks of rock formations to reach the true summits of Glyders Fach and Fawr. If not, it is probably a hike of medium difficulty.
The Glyders Linear: why I love it
I suppose I should start by telling you a little about me. Hi! I'm Bryony. I'm 34 and live in the UK, with my adventure fur babies, Eddie & Dave (I know, sounds like an '80s pop duo, right?). I am on a mission to climb every mountain in the UK over 2000ft and after completing England's summits last year, I have been working my way through the Welsh Mountains for the past 18 months.
Last year, I was lucky enough to discover a route that is now cemented as one of my all-time favourite hikes. The Glyders Linear, a route that, despite starting and finishing at opposite ends of the range, you can complete solo thanks to the shuttle bus service that runs along the valley, or with friends having two cars positioned at the start and finish, which is what I did.
The start point is Capel Curig and there is free parking tucked away behind Joe Brown's outdoor shop. The first section sees a gentle ascent up the grassy flanks of Cefn y Capel, which after a heavy downpour it can be a bit of a bog fest, but within a few leaps of faith you move past it and up to the plateau of Gallt yr Ogof, where you are treated to spectacular views of Tryfan.
As you ascend up towards Glyder Fach and Castell y Gwynt, the terrain becomes rougher underfoot: a bit of a scrambly boulder field. It's not particularly treacherous and you will find the rocks to grip, but you can see how many a smartphones and drinks bottles have disappeared down in between the 540 million-year-old rock formations. It was bright on the day I completed the route, with intermittent cloud drifting through. Like something out of Game of Thrones, you feel completely immersed in another world and at no point does it feel like you are in the Welsh countryside.
Thanks to the range's popularity, there are decent paths. However, it is worth noting that they disappear amongst the boulders on the plateau of Glyder Fach, so careful navigation is required. Don't let that put you off this incredible hike though, it really does have everything.
What I also like is that that it really doesn't matter if you do not get a clear weather day with views from the summits, such is the interest underfoot. The late summer light or early winter conditions are a landscape photographer's dream. The rock formations just frame everything and when they're set against the drifting cloud, you genuinely can't help but feel inspired.
I completed this route in early October, which I would recommend as it will be less busy that during the peak season. At this time of year, as you descend into the valley towards the Nant Peris, Mountain Ash trees are bright red and laden with their striking red berries, you see them spaced out along the rocky outcrops, it is quite a spectacular sight.
Highlight: the Cantilever Stone
One of the standout features of this hike is the Cantilever Stone, a huge slab of rock that seems to defy gravity as it precariously juts out from another grounding rock. It's a very popular photo opportunity but involves a little scramble up that's not particularly precarious. To gain the platform, there are some leaps over large boulders but, if you fancy releasing your inner child or Spiderman, it is worth it.
My Favourite Hike Collection
To see the other hikes in the series on komoot, click on the Collection below...
All the latest inspiration, tips and guides to help you plan your next Advnture!