Supported
My Favourite Hike: the Great Glen Way
The Fort Augustus to Drumnadrochit section is a full day's walk that showcases some of Scotland's best scenery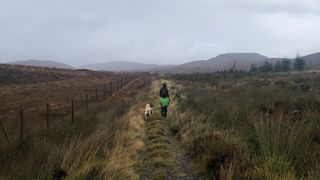 (Image credit: Jack McKeown)
The Great Glen Way
In the latest of our My Favourite Hike series, Advnture contributor Jack McKeown picks his favourite section of his favourite Scottish long distance walk. Stretching from Fort William to Inverness, the 79-mile waymarked Great Glen Way starts in the shadow of Britain's highest mountain, Ben Nevis. It follows part of the Caledonian Canal and runs alongside three major lochs – Loch Lochy, Loch Oich and mighty Loch Ness.
"The Fort Augustus to Drumnadrochit section is my favourite," Jack says. "It leads into the forests and hills above Loch Ness, and there is a choice of high and low routes. The high routes take you into some true wilderness that's simply majestic."
The route
Start: Fort Augustus
Finish: Drumnadrochit
Distance: 21 miles/34.7km
Elevation gain: 3084 ft/940m
Difficulty level: Moderate
Duration: 9-10 hours
Starting in Fort Augustus on the western shores of Loch Ness, you set off on forestry tracks and climb high above Loch Ness before a switchback path descends to the lovely village of Invermoriston, where there are a couple of good lunch options.
From there it's upwards again onto a wooded hillside. Commercial forestry gives way to scattered birchwoods and there are some fantastic viewpoints. Drop into the forested glen of the Allt Saigh and cross a rustic bridge over the Allt Ruighe Bhacain. Then it's another steep climb to a viewpoint over Loch Ness before a long descent brings you to the sizeable village of Drumnadrochit, where there's a good choice of accommodation and places to eat.
The Great Glen Way: why I love it
I've done a number of Scotland's long distance trails, including the West Highland Way, the Rob Roy Way, the Kintyre Way, St Cuthbert's Way and the Cateran Trail. They're all beautiful and special in their own way, but none of them captured me quite like the Great Glen Way.
It's worth doing the whole thing but if you can only do one section I'd recommend Fort Augustus to Drumnadrochit. For a start it runs most of the length of one of Scotland's most amazing lochs. At 22 miles long and more than 750 feet deep, Loch Ness contains more water than all the lakes and rivers in England combined.
There's a very short stretch along the lochside road before you divert onto a trail and climb into the forest. Both the Fort Augustus to Invermoriston and the Invermoriston to Drumnadrochit sections offer a choice of low or high routes. The lower route might be a better bet if you're short on time or a little out of shape – the views are still good and you're on easy-walking Forestry Commission track the whole way.
But please do the high routes if you can. They're where the walk really starts to amaze. You hike up above the monoculture of sitka spruce plantations and into some truly wild countryside.
I walked it last autumn with my partner Eilidh and our golden retriever Bracken. The dog carried much of her own kit on her back – in what we call the 'brackpack' - and had the time of her life. She even managed to flush out a wild boar, which leapt out of the undergrowth and went oinking down the hill. Extinct in Scotland for centuries, these beasts have never officially been reintroduced but are thought to have escaped from farms into the hills, where they thrive.
A narrow stony trail climbs ever upwards and reaches the last thing I expected to find up here – a sculpture. With a stone base holding a circle made from twisted branches, the art installation called the Viewcatcher Wheel is placed to perfectly frame a distant group of Munros north of Loch Cluanie.
After the thrill of seeing the wild boar and the unexpected delight of the Viewcatcher Wheel, the drop down into Allt Saigh brought yet more delights. Nestled deep in the mountains this wooded little glen has a wild and lonely feel to it. I wanted to linger but on a 21-mile day in early October we had to press on or risk finishing our hike in the dark.
A wooden bridge spans a tumbling waterfall before the path climbs very steeply up the flank of Creag Dhearg. Eventually, with lungs huffing and legs aching, this deposited us at a superb viewpoint where a curved stone wall provides shelter.
From here you can gaze along the entire length of Loch Ness and the ridgeline of hills that form the walls of the Great Glen.
With the hardest and best part of the hike completed, all that remained was a long but gradual descent across moorland and through woodland to Drumnadrochit, at which point it was time for a well-earned beer – and a big bowl of water for Bracken.
Highlight: the Viewcatcher Wheel
The stone and wood-weaved sculpture is unique and special, and certainly does capture a fantastic view. What makes it stand out in my memory is that it comes roughly halfway through the day at a point when you've hiked up into the first true wild country of the Great Glen Way. From here, a myriad of ancient trails and faint tracks offer boundless opportunities for exploration. The thought that you're at the beginning of a great adventure is an intoxicating feeling.
My Favourite Hike Collection
To view the other hikes in the My Favourite Hike series on komoot, click on the Collection below...
My Favourite Run
And if you fancy picking up the pace a bit, why not check out our My Favourite Run series!
All the latest inspiration, tips and guides to help you plan your next Advnture!
Jack McKeown is a Scottish journalist, hiker, skier, runner and beach volleyball player. Having walked many of Scotland's long distance trails, last year saw him tackle his first ultramarathon. He lives in Dundee and in his spare time Jack and his golden retriever Bracken are often to be found exploring the mountains, forests, lochs and rivers of Highland Perthshire.