Supported
My Favourite Run: Pembrokeshire Coast Path from St Davids
A rollercoaster route along the skinny coastal path with sandy beaches, turquoise seas and quite possibly a seal or two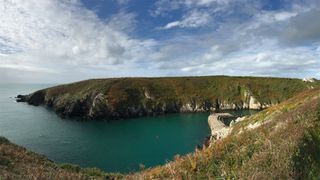 (Image credit: Claire Maxted)
The Pembrokeshire Coast Path
Our My Favourite Hike series is about to pick up the pace. In our first ever My Favourite Run, Advnture contributor Claire Maxted shares a fantastically "viewtiful" section of the Pembrokeshire coast path just outside the ancient (and tiny!) stone city of St Davids. It's only a city because it has the most gigantic cathedral which you must not fail to visit.
"This section of Welsh coastline holds a special place in my heart as we stayed in St Davids on our honeymoon," says Claire. "We spent the week exploring the beaches and running along the coastal paths, spotting seals and trying to take the best photo of the sunset across the sea."
The route
Start/finish: St Davids
Distance: 7.8 miles / 12.5km
Elevation gain: 120m / 394 ft
Difficulty level: Moderate
Duration: 2-3 hours
Running south from St Davids on whichever footpath you choose you can't fail to reach the coast. This one's super easy to navigate, simply turn right when you see the sea and follow the well signposted Pembrokeshire Coast Path sights all the way along the undulating coast on muddy, gritty and grassy trails. You might even see seals sheltering with their newly born pups in some of the bays if you go in the right season (August to November). Once around the Pen Dal-aderyn headland, turn inland at the first opportunity to take the inland paths and then the road back into St Davids.
The Pembrokeshire Coast Path: why I love it
Running along the Pembrokeshire Coast Path cliff tops is one of the most thrilling experiences you can imagine. The fresh sea breeze in your face, rocks and sand under your feet, and views of wave-smashed headlands, sheer cliffs and yellow-sand beaches as far as the eyes can see. Sailing boats and surfers bob below, to a soundtrack of sea birds reeling overhead, and if you're very lucky you'll see seals too.
The first time we did this run it actually took us 4 hours because we stopped for over an hour to watch a mama seal helping her seal pup build up its swimming strength and skills swimming around and around in a sheltered bay, playing in the swell and hauling its fat little belly up on to the beach for a rest in the sun. It was simply beautiful.
I love coastal running for its navigational simplicity too – it's so easy to follow the National Trail signposts and keep the sea to your left. It's much harder to get lost along a coast path than up a mountain, but don't be fooled, the ascent will still give you a fantastic workout.
This trail keeps you on your toes with short but steep ascents on narrow and twisting paths, sometimes rocky, sometimes sandy, and sometimes through fields of grass where farm animals graze, stopping their endless chewing to look at you with that, "I knew humans were mad" look in their eyes.
If you have the time, stop a while at St Non's Chapel and Holy Well ruins which is said to be the birthplace of St David himself, the patron saint of Wales. And you must not miss out a wander around St Davids Cathedral and the Priory next door – the audio button-press displays showing you what it was like back in the day are excellently narrated and hugely entertaining.
Highlight: Porthclais harbour
Apart from the seals, on highlight of this route that will always remain constant is the quaint little harbour of Porthclais with its brightly coloured fishing boats, canoeists and old lime kilns dotting its edges, and for a few thousand more years at least you'll be able to see the natural rock arch a short walk on from this spectacular cove.
My Favourite Run Collection
To view the other runs in the My Favourite Run series on komoot, click on the Collection below...
You can also check out our My Favourite Hike series.
All the latest inspiration, tips and guides to help you plan your next Advnture!
The co-founder and former editor of Trail Running magazine, Claire now runs the YouTube channel Wild Ginger Running, creating films packed with trail- and ultra-running content. An award-winning journalist, writing for outdoor and adventure sports magazines and websites, her first book The Ultimate Guide to Trail Running 5k to 50k is out in January 2021. Claire also speaks and presents at events and races.