Carp fishing: Reeling in whoppers
Hungary's Euro Aqua fishery has delivered some giant carp to British anglers abroad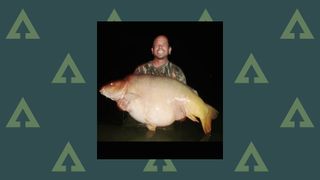 (Image credit: Angler's Mail)
Welcome to Advnture, the new home of AnglersMail.co.uk
Euro Aqua in Hungary holds some huge carp, as Roman Hanke discovered when he made an amazing catch on June 2, 2012.
Pictured above, Roman's monster mirror scaled a mega 46.10 kg (101 lb 4 oz) and was – as is customary across Europe – measured. It was 113 cm long. It was caught at night on a birdfood boilie.
So what is Euro Aqua?
The well maintained Euro Aqua fishery holds many more giant carp, plus catfish, zander and pike, and packages can be booked to fish there.
The impressive commercially-run 11.3-hectare (28-acre) Aqua Lake is a former gravel pit near the truly massive (146,500-acre) Lake Balaton, Hungary.
It's operated by a couple Alexander and Susan, and Alexander bought it back in the mid-1990s as a retreat for friends and family, later forming an angling club for fish it.
A full week deal typically costs 700 euros, with a long weekend 300 euros, staying in a lodge with meals included.
Water widely unheard of until 2012's 101-pounder
Those in-the-know on the European carp scene had tipped Euro Aqua to break the world carp record, although many UK carpers had never heard of the venue until that 101 lb giant.
Euro expert Steve Briggs said after the 101-pounder was landed : 'The Euro Aqua lake has been under the radar as far as most English anglers are concerned but I've certainly known about it for the last three or four years.
'It's not the first big fish to be caught from there in fact it holds a great deal of very large carp, easily as many as any of the known French waters and so it's no great surprise really that the first 100 lb carp came from there.
'I like the fact it came from somewhere outside of France and with the world's biggest common living in Germany it shows that massive carp are now spread throughout Europe and France no longer has the monopoly,' he added.
Lockey also fancied Euro Aqua to take title
Carp legend Martin Locke told Angler's Mail: 'It might surprise some but Aqua Lake probably was the favourite to do so in my eyes.
'It has got a huge head of 70 lb-plus fish and the owner has tried to make it the best big fish water in Europe.
'I'm not an expert on the venue but from what I can understand he feeds the fish up a lot and you can only use his bait.
'A friend of mine fished it and the owner shovel a oil drum full of maize into his swim. My mate asked him not to do it again as that would be enough but he did the same the next day as he's got his ideas of how to run it.
'He's not force feeding the fish as they have a choice of whether to eat it or not.
'I don't have a problem with it, the owner wants the best big fish water and is doing it his way but if it was happening in England I could see him having some critics as always happens. I wouldn't rule out fishing it myself but haven't looked into it at all.'
Alexander's amazing lake keeps on producing outsize carp
In a recent blog for the-session.info, Dave Moore – one of a growing band of Englishmen to have fished the water – spoke about the owners: 'We arrived on Monday morning to be greeted by the owner, Alexander. It became very obvious that Alexander was very proud of his lake, its facilities and what he was trying to achieve.
'Whenever you go to a lake for the first time you are always a little apprehensive because, to be honest when I go fishing I don't need reams of rules or any feeling I'm being watched. I'm old enough and mature enough to know what's right and wrong and that's just how he treated us, 'as experienced anglers.'
'He does have some basic rules like two rods, barbless hooks and the only bait you are allowed to use other than hook baits is his own. Alexander is a very experienced carp angler and talking to him later in the week it soon became apparent he knew more about bait and carp nutrition than most anglers in the UK.'
All the latest inspiration, tips and guides to help you plan your next Advnture!