Why you should try using peanuts as carp bait
Duncan Charman is a committed fan of using peanuts as carp bait. He explains the basics here.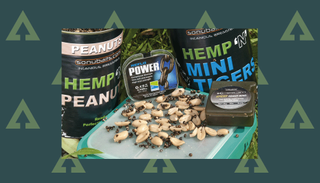 (Image credit: Angler's Mail)
Welcome to Advnture, the new home of AnglersMail.co.uk (opens in new tab)
My first choice hook baits for grass carp are peanuts.
They are not just great for grass carp, though, as mirror and common carp love them too.
Two halves fished on a hair, back-to-back, will give you an edge over others, especially on pressured waters.
I usually clip up and use a Spomb to introduce a good bed of smaller particles such as hemp, maple peas and crushed tiger nuts at distance to the main body of a lake.
Then I drop my hook bait on top, along with a small PVA bag.
I have had success when loading the bag with hemp and crushed tiger nuts, as long as it's the PVA-friendly kind.
Peanuts can come of on the cast, especially when casting upwards of 60 yards, so a baitboat is advantageous when using them for grass carp.
With a baitboat – and I know not everybody likes them – a big payload can be deposited accurately, something they seem to love, as well as delivering the soft hook bait effectively.
Apart from hemp, which l have prepared myself in the past, l would recommend anyone wanting to use particles such as peanuts to buy ready-prepared ones. Check out the range from major companies, such at Dynamite.
If you do want to prepare your own then always soak the particles for at least 24 hours before boiling them for a minimum of 20 minutes.
All the latest inspiration, tips and guides to help you plan your next Advnture!
Running from 1964 until 2020, Angler's Mail was the UK's leading weekly magazine devoted to coarse fishing, telling readers everything they needed to know about which fish to catch, where to catch them, and what kit they needed to do it. Now, loads of the magazine's expert advice can be found on Advnture.com, as a helpful resource for angling newcomers and experts alike.