Top tips for using coarse tackle
Thomas Petch gives us his ten tips for using coarse tackle...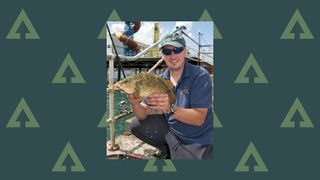 (Image credit: Angler's Mail)
Welcome to Advnture, the new home of AnglersMail.co.uk
I'm going on a trip to Dorset and will be packing coarse tackle for some sea fishing, so this is an ideal time to give you ten top tips to help you catch some sea fish on light tackle this summer.
Sea fishing isn't always easy but if you use lighter coarse tackle you can often catch a surprising amount of different mini species with the odd better fish thrown in.
My record was catching 11 different species in a day on Sandown Pier on the Isle of Wight and it really helps using lighter coarse tackle.
I still chuckle to myself when catching some nice pollack down the edge of the pier, using a small section of ragworm under a light float, an 8 lb fluorocarbon trace and size 6 carp hook and an 'experienced' sea angler decided to muscle in.
After about my fourth fish he dropped a float smack where mine had been sailing under. I moved slightly and still caught while his float remained motionless.
Eventually we got chatting and he was using a whole worm on a size 5/0 hook and about a 40 lb trace. I offered him light terminal tackle but he declined as he said his was fine but blanked and I continued catching all day.
10 TOP SEA TIPS FOR COARSE ANGLERS
1. Big open beaches can be hard, so look heads for piers, breakwaters, harbours and rock marks which offer plenty of features for fish and the small creatures they eat. Ask in local tackle shops as well when buying your bait.
2. Sea species can be right against pier and harbour walls, so don't always cast out but drop the bait under your feet, especially for pollack, wrasse, bass and other mini species. Open water is better for flatfish and surface feeders like mackerel and garfish.
3. Light tackle will always outscore heavier traditional sea tackle but don't fish too light as you need to swing fish up walls and also drag them away from snags. A 2 lb carp rod teamed with 10 lb line and some 8-10 lb fluorocarbon traces and strong size 6-10 hooks are perfect.
4. The two best methods are a running leger with weights up to 2 oz depending on the tide or a sliding float rig with a slim sea/pike float best. Wagglers can be used in harbours or when flat calm. Always search the swim thoroughly at different ranges and depths. A £2-4 pack of ragworm and packet of small frozen sandeels can give you hours of fun.
5. Float fish half a small sandeel or strips of mackerel for mackerel and garfish, with piers ideal for this. and it is important to keep varying the float depth from 6-12 ft until you find the fish. The shoals also move about on the tide so you can black for an hour or two before the fish arrive so do persevere.
6. A hand towel is essential to take with you as sea bait can be very, very smelly especially ragworm blood.
7. Use tackle to suit the conditions and if you need a big pike/sea slider then use one but don't fish heavy when the sea is calm.
8. Search out features as natural food and fish will congregate there. Even apparently featureless sandy bottoms will have depressions and raised areas and some weedy areas.
9. Groundbaiting can pull in fish. Use a crumb or fishmeal base and add in chopped loose offerings and fish oil or just trickle in tiny fish/squid/ragworm sections.
10. Always wash rods and reels in the shower straight after ever sea trip otherwise they will corrode very quickly. Any metal terminal tackle like hooks and swivels also need to be washed in tap water if you want to re-use them.
All the latest inspiration, tips and guides to help you plan your next Advnture!
Running from 1964 until 2020, Angler's Mail was the UK's leading weekly magazine devoted to coarse fishing, telling readers everything they needed to know about which fish to catch, where to catch them, and what kit they needed to do it. Now, loads of the magazine's expert advice can be found on Advnture.com, as a helpful resource for angling newcomers and experts alike.