Carp star Adam Penning explains how he got stolen gear back
A top carp angler explains how he managed to recover valuable and sentimental tackle.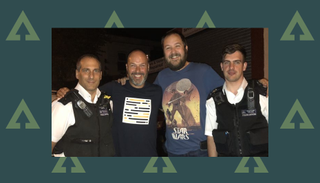 (Image credit: Angler's Mail)
Welcome to Advnture, the new home of AnglersMail.co.uk
Adam Penning suffered every angler's nightmare when gear was stolen from his van parked in his garden
Fishing guide Adam crucially asked for help via sources like Facebook and Twitter.
And having received information from a member of the public, he managed to retrieve some of the items with the help of the Metropolitan Police.
But still missing are two specially made carbon carp rods which are unlike any others in the world and were the most valuable items.
Adam Penning turned to social media
Chelmsford, Essex-based Adam explained: "The rods, along with a spod rod, three expensive landing nets and a large, fully filled rucksack of tackle, all together worth in the region of £5-6,000, were nicked from my locked van.
"I reported the theft to the local police but they didn't give me much hope of the items being recovered so I advertised the loss with pictures on social media.
"Amazingly my posts were viewed well over half a million times and I was told by one viewer that the landing nets and spod rod and reel were being advertised for sale in North London.
"So through a friend, I set up a time to go to buy them," he revealed.
Adam continued: "I went to the police with all this information but they said they couldn't spare the police time to go to investigate.
"I decided to go to keep the appointment myself, and drove to the address, where I called 999 and told them a breach of the peace was likely to happen unless the police came.
"A squad car arrived in a few minutes but as the front door was clear glass they said it wasn't appropriate for them to knock as if the person saw them he could well not let them in and they had no power to enter without a warrant.
"They discussed what to do and decided to contact a top plain clothes officer to assist and luckily he was only ten minutes away and agreed to help.
"Surprisingly he recognised me and it turned out he was a keen carper himself and secretary of the Met's angling club.
"He gained entry to the house and along with his colleagues came out five minutes later with the gear.
"It turned out the man who was Polish had innocently bought it at Dunton Carp Boot Sale in Essex and he gave a good description of the sellers.
"The rods were apparently also on sale there but because they have no brand name the seller wasn't even able to shift them at the knock-down price of £70 the pair."
Adam Penning continues gear hunt
Adam continued: "I went to that car boot myself the following Sunday but there was no sign of the sellers.
"The rods are totally unbranded without logos and have an unusual extended piece of Duplon in front of the Okuma Trio Rex reel seat.
"If anyone brought these rods in good faith, I will buy them back and also offer a reward if you can help identify the thieves.
"If you are at Dunton, or any car boot sales in the South East, please keep your eyes open and again, if you can help identify those responsible then I will offer a substantial reward.
Adam had some wise words for other anglers.
He said: "I  have said to people many times before that if you are buying secondhand gear, particularly rods and reels, ask the seller for pictures of the stuff in use.
"We all take pictures of our set up – if they don't have any and the gear is used then it could well be hooky.
"I know everyone likes a bargain but if you buy this sort of gear you are feeding the tackle thieves.
"Although I am insured I am still hoping to get the rods in particular back. They are very expensive and unique and they are also ultra violet marked," added 48-year-old Adam.
Debut Adam Penning book coming soon
Vastly experienced carp angler, consultant, presenter and angling guide, Adam Penning has his first book coming out soon.
It's an autobiography about his life and fishing, called Rolling in the Deep.
The book is due out on November 21 and Adam will be selling and signing copies at the big Carp Society's Sandown Show, Surrey, a few days later.
All the latest inspiration, tips and guides to help you plan your next Advnture!
Running from 1964 until 2020, Angler's Mail was the UK's leading weekly magazine devoted to coarse fishing, telling readers everything they needed to know about which fish to catch, where to catch them, and what kit they needed to do it. Now, loads of the magazine's expert advice can be found on Advnture.com, as a helpful resource for angling newcomers and experts alike.