Future of Erics Angling Centre revealed
The after-life of the carp fishing giant has finally been confirmed.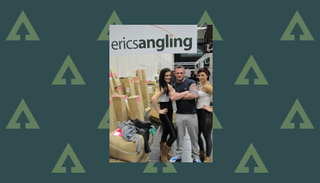 (Image credit: Angler's Mail)
Welcome to Advnture, the new home of AnglersMail.co.uk
Erics Angling Centre was bought by Angling Direct for a cool £1.1 million.
Now Erics Angling founder Sam Anderson plans to use the dosh to develop his Willows Lake in West Yorkshire.
He will turn it into a major fishery to rival the likes of Oxford's Linear Fisheries. And there will be a huge tackle shop on-site.
Sam said: "My plan is to develop the lake into one of the country's top fisheries and build a tackle shop actually on the site."
Sam continued: "It's already a great venue with tremendous carp fishing but I want to make it a state-of-the-art fishery on a par with anywhere in the country.
"There would be a number of lakes to cater for different types of angling, and super facilities, which should draw anglers from all over the area," he added.
Willows, based near Metley, is a 25-acre gravel pit and is already one of the top carp venues in the north of England.
It has a lake record of 61 lb 2 oz caught in June this year by Paul Owens plus at least three other 50s.
Erics Angling Centre changes
Angling Direct had already opened a store in Leeds so Erics Angling shop has closed down in the Yorkshire city.
But it's a different story down south. AD will take over the state-of-the-art flagship Erics Angling store at Buckinghamshire's Farlows Lake.
And it has also taken on the popular Erics Angling internet business.
AD chief executive Darren Bailey said: "Erics Angling is a premium business, providing thousands of regular customers with a high standard of service.
"We look forward to welcoming these customers to Angling Direct and introducing them to the high-quality and broad range of our products and services.
"The board is delighted to have acquired this business, which we believe will have a positive impact on our future trading performance over both the short and medium term."
Recently it was revealed AD had announced £26.6 million in sales in the six months to September. That's a trend-defying 21 per cent increase. And AD were still rapidly expanding their existing 34 stores.
All the latest inspiration, tips and guides to help you plan your next Advnture!
Running from 1964 until 2020, Angler's Mail was the UK's leading weekly magazine devoted to coarse fishing, telling readers everything they needed to know about which fish to catch, where to catch them, and what kit they needed to do it. Now, loads of the magazine's expert advice can be found on Advnture.com, as a helpful resource for angling newcomers and experts alike.