Ferryboat Farm Fisheries was 'sunk by floods'
The severe flooding in South Yorkshire decimated a top day-ticket fishery.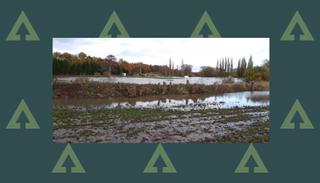 (Image credit: Angler's Mail)
Welcome to Advnture, the new home of AnglersMail.co.uk
Ferryboat Farm Fisheries and caravan site near Mexborough became a victim for the second time in its history.
It was struck when a raging torrent from the River Don poured all over the complex and the owners had to be rescued by boat.
A clean up operation soon got underway with the help of regular users and the local council, despite the fishery having no insurance cover.
Ferryboat Farm Fisheries owner Phil Henderson said: "Everything was completely destroyed and my wife and I are totally devastated.
"We've lost the bungalow, five vehicles and five caravans, and probably most of the fish from the lake, although I have seen some remaining.
"There is wreckage and garbage everywhere – trees branches, general rubbish, plastic bottles.
"The local Doncaster Council have been fantastic in helping with the clean up, as have a number of angling regulars who have come down to muck in.
"We managed to recover from a similar incident in 2007 and, although I had insurance cover then, they only agreed to pay out 53 per cent of the repair costs.
"After that though they refused to insure me again so this time we are going to have to manage the whole cost, but we did it before and I am determined to get it going again," Phil concluded.
As well as the Ferryboat Farm Fisheries itself, a small voluntary organisation that uses fishing to promote health and well-being for disabled people and those with mental health problems, also lost out.
Lawrence Sanderson, who runs Fisherman's Friends charity group, explained: "We take a group of people fishing at Ferryboat Farm Fisheries every Tuesday.
"Phil, the owner, is very supportive and recently kindly forked out on a container for us on the site, in which we could keep all our equipment to save transporting it there each time.
"We only recently stocked it with £3,000 worth of gear –rods, poles, reels, chairs, nets and attachments.
"The actual container is now in amongst the trees 200 yards away from its original position.
"We are trying to find a way of getting it back to where it was and seeing if the gear is still usable.
"We are all devastated at the moment as we can't take the group there and might have to purchase all new equipment.
"I've actually set up a fundraising page to see if we can raise funds to purchase replacement items," he added.
Anyone wishing to donate can go to this Just Giving link.
All the latest inspiration, tips and guides to help you plan your next Advnture!
Running from 1964 until 2020, Angler's Mail was the UK's leading weekly magazine devoted to coarse fishing, telling readers everything they needed to know about which fish to catch, where to catch them, and what kit they needed to do it. Now, loads of the magazine's expert advice can be found on Advnture.com, as a helpful resource for angling newcomers and experts alike.