Monster eel shock for river angler
One of the biggest UK river eels has been caught by an angler fishing for barbel and chub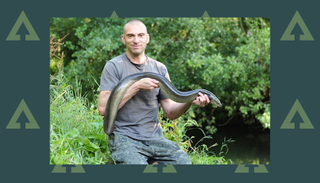 (Image credit: Angler's Mail)
Welcome to Advnture, the new home of AnglersMail.co.uk
An angler fishing for barbel and chub has landed one of the biggest UK river eels to have been reported in recent times.
Paul Codman fished a stretch of the River Kennet in Reading, Berkshire, and hooked the stonking 6 lb 'wriggler' in the early hours of the morning.
The 41-year-old fireman from Liphook, Hampshire, whose workplace is based at Farnborough Airport, said: "In the past I have predominantly fished stillwaters, but I haven't been on lakes this year, having felt quite down, like many people have.
"When the rivers opened, I really wanted to get out there and hide away for a bit. The Burghfield section of the Kennet is very quiet and secluded, so I've been fishing that stretch for the past few weeks, in search of barbel and chub. I've had a few barbel to 9 lb 8 oz.
"On my most recent session, I fished several swims in the day without success, which was unsurprising really, as the sun was brutal. I then decided to fish the night, settling in a deeper swim.
"I placed one running rig mid-river and one in the margin, both with luncheon meat on a hair. Nothing happened until dawn, when the mid-river rod smashed round.
"The fish moved downriver, and as I began to bring it back towards me it felt odd, not like a barbel. When it broke the surface, I could see it was a huge eel, and I managed to manoeuvre it into my net.
"I've had barbel to 14 lb 14 oz and chub to 6 lb 6 oz from the Kennet in the past, but I've never had, nor even seen, an eel from the river before.
"I've caught only 'bootlaces' from other rivers, so to jump to a 6 lb PB was a pleasant surprise. It certainly helped to cheer me up. I was really impressed with how much of a fight it put up, as I always imagined eels to be quite docile.
"The eel was hooked perfectly in the bottom jaw, and went 6 lb on the scales. I let him rest in the net for a bit and set up my camera. Photographing it was no easy task, but it eventually relaxed long enough for me to get a couple of decent pictures."
Reading DAA fishery manager Del Shackleford commented: "I've lived and fished around the area for 40 years and have never heard of a bigger eel from the Kennet. If it's not a river record, it must be very close.
"There seems to have been signs of a small recovery in eel numbers in the Thames catchment area in the past few years, and this is another positive sign, with growing interest in fishing for them."
The British record eel came from Paul's county, Hampshire, when a giant of 11 lb 2 oz was banked from Kingfisher Lake by young carp angler Steve Terry way back in 1978. That shocker is the longest-standing coarse fish record. Paul's past successes include Saddleback, a common carp of 41 lb from Burghfield Main Lake, and The Big Simmo and Floppy Tail, at 45 lb, from Cranwells Lake, on the nearby Wasing Estate.
All the latest inspiration, tips and guides to help you plan your next Advnture!
Running from 1964 until 2020, Angler's Mail was the UK's leading weekly magazine devoted to coarse fishing, telling readers everything they needed to know about which fish to catch, where to catch them, and what kit they needed to do it. Now, loads of the magazine's expert advice can be found on Advnture.com, as a helpful resource for angling newcomers and experts alike.