Buyer's guide: supermarket meats
Bill Rushmer tests supermarket meats to see which makes the best bait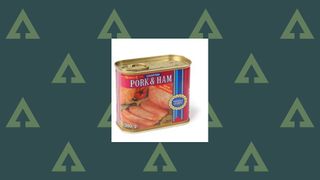 (Image credit: Angler's Mail)
Welcome to Advnture, the new home of AnglersMail.co.uk (opens in new tab)
Here's our guide to the best supermarket meats for angling...
Newgate Pork And Ham
Lidl £1.19 for 300 gr
Coming in a 300 gr ring pull can it appears to be fattier than most with a higher jelly content. It was lighter in colour than most and felt softer, which could limit its application to fishing closer in, towards the margins or float fishing in slower moving rivers again at close range. It tasted very salty possibly with a highish salt content. It certainly cubed up easily and was easily punched.
SCORE: 22/30
Princes Pork Luncheon Meat
Tesco £1.71 for 300 gr
Sold in a in the familiar 300 gr key wind can, Princes has a low salt content of approximately 1 gr in 100 gr and you can certainly sense this when you eat it. The salt content was below the average of the group and it was one of the darkest coloured samples in the batch. Although fairly tough I felt its applications were somewhat limited compared to other brands, being more suited to close-in work. But it certainly cuts up well with every tool I used.
SCORE: 22/30
Ye Olde Oak Pork Luncheon Meat
Aldi 69 p for 200 gr
The cheapest product tested and coming in a smaller cylindrical tin with no means of opening except with a can opener. Its colour was the second darkest in the range but the texture was very even. With such a different shape it had to be cut up before being placed in a rectangular cuber and because of its initial shape gave very uneven sized cubes. It did not taste too salty but had I believe a fairly high fat content. Being fairly tough it is suitable for most fishing styles.
SCORE: 23/30
Celebrity Meat Loaf
Sainsbury's £1.29 for 300 gr
Coming in a 300 gr key wind can, this appeared to be the darkest meat tested. It had an exceptionally even texture being fairly rubbery making it suitable for all but exceptional range fishing, and safe up to three rod lengths out or legering in hot conditions in fast flowing water where the hook could pull through. Strong flavour with a lower than average salt content. It was easy to cube up with cutters giving possibly the sharpest cleanest meat cubes in the range. Even with punches the results were impressive.
SCORE: 24/30
Spam
Aldi £1.59, Tesco £1.64, Sainsbury's £1.65, Somerfield £2.07
for 340 gr
Sold in a ring pull 340 gr can, Spam is a well established favourite of many anglers. It tasted very salty, had a medium fat content and more texture than most with a good colour easily visible to fish. About average for toughness in the group tested which limits its use, ruling out fishing at extreme range. Despite its more rugged texture it cubed very well with the cutter and also worked well with the punches. It tears well too giving some interesting shapes on the hook.
SCORE: 24/30
Sainsbury's Pork and Ham
Sainsbury's £1.39 for 340 gr
Coming in a 340 gr key wind can, this meat boasted the highest stated salt and fat content with fat at 25.2 gr per 100 gr and salt at 2.8 gr per 100 gr. The flavour was not over powering and with the extra salt could be appealing to carp. The colour was fairly light giving good visibility and the texture very even. It was also fairly tough allowing it to stay firmly on the hook in all but extreme conditions. It cubed up well with the cutters and gave a good result with the punch too.
SCORE: 25/30
Morrisons Premium Pork Luncheon Meat
Morrisons £1.39 for 300 gr
Sold in a 300 gr key wind key tin with a highish salt content at 2.3 gr per 100 gr in the range tested which is somewhat evident when you taste it. Salt in these proportions can be a very powerful attractant particularly to carp. The colour is fairly light making it one of the most visible tested. It cut easily with both the cutters and punch giving well defined baits. It felt very tough making it suitable for most applications including longer range fishing and fast water work.
SCORE: 25/30
Best Buy
Chira Bacon Grill
Lidl £1.09 for 300 gr
This had a fairly high fat content and tasted as if the salt content was also above average. The colour was fairly light adding visibility. It also had a rather interesting spicy taste that could be appealing to many species of fish, making it a bit of a wild card. It was relatively tough which is essential for casting to prevent the hook pulling through, giving it a full range of applications. It again cuts and shapes very well with both cutters and punches.
SCORE: 27/30
NOTE: All products tested August 2009.
All the latest inspiration, tips and guides to help you plan your next Advnture!
Running from 1964 until 2020, Angler's Mail was the UK's leading weekly magazine devoted to coarse fishing, telling readers everything they needed to know about which fish to catch, where to catch them, and what kit they needed to do it. Now, loads of the magazine's expert advice can be found on Advnture.com, as a helpful resource for angling newcomers and experts alike.