Braided vs mono vs fluorocarbon fishing lines: how to choose the best combination
Unsure about when to use braided vs mono vs fluorocarbon fishing lines? Clear things up with Bassmaster Elite pro Carl Jocumsen's expert advice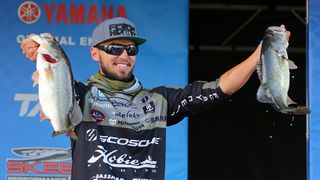 (Image credit: Carl Jocumsen)
Understanding the best time and place to use braided vs mono vs fluorocarbon fishing lines – or a combination – can be a tricky decision with so many different types available.
This is a common query and sometimes the choices can be confusing regarding when and where to utilize these different types of best fishing line. So, let's break each one down with its key pros and cons to make the decision–making process a little easier.
Over this guide, we'll cover the best situations to use braided, fluorocarbon and monofilament lines, plus some general information on the best types of leader line to rig up with that's sure to help you out wherever you fish. After reading this, you'll have a good understanding of when to use each type of line along with their strengths and weaknesses and how they may be used in your own fishing, wherever you're casting out.
If you need to know more, check out our expert guide to choosing fishing line.
When to use braided fishing line
Let's start with straight–through braided line – which means the braid is tied direct to the hook, lure or sinker. The advantage of going braid all the way is the feel, sensitivity and strength. This is because braid has no stretch and is made from ultra-strong, high-tech materials that are very thin for their breaking strain – often Dyneema or kevlar-like strands woven together.
The main techniques when bass or freshwater fishing with braided line will be flipping and punching heavy cover, such as weed or lily pads, frog fishing and swimming a jig. When fishing heavy cover, grass and mats, the braid is going to come through the grass better and cut through debris when a bass is hooked. It gives you direct contact with the bait, you'll detect bites faster, set the hook better and get the fish out easier. Anglers targeting carp and catfish in similar conditions often go for braided main line too.
Other advantages of braid include its low diameter enabling you to fit lots of line on the spool and you can go for a higher breaking strain main line because of this thinness when compared to mono main line, which is a lot thicker. It's also very supple and casts a long way easily. For these reasons, it's a popular choice of main line for saltwater anglers – surf casters, deep sea fisherman, big game hunters and so on – that need to hold lots of line on a reel.
The disadvantages are that it can be tricky for a beginner to handle with a mild tendency to tangle, and the fish can see it, so it's not good in open clear water situations. Tying on a fluorocarbon leader – sometimes called a top shot – can help that, and we will get into that later on.
When to use fluorocarbon fishing line
Fluorocarbon is at the opposite end of braid when it comes to visibility and elasticity – we are using this for the stretch which will help absorb the power of the cast and hooked fish, and allows the lure to maximize its action in open water. The most popular techniques with fluorocarbon are bass or freshwater fishing with crankbaits, jerkbaits, chatterbaits, jigs and swimbaits – the list goes on.
Another big advantage of fluorocarbon is that it's basically invisible when in the water, which will help produce more bites on pressured fish in clear water from any species. This is because the fluorocarbon is made from material that has the same refractive qualities as water, making it much harder for the fish to spot.
It's a good go-to line for when you need low visibility and a degree of stretch – this can apply to any fishing situation. In fact, if you're targeting any fish in clear water, a fluorocarbon leader is a great idea to reduce visibility and increase hook-ups. This can apply to carp, catfish, trout, saltwater species and so on.
When to use monofilament fishing line
Mono is the original line that has been used longer than most but has faded out to just a few techniques when it comes to bass fishing, but it still has plenty of uses in a more general context.
Mono has a lot of stretch – almost too much sometimes – and that's why it is not as popular these days. It is also usually colored which means fish can see in clear water and can stop them from hitting your bait or lure, but it can handle a lot of abrasion compared to braid.
Some anglers love mono for topwater bass fishing as it floats and helps keep your topwater up and giving the right action. It is also good for spinnerbaits and chatterbaits where you want the stretch to allow them to take the bait, get the hook and not put too much pressure on your lure.
Bait fishing for other freshwater species such as carp, trout and catfish are other situations where mono main line is a good option. It's a solid all-rounder, cheap and knots easily but it is thicker than braid.
In general, mono lines are good for when you need a lot of abrasion resistance, stretch or elasticity in the set-up, wherever you fish. Anglers fishing light lines for lots of species use mono main lines – it's cheap and easy to handle for beginners, too.
When to use a fluorocarbon leader line
Combos rigged with braided main line and a fluorocarbon leader or top shot (a length of fluorocarbon tied to the end of the braid) have become one of the most popular setups with anglers. This gives you the best of both worlds; you are getting the feel and sensitivity of non–stretchy braided main line, plus the invisibility and stretch from the fluorocarbon leader at the business end. It'll also cast well with the braid forming most of the main line.
There is a wide range of bass and general fishing techniques being used with this set up and it's most commonly seen on light line spinning gear. Some techniques include drop shot, shakyhead, small swimbaits, wacky rigs and on baitcaster setups flipping, topwater and weedless swimbaits. There are many other saltwater and freshwater applications too.
In general fishing, a fluorocarbon leader is a great option when you need the benefits of braid and fluorocarbon together without the disadvantage of both. It's a great go-to set-up for most types of fishing, freshwater or saltwater, and lots of experienced anglers like this combination for wary fish.
Choosing the right leader knot for fluorocarbon or mono to braid fishing line
Tying the mono or fluorocarbon-to-braid leader knot is the toughest part of getting rigged up. We've been tying a knot called the FG Knot for over 15 years. It's the strongest knot out there but can be tricky to tie.
But there's a wide range of knots that are easy to tie – check out the back-to-back uni knot or the Crazy Alberto knot – and the best way to learn is through online tutorials at home. This way you can keep watching each part until you get it right, so we suggest learning this way and eventually tying the FG Knot or Crazy Alberto when you're confident to do so.
A good tip with the Crazy Alberto knot is to trim the mono tag end tight to the top wraps of the knot to prevent the braid catching it as it leaves the reel, causing a tangle during the cast. This is a common problem with braided main line and inexperienced users. Learning correct line management and having reels spooled by a reliable professional at a fishing shop helps to avoid these issues with braided main line.
Try an addition to the Crazy Alberto called a Rizzuto Finish, too. This is just a small multi-wrap overhand knot that sits in front of the knot and smooths its passage as it flies through the rod rings.
How to choose the best leader length for your fishing line
Leader lengths all vary depending on what you're targeting; in super clear water with light line on spinning tackle, we like 20ft / 6m leaders. This keeps your braid as far away from the fish as possible, gives you a perfect amount of stretch to keep fish on, and allows you to retie your bait many times before having to tie a new leader.
At the other end of the scale, on baitcaster combo with heavier braid, we tie a short 2ft / 0.6m leader and keep the knot outside of the rod tip. This gives you a short shock leader which will help produce more bites and give you some stretch to keep fish on. The only time bass fishing we will tie mono to braid for a leader is for topwater – fluorocarbon sinks and usually mono floats, so utilizing the mono for topwater bass fishing will give your bait the perfect action it needs.
That said, outside of freshwater fishing, a longer mono leader is near-essential for some forms of saltwater angling; surf casting, big game and shark fishing, for example. They rely on the toughness of the mono to take a beating from a hefty cast or big fish and it's not uncommon to run 100ft / 30.5m or more of heavy 100lb-plus mono when targeting big sharks or tuna. Surf casters often use 10–15ft / 3–4.5m length of mono 20–80lb to take the abrasion and force of casting a large sinker and rig.
This range gives you an idea of the types of leader length we use when bass fishing, and the same general principles apply to other styles of fishing too. A mono leader is useful when abrasion resistance is key but visibility isn't an issue, but fluorocarbon has obvious advantages over mono in many regards as a leader material, the main one being its lack of visibility.
We hope this guide helps you decide between braid, mono and fluorocarbon lines and which ones best suit your fishing set up. The principles we've talked about in regard to the outstanding properties of each type can be applied to any fishing situation, so work out what you're up against and rig accordingly.
Good luck out there and happy fishing.
All the latest inspiration, tips and guides to help you plan your next Advnture!
Pro bass angler Carl Jocumsen has been successfully competing with the best-of-the-best on the FLW, Bassmaster and Bassmaster Elite Series tours for several years and is a go-to expert for anything bass, lure and tackle-related. During the competition season, he truly lives the fishing life with his wife and dog chasing the hot bite and pro tournament schedule from their RV. There's nobody more enthusiastic about catching bass of all shapes and sizes!