The best fishing line: tried and tested favorites for every scenario
Choosing the best fishing line is one of the most important decisions any angler makes – from braided to monofilament to fluorocarbon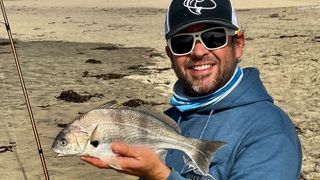 (Image credit: Ben Hervey-Murray)
Selecting the best fishing line is crucial for angling success. After all, as the only direct connection between angler and fish, the main line is a critical part of anyone's set-up. Go too heavy or too light, or pick the wrong type of line for the job, and you risk a big fat blank or avoidable fish losses due to breakage.
With this in mind, it's also important to be a smart consumer when it comes to buying the best fishing line. Grabbing the first or cheapest brand you come across and hoping it's up to the job isn't ideal. You probably wouldn't use that tactic if you were looking for a reliable new reel or rod, and you shouldn't use it when to choose the best fishing line, either.
But don't fear – we've hand-picked the brands and types of fishing line that we use and love, and we know they'll work for you too. By the end of this guide, you'll know enough to choose the perfect fishing line for the job on your next trip to the water - wherever you fish - and maximise your chances of success.
To make it easy, we've divided the types of fishing line into three main categories; braid, monofilament and fluorocarbon. We've then listed our go-to brands along with our honest review to help you choose the best fishing line for you.
The best braided fishing lines
First, we're going to run through some great choices for braided lines for fishing. Braided line is made of woven strands, often utilising high-tech materials, which result in a very thin and supple fishing line that casts easily and lasts a long time. It can be a bit more expensive than other lines but braid's longevity often makes it an economical choice over its lifetime.
It's usually the go-to choice of main line for anglers fishing in the ocean, anyone looking to cast a long way, or an angler who wants to feel the bite or fight a little more (braid has no stretch so it's more direct that stretchy mono line). Casting lures is also really easy with braided main line.
PowerPro Braided Spectra Fiber Line
The go-to braid for many, PowerPro is as reliable as they come and a great all-rounder
RRP: $15.99-27.99 | Breaking strains available: 8-100lb | Spool sizes: 150-300 yards | Type of fishing line: Eight-strand woven Spectra braid | Color: Moss Green / High-Vis Yellow | Great for: Everything! All-rounder
Great reputation for reliability
Useful colours - camou or high-vis
Fine all-rounder for freshwater or saltwater
None we know of
The OG of braided lines, PowerPro has been catching fish for years and has a deserved reputation as a reliable option. The high-quality Spectra fibres used in the eight-strand construction, which means it's woven from eight separate fibres, ensure it'll last for years and perform well in most conditions.
We love the lower breaking strains for general freshwater, surf and boat fishing; 8-15lb for small fish and light line-rated combos, 15-30lb for medium lure and bait fishing applications, 30-50lb for heavier surf and predator fishing and 50-100lb for small to medium-size sharks, big predators and huge catfish.
The Moss Green shade is very subtle and a wise option in 10-20lb for ponds and lakes where clear water makes the bite tricky. The High Vis Yellow has the opposite effect and that's useful at night, in the ocean, in coloured water or when you need to see what your line is doing.
We've used PowerPro extensively and have caught large catfish on the heavier breaking-strains (65lb is a useful strain for use on a big spinning reel) and lots of smaller fish in freshwater and salt on the lower breaking strains with zero issues.
Overall, a classic eight-strand braided line with little to match it for all-round use on a medium budget.
Daiwa J-Braid 8-strand
If you're looking for the best braided main line, this is probably it. Legendary amongst big fish anglers
RRP: $14.99-314.25 | Breaking strains available: 6-120lb | Spool sizes: 100-3000 metres | Types of fishing line: Eight-strand woven braid | Color: Dark Green / Chartreuse / White / Multi-Color | Great for: Tackling trophy fish
Ultra-strong for its diameter
Smooth and holds shape well - great casting braid
Track record of landing big fish
As with all braids, make sure you use the correct knots
Japan is famous for producing the latest and greatest technical fishing products so it's not surprising that Daiwa's J-Braid is one of the highest quality and best-regarded braided fishing lines in the world.
Another eight-strand woven main line, J-Braid is a favorite amongst big fish anglers worldwide due to its formidable strength, derived from using extremely high quality fibres tightly woven together for minimum diameter and maximum pulling power. In higher breaking strains, this will land some big fish in freshwater and salt.
Usefully, J-Braid comes in a Multi-Colour option with different shades of braid every ten metres, which allows deep-water anglers to count the depth by noting colour changes in the line as it leaves the reel. This is a great option for anyone looking to accurately target fish at a certain depth – maybe you're fishing on a boat and notice fish showing on the finder at 50m depth, for example. You can count out ten coloured sections of braid whilst lowering your rig and be at 50m.
This is your go-to braid if you're looking for the highest quality main line for a medium to large-size spinning reel to target larger species such as catfish, sharks and rays – or for a conventional reel with similar aspirations.
Spiderwire Stealth Braid
The best braid for light line fishing and small spinning or baitcasting combos
RRP: $14.99-314.25 | Breaking strains available: 4-250lb | Spool sizes: 125-3000 metres | Type of fishing line: Eight-strand woven Dyneema braid | Color: Moss Green / High-Vis Yellow | Great for: Light line fishing
Stealthy option will often get you more bites
Comes in spools suitable for small or ultra-light spinning reels
Awesome casting braid
With very light braid, make sure your rod is rated for the breaking strain of line you're using
Along with poor abrasion resistance, one of the only downsides of braided main-line is its visibility to fish in the water. Enter Spiderwire Stealth and its fluoropolymer coating, which aims to dramatically improve its camouflage properties under water thus not spooking wary fish and getting you more bites.
The coating also makes the braid smoother, which allows it to run through the guides faster and helps you cast further, which is something we could all do with help on. You'll notice the difference.
Spiderwire Stealth is the braided main line option to go for if you're targeting smaller species – maybe panfish, small bass, trout, light line surf species like surf perch or whiting – using light spinning or baitcasting combos. You'll appreciate the extra finesse it'll afford you when using light tackle and catching even modest-sized fish on 4, 6 or 8lb line is great fun at any age.
Ashconfish Braided Fishing Line 4 Strands
Braided main-line can seem a little expensive, so here's a great lower-priced option that doesn't cut corners on durability or colour choice
RRP: $5.96-16.18 | Breaking strains available: 6-100lb | Spool sizes: 109-547 yards | Type of fishing line: Four-strand woven braid | Color: Army Green / Black / Gray / Moss Green / Multi-Color /White / Yellow / Black | Great for: First-time braid user
Reliable budget braid
Lots of colour choice
Tough construction will last for ages
Four-strand braids aren't quite as smooth casting as eight-strand braided fishing lines
Four-strand braids are often a little cheaper compared to eight-strand versions and they're a reliable option for many anglers who value durability and cost, due to the price-reducing use of fewer fibres in the construction process. This can be a factor if you're starting out in the sport and don't want to invest a lot of money in premium fishing lines but still need a serviceable product.
Ashconfish's four-strand braid is amongst the best available in this category and works very well on small to medium-sized spinning reels and bait casting outfits for a range of species in fresh and saltwater. Try the 6lb for ultra light surf and freshwater lure fishing; 8, 10, 12 or 15lb for light bait fishing or casting lures and 20-30lb for slightly larger fish like catfish or bass.
One advantage of the four-strands braid's rougher surface is that it can cut through vegetation like weeds and grasses easily, which is useful if you're fishing for bass or catfish near cover.
This is a good option if you're looking to use braided main lines for the first time, are fishing near weedy cover or anticipate losing some line and rigs in snaggy areas.
The best monofilament fishing lines
When most people think of fishing lines, they think of monofilament. This is often clear and looks like a long, thin strand of plastic. Mono line is cheaper than braided lines and is made from a single, extruded piece of line, which also has a good amount of stretch, low visibility and great abrasion resistance.
However, mono fishing line can be a little wiry, doesn't cast as well compared to braided lines and is thicker than braid, so you can't fit as much on your spool. But in general, mono is a good all-rounder for main line and here are our top picks to spool up with.
Berkley Trilene XL
Trilene XL has been a reliable performer for years and we love it
RRP: $6.99-56.15 | Breaking strains available: 2-30lb | Spool sizes: 110-3000 yards | Type of fishing line: Monofilament | Color: Clear / Fluorescent / Gray / Low-Viz Green | Great for: Anything that swims - classy all-rounder
Smooth casting with spinning or baitcasting combos
Extra-stretchy, mistake-friendly mono great for beginners
Easy to knot and tie hooks and swivels to
Can twist easily if loaded onto a reel incorrectly
If you've recently started fishing or want to know more about choosing the right main line for all-round fishing, then it's likely Berkley Trilene XL mono is a good starting option to spool up with.
First, it'll perform well wherever you take it – from long casts with a lure for trout or bass, to surf fishing or boat fishing. The tough mono construction also gives it an edge over braid when fishing near abrasive structure – docks, reefs or pilings, for example. It's economical too.
For spooling a 2000-4000 size spinning reel to target small to medium size fish – bass, trout or perch for example – try 4-8lb main line, remembering that the lighter mono will always cast further due to its less wiry nature. A spool full of 10-20lb line will tackle some serious lake and river fish or surf species and we like the clear version for most situations.
Izorline First String
A cult classic mono amongst trophy angler
RRP: $9.99-109.95 | Breaking strains available: 2-135lb | Spool sizes: 1/4lb - 2kg spool weight | Type of fishing line: Monofilament | Color: Clear / Blue | Great for: Trophy fish and casting or bite leaders
Extremely high abrasion resistance and durability
High quality construction equals thinner diameters compared to other monos
Low stretch desirable for certain applications
Low stretch not always a good trait
If you're an angler who targets big fish, then having a good quality mono leader material in your bag is essential. A mono leader is a length of line tied to your main line (often braid) that can take the abrasion from a fish's teeth, rough skin, rubbing against structure like a reef or dock and its use is often the difference between landing a good fish and losing it due to breakage.
The best mono for this purpose that we've found is Izorline First String and we've experienced first-hand how well this deals with larger fish and adverse conditions like weed and rocks. Because of its hard construction, it'll take a lot of punishment before breaking and has great knot strength.
Check out the 2-8lb strains for a high quality mono main line, 10-80lb versions if you need a good mono leader to attach to your braided main line, and heavier for big game applications such as shark and tuna fishing. The clear is favoured, generally.
Berkley Trilene Big Game
Tough-as-nails main line for any fish
RRP: $9.99-109.95 | Breaking strains available: 8-100lb | Spool sizes: 235-1000 yards | Type of fishing line: Monofilament | Color: Clear / Green | Great for: Main line for big fish and heavy tackle
Tough, durable main line ideal for demanding conditions
Good value-for-money
Great knot strength
Can be a bit wiry
If you're the kind of angler who likes catching big fish – catfish, carp, sharks, tuna, salmon etc – then you'll need a main line that's tough enough to cope and one that hopefully doesn't cost a fortune to spool up a big reel with. Trilene Big Game ticks those boxes and more.
Legendary amongst anglers who fish in snaggy environments for trophy fish, Trilene Big Game really is the best choice of mono main line for anyone who requires maximum durability and toughness above all else. It's the Terminator of fishing lines.
Try 40, 50, 60 or 100lb for spooling big conventional reels and lower strains for spinning reels targeting surf sharks, catfish, muskie, pike, stripers, bass and other hard-fighting fish. The bulk spools are a great way of saving money in the long term and it's a safe choice for a mono leader if a wire leader isn't required.
Kastking Durablend Monofilament Leader Line
Highly-recommended mono leader material
RRP: $9.99-13.99 | Breaking strains available: 20-200lb | Spool sizes: 120 yards | Type of fishing line: Monofilament | Color: Clear | Great for: Fantastic value all-round mono leader
Great balance between tough and supple
Value-for-money
Easy-to-store spool
Heavier strains come bagged rather than on a spool
With the increasing popularity of targeting larger fish from the beach, boat or shore, having a go-to mono leader material on hand is important and we love Kastking Durablend for its ability to be both tough and supple.
The toughness means it can withstand the force of a big cast when used as a casting leader or the sandpaper-effect of a shark's skin, whilst it's supple enough to fly through the rod rings smoother than most heavy monos. It knots nicely too.
Try 60, 80 and 100lb for casting leaders when chasing big fish in the ocean or freshwater, and higher breaking strains to handle rub leaders for big sharks and game fish or bite leaders when wire isn't required.
This is the number one-selling mono line in the USA and this is for a good reason - it performs well above its price point and is a great all-round mono in all strains.
The best fluorocarbon fishing lines
Fluorocarbon line is very similar to monofilament line with the main difference being that it's made from a material that makes it much harder for the fish to see in the water. This makes it a good option for fishing in clear water or for wary species.
Generally, anglers use a few metres or feet of fluorocarbon line at the end of a braided or mono main line to take advantage of this lack of visibility and its great abrasion resistance. Here are a few of our favorite fluorocarbon fishing lines that we consider to among the best fishing lines available.
Berkley Vanish Fluorocarbon
Highly-recommended fluorocarbon leader material for a nice price
RRP: $5.99-316.11 | Breaking strains available: 2-60lb | Spool sizes: 110-2000 yards | Types of fishing line: Fluorocarbon | Color: Clear | Great for: All-round fluorocarbon leader line
Tough enough to withstand teeth and scales
Good value-for-money
Knots very nicely
A little bit thick and wiry
Anyone looking for a great value fluorocarbon leader material should check out Berkley Vanish - a staple of many freshwater and saltwater tackle boxes for many years. It's made from 100% fluorocarbon rather than being fluorocarbon-coated and comes in handy 110-yard spools starting at a very reasonable price.
It's a tough fluorocarbon line which can be just what's required for a leader to take the force of a fish's teeth and skin rubbing, especially in 40 and 60lb strains when dealing with species like catfish, small tuna and rays.
Try the lighter strains 2, 4, 6 and 8lb for a solid all-round performer in just about any fishing scenario when the invisibility of fluorocarbon is going to be an advantage for targeting small species, with the middling strains ideal for medium-grade fish. We've used Berkley Vanish it for years and love it – you probably will too.
Seaguar Red Label Fluorocarbon
Highly-recommended fluorocarbon leader material
RRP: $4.92-26.53 | Breaking strains available: 4-20lb | Spool sizes: 200 yards | Type of fishing line: Fluorocarbon | Color: Clear | Great for: Quality fluorocarbon leader line for small species
Great reputation for smaller species fishing
Nice price for the quality too
Limited breaking strains available
When you're targeting wary fish and need a supple bite leader to avoid detection, a quality fluorocarbon like Seaguar Red Label is one of the best fishing lines out there. Seaguar are one of the most successful manufacturers of fluorocarbon lines in the world and Red Label is one of their biggest sellers for a reason – it offers a great blend of value and performance that many anglers trust at the business end of their fishing tackle.
We particularly like the lower breaking-strains – 2, 4, 6 and 8lb – for use as bite leaders when fishing for small species like trout, panfish and light line saltwater species like surf perch or pompano. In our experience, this line has performed very well in saltwater and freshwater for a variety of species and we're sure it's led to more bites with its perfect blend of invisibility and suppleness.
The knot strength is good and it's highly abrasion resistant too, making a good option for almost any application requiring a subtle leader up to or under 20lb breaking strain. We love it and rarely fish light tackle without a spool in our bag somewhere.
Other things to consider when choosing the best fishing line
Perhaps the most important part of choosing a fishing line is to match the line to the type of fishing you're doing and equipment you have. Most rods have a line rating on them – don't be tempted to go outside of this too much.
Once you know the rod is suitable, ensure the reel is also a good match and the rod and reel are both either spinning or conventional models. The reel will have some guidance about how much line it can take printed on the spool – make sure you have enough line to fill the spool properly. It's no good ordering 300m of 20lb line if the spool needs 400m of 20lb line to fill.
Most tackle shops offer a spooling service and, especially for braid, we recommend you take advantage of this to see how a professional technician loads a reel with line.
An obsessed fisherman since childhood, Ben's career in fishing has taken him from working as a magazine writer and editor to running his own guiding business in California, where he targets salt and freshwater fish. Ben has decades of experience in selecting the right tackle and honing the best tactics to target all sorts of species, from surf sharks to freshwater catfish, and loves sharing this knowledge. His favorite fishing moments usually involve helping clients catch the fish of a lifetime – and not getting eaten by great white sharks while out on his kayak.
All the latest inspiration, tips and guides to help you plan your next Advnture!
Thank you for signing up to Advnture. You will receive a verification email shortly.
There was a problem. Please refresh the page and try again.