Indoor fishing? I may give it a try!
Colin Mitchell explains why indoor fishing may just be the next big thing in angling...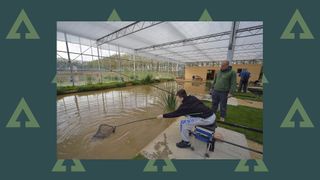 (Image credit: Angler's Mail)
Welcome to Advnture, the new home of AnglersMail.co.uk
There were a few raised eyebrows and much gnashing of teeth when Angler's Mail magazine recently revealed the latest on indoor fishing in England. No surprise that there were mixed feelings and I have to admit I did think: 'What the @$@**** hell is going on here?"
I know indoor fishing is nothing new in the Far East. But having read the story of Steve Collett's visit to the indoor angling arena near Wigan I've sort of mellowed my views.
Well… a little bit!
First bonus
Anything that gives angling a boost has to be welcomed. This certainly does that by getting people fishing who may not at first be interested in dangling baits in the cold. The Wigan charity that runs indoor angling is aimed at getting 'bad lads' off the street but they will also welcome others to their lakes in greenhouses.
Second bonus
Visitors to the centre get a run down on aquatic life, fish breeding, fauna and lots of other outdoor things that affect fishing – and that's something many anglers will have a blind spot to.
Third bonus
If any of those who land a fish indoors catch the fishing bug they will swell angling's ranks and also give a boost to the tackle trade along the way.
Okay, there has to be a downside… and the first reaction is that fishing is not an indoor sport/hobby/pastime. It's about getting on the bank, reading natural surroundings, enjoying bird and wildlife and the fresh air.
Err… hang on, didn't we say that when the raft of commercial fisheries started to spring up around the country? Didn't those same maligned commercials bring in a new breed of angler – albeit many hooked on carp – that probably helped save countless jobs in the fishing trade? Aren't those waters now the backbone of fishing? Don't they now have features like bushes and reeds and attract various wildlife?
And in turn they have also led to an increase in the popularity of other fish – with silver fish matches and people looking for big bream and perch which have thrived on neglect in mostly-carp venues.
And let's not forget that the rivers, ignored for many years because of the commercials and fears that fish stocks were wiped out by cormorants, are also on the way back. Current reports on the Thames, Trent and other major flowing waters suggest there are now loads of fish to be caught, including many smaller ones that have obviously bred.
Neglect of those fish by people who turned to commercials has helped but it's also been the anglers' fight against cormorants and other predators that has probably aided the rebirth of rivers too. The comeback by rivers will see more anglers dusting down tackle that has been in storage or not even used for years.
Now there are still anglers out there who fish with cane rods, old centrepin reels and porcupine quills. Good luck to them if that is what they want to do, they are doing no harm and keeping some traditions alive.
I like my carbon rods and poles and long ago ditched the heavy glass fibre rods. I still have centrepins, but these are nice lightweight modern versions. I still like river fishing. No sorry, change that, I love river fishing!
I still like fishing natural stillwaters that are not stuffed full of fish. But I don't have an aversion to fishing a commercial puddle that can virtually guarantee sport when everywhere else fails. I don't mind catching carp although I can't resist a big perch, roach or catfish. I admire pleasure and match anglers who specialise in different fish, tactics and waters.
And I am certainly not going to knock indoor fishing. I might even try it…
All the latest inspiration, tips and guides to help you plan your next Advnture!
Running from 1964 until 2020, Angler's Mail was the UK's leading weekly magazine devoted to coarse fishing, telling readers everything they needed to know about which fish to catch, where to catch them, and what kit they needed to do it. Now, loads of the magazine's expert advice can be found on Advnture.com, as a helpful resource for angling newcomers and experts alike.