How to tie a blowback rig for carp
Simon Watson from Pondip shares a step-by-step guide on how to tie a rig that's proved popular for catching big carp.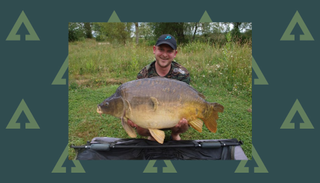 (Image credit: Angler's Mail)
Welcome to Advnture, the new home of AnglersMail.co.uk
For this first piece I have decided to provide a useful guide to tying a rig which has served me very well over the years and helped to catch some awesome carp.
The following steps will teach you how to construct the rig and show each component required.
The components for your blowback rig
You'll need the following items, as seen in this picture:
Size 6 curve shank hook
40cm coated hooklink
2cm shrink tube
Small round 'O' rig ring
Long anti-tangle sleeve
Size 8 quick-change swivel
Construction guide for making the rig
1. As shown clearly below, measure 40cm of hook link and strip back 15mm of the coating tying an overhand loop knot to create the hair rig (loop = approx. 1cm long). Then tie on a rig ring 2.5cm from the end of the loop using an over hand granny knot, and push the line down through the eye of hook leaving the rig ring level with the point of the hook.
2. Wrap the line seven times back up the shank of the hook to create a knotless knot and thread line back down through the eye of the hook. Using a splicing needle enter the tubing 2mm from the end and push all the way through. Pull the hooklink back through the tubing and push on the 2cm shrink tube covering all of the seven wraps on the hook shaft.
3. Heat the tube to shrink it and thread on the green anti tangle sleeve (you may need to trim back 2 mm of the tube to create a larger hole).
4. Measure 18cm and create a loop tying a double over hand knot to create a loop, which measures 3cm long. Pull tight using a purpose made rig straightener. Then it's time to clip a quick change swivel on to loop and push the sleeve up over the knot but without covering the quick change swivel.
This rig is perfect for fishing pop-ups or bottom baits; it can even be used with various particle baits. I have used it in the UK and abroad, on large and small lakes. It really is my go-anywhere rig.
Thanks for reading – hope to catch you on the bank sometime soon!
Simon – AKA Captain Fish.
All the latest inspiration, tips and guides to help you plan your next Advnture!