How to use a naked chod rig for carp in clear water
Here's our solution to fishing in clear waters that have been devastated by sub-zero conditions.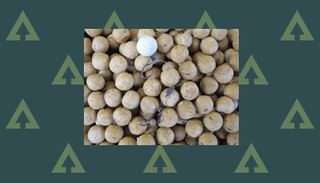 (Image credit: Angler's Mail)
Welcome to Advnture, the new home of AnglersMail.co.uk
During daylight hours this makes our end tackle much more visible to the carp. Bright, warm spells during the day can also be optimal feeding times as this is when carp are at their most active. So concealing your end tackle becomes of vital importance.
"The Naked Chod" is a chod rig fished straight off the main line, a fluorocarbon, without the use of any leader.
The fluorocarbon is near-invisible in clear water compared to conventional leadcore leader. Many lakes have leader/leadcore bans so this is a top, safe year-round method.
Here are the materials needed to make The Naked Chod rig. Firstly, side thread a 5 mm Atomic Micro Bead onto your main line by side piercing it with a baiting needle. This is placed 6 to 7 ft up the main line.
Slide your chod rig onto the line via an Atomic size 11 Ring Swivel followed by another 5 mm Micro Bead, again side-pierced and threaded on with a fine baiting needle.
Now tie on a Thinking Anglers Heavy Ring to the end of the main line using a palomar or grinner knot. The bottom Micro Bead should sit against this to prevent the rig sliding down to the lead.
Apply enough Atomic Rock Bottom Rig Putty to the ring swivel on the hook link to balance your favourite Dynamite Baits Fluro Pop-up. It keeps the whole rig pinned down and critically balances the hook bait.
Tie on a 12-inch length of fluorocarbon to the Heavy Ring using a grinner knot. Then slide on a helicopter sleeve and attach your chosen lead using a palomar or grinner knot. This reduces the risk of hook pulls by keeping the rig away from the lead, stopping the lead bouncing around and potentially hitting the fish during the fight. The second reason is that over soft silt this section can sink in without dragging the rig with it. Use this as a very effective single hook bait presentation with a fluoro pop up in the winter and with a food-based hook bait over a spread of boilies in the warmer months.
All the latest inspiration, tips and guides to help you plan your next Advnture!