How to improve your river fishing success rate
Cadence tackle developer James Robbins shares his expert advice.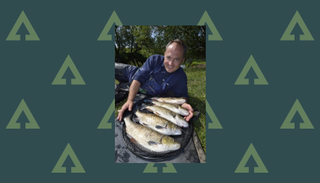 (Image credit: Angler's Mail)
Welcome to Advnture, the new home of AnglersMail.co.uk
These river fishing tips will help you find success…. so get out there on running water during these first few weeks of the season!
1. Keep on the move
It can be difficult to locate fish on lightly fished and overgrown stretches. A mobile approach roving approach is often best so travel light.
2. Target shallows
Fish the shallows to start with if possible for your early-season river fishing session.
These swims will often hold  fish as the water is more oxygenated.
3. Fish early or late
Long daylight hours this time of year make quick summer fishing sessions viable after work or studying.
It's much more fun than sitting on the sofa watching TV, surfing the web, pootling on social media or playing games – again.
Target these later periods as a priority – fish will be feeding more confidently than in the middle of the day.
4. Focus on big baits
Small nuisance fish can be a problem with maggots and casters this time of year.
I like to focus on bigger traditional baits like bread flake, lobworms and luncheon meat for early season chub and barbel sessions.
5. Pre-bait
If possible pre-baiting will give you a great advantage and result in bigger bags of fish.
Use cheap baits like brown crumb groundbait, hemp and corn.
All the latest inspiration, tips and guides to help you plan your next Advnture!
Thank you for signing up to Advnture. You will receive a verification email shortly.
There was a problem. Please refresh the page and try again.