Drowned carp angler's family call for awareness of cold water shock
A heart-broken family of a carp angler who drowned has warned of the dangers of not wearing a lifejacket.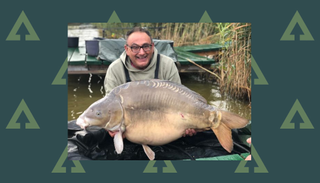 (Image credit: Angler's Mail)
Welcome to Advnture, the new home of AnglersMail.co.uk
Frank Cuomo, 63, from Derby, died in France after a tragic accident, which was linked to often overlooked cold water shock.
Daughter Dani said: "My dad, Frank, had been an avid carp fisherman since he was young, and had experience fishing across the UK and Europe for over 50 years.
"I lost my dad tragically on October 13. He'd travelled with his son, Nick, his brother, Loui, and close friends to a lake in France, called Le Grande Pierre, in Neuves-Maision, near Nancy.
"Around midday, Dad used one of the boats provided by the owner of the lake to retrieve something that had snapped off one of the rods.
"He was very experienced using boats, and was not someone to take unnecessary risks, yet he did not wear a life vest. The weather was largely calm and it was 25 degrees Celsius air temperature.
"Having rowed out to the centre of the lake, the boat began to fill with water unexpectedly, causing it to capsize, throwing Dad into the water. It was later discovered that the boat had a hole in it."
Very capable swimmer
Dani revealed: "Dad did not show signs of a struggle after his initial fall into the water, and he was a very capable swimmer.
"He managed to keep his head above water for some time, time in which one of the members of the group was able to empty another boat and row out to the centre of the lake.
"Despite reaching dad and offering an oar for him to hold, Dad was unresponsive and he slowly disappeared under the water.
"The local gendarmerie were immediately called and sent in an emergency rescue diver team to recover Dad's body.
"The divers searched tirelessly for over six hours and did not give up until they were finally able to recover Dad just before dark.
"We are grateful to the efforts of the team of divers, and have raised over £7,000 in Dad's memory, which we will be donating to the French emergency diving team.
"The money is to put towards training, new equipment and continuing their amazing work to help other families that are unfortunate enough to experience the nightmare we are going through."
Cold water shock
Dani continued: "Having discussed the circumstances with appropriate medical professionals, it was concluded that Dad had suffered from cold water shock, which ultimately ended in him drowning.
"Dad knew many people in the fishing community, and I have spoken with many of them, most of whom are unaware of the dangers of cold water shock, and regularly use boats without life vests.
"I hope to be able to raise awareness, particularly within the fishing community, of the dangers and the simple precautions that can be taken to be safe.
"I think a lot of fishermen think that if they are on a lake and can swim, there are no real dangers, but this is simply not the case.
"I want this story to put real emphasis on the importance of wearing a lifejacket at all times when on a boat, no matter what the weather or temperature, and to understand the dangers of cold water shock and how to react if you are ever faced with unexpectedly being in the water.
"I have been in touch with RNLI, who are also interested in me doing some voluntary work with them and telling my story, as they are currently doing a campaign to raise awareness of cold water shock.
"I can't bear the thought of another family having to go through this horrendous experience," Dani concluded.
All the latest inspiration, tips and guides to help you plan your next Advnture!
Running from 1964 until 2020, Angler's Mail was the UK's leading weekly magazine devoted to coarse fishing, telling readers everything they needed to know about which fish to catch, where to catch them, and what kit they needed to do it. Now, loads of the magazine's expert advice can be found on Advnture.com, as a helpful resource for angling newcomers and experts alike.