River Medway shock coarse fish caught from boat
Nick Byworth thought he'd caught a massive chub hybrid, but then realised it was a cracking 7 lb 2 oz ide.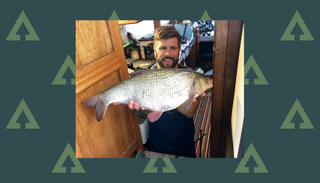 (Image credit: Angler's Mail)
Welcome to Advnture, the new home of AnglersMail.co.uk
The 38-year-old angler was boat fishing on Kent's River Medway with nine-year-old daughter Scarlett.
He hooked the specimen on a legered 15 mm fishmeal boilie, and told us the full story…
Hextable-based Nick explained: "I was out on my boat with Scarlett, but on the previous few sessions we've been plagued by chub and bream, many of them up to and over 5 lb, and even a 17 lb pike on a fishmeal pop-up.
"Obviously 5 lb chub and bream are great catches in their own right, but not so much on heavy carp fishing tackle.
"After initially netting this ide, my go-to thought was that it was a chub hybrid.
"Once it was onboard, I quickly realised that this was an ide and a fish of a lifetime, and I had to suffer a stinky weigh sling to confirm how big it actually was. It went 7 lb 2 oz.
"The weather was awful, with strong winds and rain, so the picture had to be taken onboard, which is a shame.
"I was over the moon to have caught it, and the picture tells the story of the catch perfectly for me," concluded Nick.
How the River Medway ide ranks
Ide are the natural version of the ornamental golden orfe, but more specimens are now being caught.
Last month one of 7 lb 2 oz was caught by Dean Crutchley on the River Dearne, in South Yorkshire.
The biggest ide ever reported was a 7 lb 6 oz giant from Nottinghamshire's River Trent, to Ian Green in 2017.
The golden orfe official record could be taken by an ide, as they are the same scientific species, with the same Latin name, Leuciscus idus.
That target is jointly held by two fish of 8 lb 5 oz each. The first was caught by Michael Wilkinson from Cheshire's Lymm Vale, back in 2000, and then equalled in 2018 by Lawrence King at Surrey's Newdigate Farms.
All the latest inspiration, tips and guides to help you plan your next Advnture!
Running from 1964 until 2020, Angler's Mail was the UK's leading weekly magazine devoted to coarse fishing, telling readers everything they needed to know about which fish to catch, where to catch them, and what kit they needed to do it. Now, loads of the magazine's expert advice can be found on Advnture.com, as a helpful resource for angling newcomers and experts alike.