Biggest British ide turns up in major river
Britain's biggest ever 'natural' ide has been caught and it's pushing the official British record.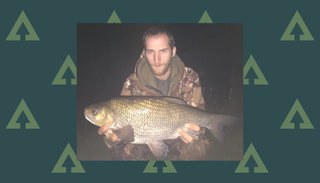 (Image credit: Angler's Mail)
Welcome to Advnture, the new home of AnglersMail.co.uk (opens in new tab)
Nottinghamshire's River Trent is full of surprises but a 7 lb 6 oz ide was the last thing Ian Green was expecting during a recent night trip.
Ide are the natural version of the ornamental golden orfe and that same species has an official British record of 8 lb 5 oz . The golden version was caught from Lymm Vale in Cheshire by Michael Wilkinson in 2000.
Ian, who is 29-year-old and from Nottingham, explained: "I was convinced I had caught a large chub until I was told by others it was an ide, and it is the first one I've ever caught.
"It was my only fish of the night and was tempted by a 16 mm Three Foot Twitch Redemption boilie fished with a PVA big filled with 14, 16 and 18 mm versions with a few freebies over the top.
"Who know what the Trent holds? I believe there could be even bigger ones in there," added Ian.
Local tackle dealer Tim Aplin commented: "This fish doesn't really surprise me – ide seem to be coming out at the moment.
"A three-pounder was caught in an evening match at Clifton and youngsters there showed pictures on their camera of one they caught that looked about 6 lb.
"All kinds of species are turning up in the Trent like sturgeon and catfish, so who knows what's next?
"The river has been fishing really well despite low and clear conditions from the start of the season," he added.
All the latest inspiration, tips and guides to help you plan your next Advnture!
All the latest inspiration, tips and guides to help you plan your next Advnture!
Thank you for signing up to Advnture. You will receive a verification email shortly.
There was a problem. Please refresh the page and try again.