Thames barbel slams the scales to a massive 20 lb 2 oz!
One of the biggest barbel ever caught has been tempted from the River Thames by Simon Cook.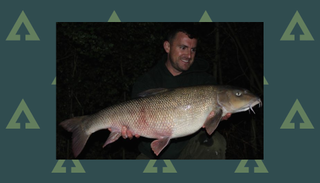 (Image credit: Angler's Mail)
Welcome to Advnture, the new home of AnglersMail.co.uk
Simon finally got his rewards after years of hard work on the river Thames.
Carpenter and locksmith Simon, 41, explained: "For many years now I have fished almost exclusively for carp and barbel.
"Although tactics for each fish can be very different I've found that on the Thames the most efficient way to angle for both is by using the same tactics.
"Also there are so few barbel in the stretch I fish it would almost be impossible to target them individually as this is only my third barbel in four years of fishing it – the other two being a couple of 12-pounders I had in 2016.
Simon's Thames barbel and carp tactic
Simon explained his barbel and carp approach. He revealed: "I lengthen the hooklength and use a rig where the boilie is tight to the shank of the hook as I believe this is much more efficient for hooking barbel because of the way they feed. And it so happens to be the perfect rig for carp anyway and also prevents tangles after nuisance fish have shown the bait some interest.
"It was the area I caught it from that was the biggest surprise for me as I was always led to believe carp and barbel at this time of year, as the weather is cooling, tend to drift into deeper water. This spot in particular was only around a one second drop – so I'm estimating 3-4 foot.
"I very nearly didn't fish it as it felt much less clear than the previous week after some old silkweed had managed to find its way into the area, but as I had deposited a few kilos of bait in the area at the end of my last session I decided to stick with it.
"It was about 1am that this rod first singled some interest, when unfortunately, as usual a big slab had hung itself and couldn't get free.
"So after dealing with that, re-baiting the rod and giving my PVA stick a good dip in Solar Growler juice, I re-cast to the spot," he added.
Giant Thames barbel gave 'one-toner'
Simon told how the moment came when the giant Thames barbel took the bait and eventually reached the bank.
He said: "A couple of hours later a typical stuttery bream take occurred again, but this time it evolved into an absolute one-toner.
"After picking up the rod it was unclear what I was attached to as it felt like it had a picked up a fair amount of weed on the take.
"After a couple of minutes of reeling in a bit of a dead weight the weed cleared from the line and the fish came alive down my right hand margin.
"I never play or net fish with the head torch on so I still had no idea what I was attached to, all I new was that it felt different to the usual carp battle.
"All of a sudden a big disturbance right under my feet confirmed that the fish was very long and shortly after that I managed to scoop the net under it.
"Having my cousin Jimbo next to me, we flicked on our head torches at the same time and peered in then net.
"After a few seconds of silence, and not quite believing what we were seeing, we both said 'Jesus Christ it's a massive barbel' …or words to similar affect which can't be repeated here.
"What an amazing moment, made even more special by having my cousin, who I've fished with on and off since I was 12 years old and I'm 41 now, experiencing it with me," concluded Hemel Hempstead, Hertfordshire-based Simon.
The giant 20 lb 2 oz Thames barbel fell to a snowman boilie rig with a tuna bottom bait and a Sticky Baits pineapple pop-up. That was offered on a size hook and 15 lb line.
The only heaver barbel caught from the Thames is a 20 lb 9 oz heavyweight by Ron Phillips in March 2018.
The British record stands at 21 lb 1 oz, from the Great Ouse – full list of official British records HERE.
All the latest inspiration, tips and guides to help you plan your next Advnture!
Running from 1964 until 2020, Angler's Mail was the UK's leading weekly magazine devoted to coarse fishing, telling readers everything they needed to know about which fish to catch, where to catch them, and what kit they needed to do it. Now, loads of the magazine's expert advice can be found on Advnture.com, as a helpful resource for angling newcomers and experts alike.