Buyer's guide: Method feeder hooks
Check out five of the best method feeder hooks to nylon. And before you buy, read our top tips on what to look for first...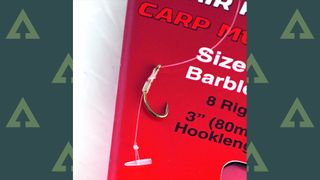 (Image credit: Angler's Mail)
Welcome to Advnture, the new home of AnglersMail.co.uk
Get the lowdown on method feeder hooks and the best to buy...
1. Hair length
Getting the position of the bait relative to the hook correct can make or break a day's sport. Depending on the size of the fish targeted, a longer or shorter hair will be more efficient at turning the hook as the fish ejects the bait.
Smaller carp and finicky species like tench or skimmers may need the bait tight to the hook's bend to maximise hook-ups. Bigger carp, above 6 lb and into double-figures, will probably be better targeted with hairs from 6 mm to 10 mm or longer.
Longer hairs will also allow the use of double baits, bigger boilies, or multiple punches of bread for popping a rig up off the feeder.
2. Bait options
While many fishing the Method feeder will stick with dead maggots or corn, which can be simply hooked on, other baits like hard pellets, boilies or artificial baits will need a different arrangement. Even the softer baits will benefit from being mounted on a hair rig, so finding a way to mount them will help.
Bait bands can be stretched over hard baits and pulled through soft ones. Even a bunch of dead maggots can be fitted into a band. Hard baits that need drilling will be easier to load up on a plastic stop. Semi-hard baits, like most boilies, sit best on a metal spike.
3. HAIR TYING
Most manufacturers have upped their game when tying hooks-to-nylon, but it is still worth checking for consistency of tying. Carefully tightened knots, well lubricated, should not damage the line at all. A tell-tale sign is slight distortion of the line near to the knot.
The hair should run along the back of the hook shank and for best hooking, the knot will extend down the shank to opposite the hook point. Longer hairs definitely need a silicone sleeve below the knot to keep the bait perfectly positioned; some manufacturers will include a sleeve. Otherwise, think about sliding a thin piece of pole rubber down from the hook length loop and over the hook shank to help alignment.
5 OF THE BEST HOOKS TO NYLON FOR METHOD FEEDER FISHING
Drennan Method Bandits
Price: £2.35
Two sets of rigs in the Bandits range, one with very strong Barbless Carp Method hooks, the second to slightly lighter line using Barbless Carp Feeder hooks. Both run from size 8 to 16 hooks, the Carp Method tied to 10 lb or 8 lb, the Carp Feeder tied to 8 lb or 7 lb.
Reasonably well tied, with twisted hair loops holding 5 mm bait bands, the eight hooks per pack are stored in long sleeves to keep the rigs straight. Lines are a little thicker than stated and the rigs are 80 mm, three inches long.
Hooks are sharp with a swept shank. Would benefit from a silicone sleeve to change the hinge point of the hair. Bait bands sit 3 mm below the bend.
A Pushstop range with plastic bait spike is also available.
Greys BT-X Bitefinda
Price: £1.49
Finished with a simple loop, these rigs come with 24 plastic hair stops to allow easy mounting of soft or drilled hard baits. In packets of six hooks, the four-inch length is great for most Method feeder applications.
The range runs from a size 18 tied to 5.5 lb line, through to a size 10 to 7.5 lb, this being well suited to most commercial fishery carp. Line is slightly over the stated diameters, hooks are very sharp and a medium strength with a slightly in-turned point.
Hairs, including the loop, extend 12 mm below the hook bend, thus suiting bigger baits and fish. The tying is reasonable, but would benefit from a silicone sleeve. All knots are left with long tag ends to guard against slippage.
Middy Pellet Feeder Band 'Em
Price: £1.99
These packets of six rigs are super short, at two inches, so may not be suitable for every fishery, but may also offer better presentation. Well tied, with an included quick-change connector tied at the top of the rig and covered in a silicon sleeve to stop tangles.
Comes in three sizes only, from 14 to 8 lb line to 10 tied to 10 lb. The hooks look medium strength, with an in-swept point. Line is understated for diameter, the 8 lb claimed 0.20 mm is actually nearer to 0.25 mm, but the extra strength is needed.
A bait band is tied into a twisted loop and sits 2 mm from the hook bend. Will suit bagging smaller carp when there's always the chance of hooking a beast.
Guru QM1
Price: £3.49
Three sets of rigs offer the perfect bait presentation for most scenarios. Speedstop and Bayonet rigs run from size 10 to 0.25 mm through to size 16 to 0.17 mm for semi-hard or drilled baits; Bait Band rigs go from size 12 to 0.22 mm through to size 18 to 0.15 mm for softer baits or banded pellets.
Four-inch rigs are stored on flat boards to keep them straight. Each is very well tied with well-trimmed knots and windings down to opposite the hook point. Line diameters slightly under stated.
QM1 hooks are super sharp and the near circle shape offers aggressive hooking qualities. Bands are tight to the hook bend, 7 mm long bayonets sit close to the bend and Speedstops are on 15 mm hairs to take big baits.
Preston Innovations Method Feeder Hair Rigs
Price: £2.49
With a choice of Quickstop or Bait Band, these two rigs come in packets of eight. Tied with Reflo Powerline to PR C1 hooks, both types run from size 18 to 0.17 mm (6 lb 12 oz) line through to size 12 to 0.21 mm (8 lb 15 oz) line.
The hooks are very sharp and strong, in a near circle shape for excellent hooking. Very well tied with perfect placement of the hair. Bait bands sit tight to the back of the hook shank, while the Quickstop rigs have a 12 mm distance between hook and spike.
Line diameters are slightly understated. Rig length is 90 mm (3.5 in.). Will suit bagging medium to large sized carp on commercials with either soft or drilled hard baits.
All the latest inspiration, tips and guides to help you plan your next Advnture!
Running from 1964 until 2020, Angler's Mail was the UK's leading weekly magazine devoted to coarse fishing, telling readers everything they needed to know about which fish to catch, where to catch them, and what kit they needed to do it. Now, loads of the magazine's expert advice can be found on Advnture.com, as a helpful resource for angling newcomers and experts alike.