The best ice fishing rods: your guide to selecting the perfect ice fishing pole for every target species
Angling expert Carl Madison gives his verdict on the best ice fishing rods you can buy right now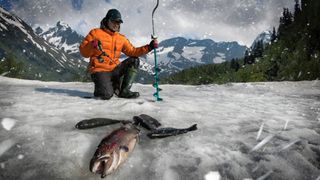 (Image credit: Getty)
As with any other type of fishing, the best ice fishing rods have become very technical with designs and rod actions often desired for a specific fishing style or presentation. This is to our advantage, because selecting the best ice fishing rod for the job will enable you to catch more fish and make doing so easier and more enjoyable, regardless of your skill or experience level.
Ice fishing poles can run the gamut from high dollar custom-built rods, to price point entry-level rod and reel combos. We would argue that you can catch all kinds of fish with a cheap ice rod if the action – the way the rod bends, works the lure or bait and reacts to a fish on the line – is correct for the purpose.
For the sake of this article, we are going to focus on specific action types with examples to help you choose the best ice fishing rod possible for your fishing. By the way, if you need some tips on what to look for when you're buying an ice fishing rod, check out the extensive buying guide information towards the bottom of this page. But first, let's look at the best ice fishing rods available to buy today, as selected by our experts.
The best ice fishing rods you can buy right now
Clam Straight Drop 27" Ultra-Light
The perfect budget-friendly ice fishing rod for bluegill and light-line ice fishing
Specifications
Action / power:
Ultra-Light
Rod materials:
Fiberglass
Reasons to buy
+
The perfect rod taper for using with very light line (1-3lb / 0.5-1.3kg)
+
It also has a sensitive spring bobber built into the rod
Reasons to avoid
-
The very specialized rod action is perfect for panfish and light line but not very functional for heavier lures or a wider range of ice fishing applications
For balancing with 2-3lb mono with a great built-in spring bobber that is delicate for not just bite detection but also for imparting a deadly soft swim action on jigs, look at the Clam Straight Drop 27" Ultra-Light rod and spooler reel combo with spring bobber. It's got a great taper for handling light lines and a shortened handle to make the entire combo fish tip-heavy for added sensitivity and finesse.
This is the best commercially-produced ice rod for bluegill that we have seen and the only way you can build a better bluegill rod is to spend big bucks on a custom. But why do that when, for about the price of a tank of gas, you can arm yourself with one of the best light line ice fishing rod and reel combos on the market.
13 Fishing Tickle Stick
Trout, bass and catfish tamer suitable for a range of ice fishing applications
Reasons to buy
+
High-vis tip is easy to watch and the backbone enables ice anglers to handle larger fish up to 7lb / 3.2kg
+
Versatile rod that can handle a wide range of lure weights
Reasons to avoid
-
Small eyelets make this rod more of an ice shack rod, where they're less likely to freeze up
-
Sensitive tip needs to be taken care of and a case should be used for transport
Trout of all types, particularly those residing in clear water, typically demand lighter line like 4-6lb / 1.8-2.7kg monofilament and small jigs combined with small hooks. The bites or strikes are often surprisingly light. Combine this finesse with a fish that fights extremely hard with long powerful runs once hooked up and you have a formidable opponent.
For combining light biting sensitivity with a strong parabolic backbone for leveraging and steering big fish, the 13 Fishing Tickle Stick in the 28"/71cm medium action is an ideal trout rod. It boasts a cutting-edge graphite blank (the name for the body of the rod) and quality components throughout. This rod model is also the perfect bass and channel catfish rod as these species are also notorious for biting light under the ice and running or fighting hard once hooked up.
Fenwick Elite Tech
Versatile choice for walleye and jigging enthusiasts
Reasons to buy
+
Fast taper and sensitive graphite blank
+
Great rod action for jigging a variety of walleye lures inside a shelter
+
Perfect balance for ⅛-¼oz glide baits or spoons
Reasons to avoid
-
Graphite does require more care in transporting and rod actions are limited
For jigging spoons and glide baits, many ice anglers chasing walleye prefer a quality graphite rod blank to get the ideal bounce and flash on a lure, whilst also having the quick response and the right action for setting the hook on the strike. And specifically for actively jigging aggressive lures and anticipating aggressive strikes, a fast action graphite blank is preferred by many experts.
In many states and provinces, anglers can also use more than one rod and anglers aggressively jig with one rod whilst placing a dead stick (a rod that's left to fish itself) set up nearby rigged with a live minnow. For a versatile jigging rod with a fast graphite taper to complete one half of this deadly duo approach, check out the Fenwick Elite Tech ice rod in the 32" medium action. It's the best ice fishing rod for working lures for walleye and it's a quality rod for the price. It's got enough backbone to win over bigger fish and it looks great in our opinion.
Berkley Cherrywood HD
Amazing value light ice fishing rod and reel package
Specifications
Length:
27-30" / 69cm-76cm
Action / power:
Light-Medium
Rod materials:
Fiberglass
Reasons to buy
+
Affordable and durable entry-level rod that gets the job done when used in conjunction with a slip bobber
Reasons to avoid
-
Soft parabolic action is poor for jigging lures and the glass construction lacks sensitivity
For finesse bites, where the fish like walleye mouth the bait, or for dead sticking in conjunction with the aforementioned jigging approach on a primary rod, anglers often prefer a lighter more parabolic action, especially for using live minnows below slip bobbers. For these finesse walleye techniques, go with something soft and moderate like the Berkley Cherrywood HD Ice Spinning Combo, which is a budget price point rod and reel duo that just has the right taper for hanging minnows.
Whether you are introducing somebody new to ice fishing or can legally use additional rods, keeping it simple is our recommendation and a combo like this is a great place to start. The solid fiberglass blank keeps costs down and the simple spinning reel offers the ability to switch from right-hand to left-hand handle positions easily. A simple slip bobber with a lively minnow rigged to a plain hook and split shot simply catches everything and this is a great value ice fishing rod to do just that.
Clam Jason Mitchell Meat Stick
The ultimate rod for crappie fishing with bait or lures
Specifications
Length:
28"/71cm - 36"/91cm
Rod materials:
Fiberglass
Reasons to buy
+
Very fast tip that is sanded down from a much heavier backbone
+
Delicate tip for watching light bites
+
Affordable rod that has been copied by many more expensive custom rod companies
Reasons to avoid
-
Tips are delicate and a rod case should be used for storage and transport
-
Eyelets are small which can make ice freezing on the line an issue when fishing outside in really cold weather
Whether you are dunking live minnows or fishing tungsten and plastic combos, small spoons or glide baits, crappie are notorious for up-biting or simply dunking the rod tip and not getting hooked. The original Jason Mitchell Meat Stick series was one of the original fiberglass rods that featured a sanded tip to produce a complex rod action that trended from ultra-light on the tip to a heavy backbone.
The sanded tip makes even the most delicate of bites stand out like a sore thumb, enabling you to set the hook more often, whilst the rod retains its stronger backbone for getting the beat on trophy-size fish. The premium Dynaflow guides are a nice touch, too. The 28"/71cm and 36"/91cm Meat Sticks are still considered two of the greatest rod actions ever designed for crappie and these models are also an ideal rod for targeting jumbo perch.
What to look for when buying the best ice fishing rods
Ultimately, the best ice fishing rods are like golf clubs in that your game can improve dramatically by using rod actions more niche-specific or specialized. What is so great for the consumer today is the amount of quality ice rods commercially manufactured and available at very affordable prices.
As we've described above, pay attention to the rod's action (usually slow, medium or fast), what it's made from (commonly fiberglass or graphite) and species you're targeting – match these factors and you'll have the best ice fishing rod for your purposes.
As ice fishing rods are so small, they're often well priced compared to much longer conventional rods and it's possible to have a number of different combos to suit varying target species or techniques and not blow the budget. This is worth doing if you're looking to improve your ice fishing – having specialist tools for the job will enhance your enjoyment and definitely help you catch more when ice fishing, which is what it's all about!
Buying the best ice fishing rods: choosing the right action and rod type of pole
What can make ice fishing so attractive for many anglers is that you don't have to spend a lot of money to get set up properly with the best ice fishing rod for the job. In fact, we would argue that you can catch all kinds of fish with a simple medium-light action fiberglass rod equipped with a spring bobber.
You can make the cheapest and most insensitive rod sensitive for bite detection by simply adding a cheap spring bobber, which is a small, ultra-bendy attachment to the end of your rod that indicates even the most delicate bites.
Buying the best ice fishing rods: the differences between fiberglass and graphite pole
Another thing to think about when choosing the best ice fishing rods is that the construction of the rod just doesn't just dictate sensitivity for detecting bites, but also influences the presentation. Graphite rod actions are typically more sensitive for feeling the bite and have a faster taper which adds more flash, water displacement and noise to the lure or jig.
Graphite rods are typically preferred for jigging walleye lures or simply jigging glide baits or small spoons for jumbo perch or crappie. Graphite also typically has a fast response for cocking the wrist to set the hook.
When we describe the action of a rod as being fast, this means the tip and rod in general will recover very quickly when you bend it and let go, putting you into direct contact with the or lure or biting fish very quickly.
This speed of action and recovery impacts the way your lure or bait moves in the water, and how much resistance a biting fish might feel against the faster or slower rod action. Generally, graphite rods have faster actions than other types and are usually more expensive due to the materials used.
Fiberglass rods typically feature softer, slower actions that are not only more durable but also more limber on the tip for watching the bite. Some light action and ultra-light action glass rods are referred to as noodle rods as they have a very soft and parabolic action.
Some glass rod actions, especially in the custom rod market, are sanded to create soft sensitive tips that load up fast to a heavier backbone. These softer tips also impart a more delicate and subtle action to the presentation, much like a spring bobber can do.
Some rod companies will list the type of action – fast, medium or slow – to describe how the rod behaves. There's also a power rating – usually light, medium or heavy – to indicate what size of fish the rod is suitable for. Generally speaking, ice fishing rods are light or medium power-rated due to the smaller size of the fish being targeted. Some companies list both power and action, others just one of the two. Sometimes they combine them into one rating to give you an overall feel of how the rod will behave.
Buying the best ice fishing rods: how to pick the right length of ice fishing pole
As a rule of thumb, anglers fishing inside a shelter or over the top of the hole while sight fishing want much shorter rod actions. Lengths of 24" / 61cm – 30" / 76cm are often preferred inside a shelter, while anglers who are sight fishing for panfish often use rods that are less than 20" / 51cm. Ice anglers that are fishing off snowmobiles or hole hopping outside often prefer much longer rod actions that might range from 30"/76cm to 40"/102cm.
But preference combined with regional fishing styles can all dictate what makes the best ice fishing rod for a particular application.
All the latest inspiration, tips and guides to help you plan your next Advnture!