How to go ice fishing: a beginner's guide
Learn how to go ice fishing in a safe, successful and fun way with this detailed guide from pro angler Jason Mitchell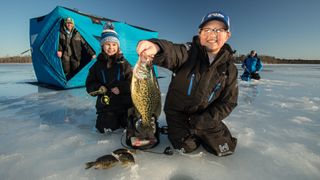 (Image credit: Jason Mitchell)
What appealed so much about learning how to go ice fishing as a child was how simple it was. We did not have much for equipment or money but were able to experience great fishing. Ice fishing felt like the great equalizer. No boat? Do not have thousands of dollars to spend on equipment? No problem, you can get started ice fishing and find some levels of success without a lot of equipment.
Imagine fishing from shore and staring out at boats that can fish all these locations you just cannot reach from shore. Once that same lake freezes over in the winter… you can walk to those very same locations.
With a simple plastic sled, a five-gallon bucket, hand auger and an ice fishing rod set up (which would cost much less than just the batteries for a twenty-four-volt trolling motor you would have on a boat) you can experience the wonder of pulling fish like perch, bass, crappie, panfish, trout, walleye and northern pike up through a hole in the ice.
If that sounds like something you'd like to try this winter, we explain how to go ice fishing with lots of tips and tactics that'll ensure you get the most out of your first sessions.
How to go ice fishing: Ice fishing safety basics
When thinking about how to go ice fishing, it's important to talk about ice safety first and foremost. As a rule of thumb with clear ice (which is usually stronger than cloudy or gray ice) you will find that most authorities recommend at least three inches of ice to support an adult on foot. Snowmobiles and ATVs typically require a recommended six inches of ice and a full-size vehicle requires a minimum of 13 inches of ice.
Just because the ice thickness is good in one location does not mean the ice is the same everywhere. Avoid areas where there is current. Incoming creeks or culverts, bridges and bottlenecks can all create hazardous ice. Freshwater springs or changes in water fluctuation can also create dangerous ice.
Check the ice frequently and, if in doubt, choose a cautious approach and carry the correct safety equipment, including safety spikes. Wear suitable cold-weather clothing and it's highly advisable to fish with a buddy for safety reasons too. Other safety considerations include wearing the correct boots for walking on ice, the use of a personal flotation device, carrying a suitable stick or poking device to check for ice thickness, telling people where you're going and when you're likely to return, and carrying a back-up cellphone charger (the cold kills phone batteries!)
How to go ice fishing: What to look for when ice fishing
Finding and catching fish through the ice is like fishing any other time of the year. For panfish, northern pike and bass, which are some of the most sought-after fish in many regions, you cannot go wrong targeting the outside edges of weed lines. Often, you can see where weeds are frozen into the ice. Simply find that edge where you quit seeing weeds and this is a great starting point.
Of course, structure like points and sharp drop offs next to reefs or shallow flats can also produce fish. Holes or channels that are surrounded by shallow water will sometimes hold a variety of fish, particularly through the middle of winter.
If you have a smartphone, you can download a Navionics app or a similar marine mapping app that will give you general contour lines for many lakes and flowages. Simply looking at Google Earth or any of the online mapping sites can also help you identify shallow weed locations along with prominent shoreline points.
How to go ice fishing: Cutting a hole for ice fishing and choosing the best auger
So, you have picked a fishy looking spot. The next step is cutting a hole in the ice. Hand augers are cheap and very effective particularly when dealing with less than a foot of ice. Some anglers also attach an auger flighting to a brushless, cordless drill. Electric augers with lithium batteries have recently become the rage in the ice fishing community as they are so lightweight and easy to use.
In fact, I would argue that lightweight electric augers are one of the primary drivers to many more young people to go ice fishing today as they are so much easier to handle than the heavy gas augers that were the industry standard just ten years ago.
How to go ice fishing: Choosing the best tackle for ice fishing – picking the right rod and reel combo
Catching a fish in this manner does not demand much outlay on rods or tackle. If you are on a budget, a simple light action ice rod with a simple plastic spool reel rigged up with 3lb / 1.4kg monofilament main line will suffice for panfish like sunfish, bluegill and crappie.
Spring bobbers are cheap and easy to use. Simply, they're a soft action bite detection spring that attaches to the end of the rod tip. Attach a spring bobber like this to the end of your rod to detect light bites from panfish. A small teardrop or panfish jig in a size ten or twelve tipped with a wax worm will seemingly catch panfish everywhere.
How to go ice fishing: Working the water column to find fish through the ice
The key for catching panfish, particularly without electronics, is working down and up through the water column to find out how far down the fish are. Crappies can be found right below the ice at times. There are other times when fish might be relating nearer to the bottom. Weeds might also be present on the bottom.
A good rule of thumb most days on many lakes for simply catching fish is to start out a foot off the bottom or weeds, and slowly work your way up. The spring bobber is not just for detecting bites but will also help your presentation when targeting panfish. Simply quiver the spring bobber and hold. Repeat this sequence and if the spring bobber moves, set the hook. Panfish eat a lot of insects and invertebrates so quiver the jig with the spring bobber to make the jig look like an insect swimming in the water.
How to go ice fishing: More tips for starting ice fishing and catching fish
Many states and provinces do allow ice anglers to use more than one line. A simple tip up – a mechanical device that helps suspend a small live bait in the water column and raises a small flag when you have a bite – can be extremely effective especially for larger predator fish like walleye, largemouth bass and northern pike. Many anglers use a live minnow below the tip up fished a few feet off the bottom or weeds. Usually, wherever you find panfish, there will also be some larger predatory fish.
If you are introducing kids to ice fishing, keeping them comfortable in the elements is the key to having fun. Hut-style shelters pop up in less than a minute and have become popular for anglers looking for an entry level shelter.
If you are new to ice fishing, do not be intimidated. There are so many great opportunities to fish through the winter in so many states where safe ice exists. If you learn how to go ice fishing, you'll be introduced to an easy and affordable outdoor activity that continues to increase in popularity each winter for all the right reasons.
All the latest inspiration, tips and guides to help you plan your next Advnture!
Midwesterner Jason Mitchell is the star of his own outdoors TV show and a leading expert when it comes to many styles of freshwater and ice fishing. He's helped millions of people catch species such as crappie, walleye, perch, bass, trout, panfish and catfish through his information-packed programmes and articles. Needless to say, Jason is also an expert on fishing tackle, angling accessories and electronics.