10 best carp fishing videos
Tim Knight picks ten of the best carp fishing videos of 2014. His selections include work by talented young UK video-makers.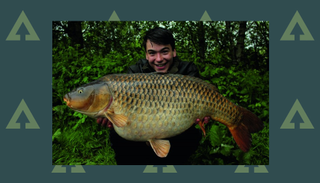 (Image credit: Angler's Mail)
Welcome to Advnture, the new home of AnglersMail.co.uk
Through ITV, Channel 5, freeview's Quest, Sky Sports, and newcomers BT Sport, the angling market has been getting the attention, and programme quality, its size and passion warrants.
BBC and ITV have brand new fishing shows on their agenda for 2015, perhaps realising what I was told by a 'satellite channel' TV scheduler a decade ago: "Fishing shows are a safe bet for viewing figures, and they are cheap."
But it's on YouTube, online and for free on demand, where every taste is catered for, and where more and more young viewers look for entertainment, rather than conventional telly.
Below are ten must-watch carp fishing videos – it's certainly carp angling where we've seen the very best coarse fishing content on YouTube during 2014.
For a mix of other videos, such as Angler's Mail columnist Steve Collett's tips series, visit Steve's playlist our YouTube channel.
1. Nash 2014 Carp Fishing DVD
Nearly 300,000 views made this the most watched carp fishing video on You Tube in 2014. It came out back in January, with subtitles in a dozen languages.
Fronted by the enigmatic legend Kevin Nash, and everyone's favourite carp screen man of the moment Alan Blair, we get to see their Nash team, and learn loads. Sure there are product placements, but this is long watch worth immersing yourself in.
There's fun too. In early scenes of surface action, Kev cheekily announces, whilst coolly playing a lumpy carp: "A good tip for you veterans – find a young lad who can carry all your tackle for you. You catch the big one and he keeps the little ones off you."
Running time 2 hours 44 mins
2. The Challenge – Supermarket Baits
Popular North East carp angler, and former England youth match international Mark Pitchers is clocking up thousands of hits quickly with every release of his 'The Challenge' series. They're being made for the YouTube channel of Fox International.
This series lives up to its title, and Mark gamely gets stuck in. We've enjoyed the whole series so far, and picked episode 4, from September, where he is set the task of catching three carp on three different baits that he has to purchase from a supermarket.
Running time 35 mins
3. Alan Blair in Euro Banx
Translated into no less than 11 languages, it's no wonder this had been a massive hit everywhere since it was uploaded to YouTube in February 2014. We were straight on it, having enjoyed Urban Banx sessions in the UK.
Alan Blair and Oli Davies set off on a European road trip across Belgium and France, fishing for carp on giant shipping canals, powerful rivers and a beautiful urban park lake in the centre of Lyon. An upbeat, fast-paced, cool production.
Running time 1 hour 4 mins
4. The Park Lake Campaign
We're a bit biased, having hosted Carl and Alex Smith's videos on our website in the early days and the duo appear regularly in Angler's Mail. But the lads' videos have just got better, and better, to wide acclaim.
This is an epic, charting the highs and the lows in the quest for their target (big) fish at a small public lake. It feels like you were there with them through the seasons, feeling the pain and sharing the glory. My steaming hot tea went flying over my lap, and the sofa, when Alex's hook suddenly pulled as a giant wallowed over the landing net.
The Park Lake Campaign is a total triumph for the level-headed Sussex boy wonders, who both now have commitments at work and in studies, but deliver for their ever-growing fanbase.
Running time 53 mins
5. Fox DVD Vol. 2 Carp Fishing Edges
Presented by Ian 'Chilly' Chillcott and starring Fox International's top team of UK consultants this is almost 4-hours long and packed with great action, tips, tactics and products. Fox have been truly prolific in producing product videos too this year, so have a browse of their channel or website to get the lowdown on their kit. Over 165,000 views for this popular marathon video.
Running time 3 hour 56 mins
6. Waste Of Daylight
Early December 2014 saw two short parts of this series made live on YouTube, with the first half below and a compact five minutes. Streetwise Austrian anglers Bastl and Nick (below) catch incredible carp from incredible urban locations.
Running time 5 min
7. Hayward's Way – Jason Hayward
We've increasingly admired video work by JAG, the precision angling metalware brand who now have James Armstrong (ex Korda), producing slick stuff.
Released in August, this video sees a rare glimpse into the world of Jason Hayward (below) in a no-holds-barred interview on carp fishing. Includes the Black Mirror, a jaw-dropping dark fish he quietly discovered two decades ago.
Running time 10 mins
8. Desire To Succeed – Oz Holness
Also from JAG, this profile of reigning British carp record holder Oz Holness (below) discusses his determination and desire to succeed in outwitting some of the finest carp that swim. Includes the stunnning Burghfield Common Carp.
Running time 7 mins
9. Carp Fishing on the River with Oli Davies
Nash Tackle's Oli Davies (below), whose work backstage with the Nash media crew we've admired, stepped in front of the camera with this December 2014 release.
Watch to see the simple tactics he uses for carp on the upper River Lea, and for some rod bending action!
Running time 8 mins
10. Korda – Carp, Tackle, Tactics & Tips Vol 6 Part 1
Published at the end of 2013, Korda have racked up 135,000 views with this particular video (below), starring Danny Fairbrass, in one full year.
Not the highest resolution (this one is 360p), but there's loads to learn here in the Korda style of information first and entertainment second.
As prolific Korda TV say: "We see no value in you watching us drag in a load of carp from some giant French reservoir with little or no tips on how we did it. In total contrast, you will see there are large sections of all our films without any carp action. We want you to know how we catch and what we catch, and the only way to get this across is to go into far more depth than we ever could in a magazine or on TV."
To watch a rake of high definition videos, with all manner of Korda-associated anglers, I recommend you browse the Movies section of the Korda website.
Running time 1 hour 26 mins
All the latest inspiration, tips and guides to help you plan your next Advnture!