Targeting big catfish
Catching a catfish is only the start! If it's a 50 or 60 Ib-er, you need skill to bring them in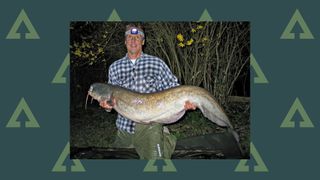 (Image credit: Angler's Mail)
Welcome to Advnture, the new home of AnglersMail.co.uk
Ever caught a big catfish? I have a love/hate relationship with the species, at the moment it's the former.
Why? Because I'm enjoying hooking into something like the 52-pounder above, the second '50' I've had in the last couple of weeks, that tries to run me ragged!
Why are carp – of all sizes – the number one species? Because they give you a damn good scrap. But it doesn't compare with the fight from a specimen catfish.
Being lucky enough to live close to big catfish mecca Wintons in West Sussex – currently the most prolific cat water in the country, (see this weeks news pages to see what's been caught already this year), I've been lucky enough to hook into a few, as they've woken up.
Like hooking a bus!
And I've forgotten how much fun they are. Speak to one or two carpers and they'll soon tell you hooking a "lively one's like hooking a bus!"
On carp gear, this season already, I know of experienced anglers who've had them on for over an hour, and left 17 stone of hefty carper "in bits" unable to lift them out of the water – at the end of the fight. Because of the arm ache.
We're talking 50 lb, 60 lb even fish topping 70 lb, which can boss you around even on 4 lb-plus rods and 20 lb plus line etc if you get a lively or big one on.
I've been "through to the handle" on one particular fish, which still got the upper hand, on heavy gear too. Hooked from the hangout of a known "60". Unfinished business that one!
On waters shared with a good head of big carp. And anglers targeting those carp. In the past I've heard of rods flying in, even whole pods launched into the drink if something jams up or if anglers make the mistake of fishing locked-up.
If a cat is hooked and spooked the power those fish have can drag the lot in, no problem at all. If you're not set up properly.
Unfortunately you can't stop them picking up your banoffi pop-up, even a zig bait intended for carp. God knows how many have been caught on Cell boilies already!
What I am learning though from the successful carpers on the water fishing 3 lb plus rods etc, is that a softly, softly approach, can kid them in. Especially sinking the rod tip match style, rather than giving them "the butt under full compression."
That could be where I've been going wrong, but sometimes your hands are tied with snags and other lines close-by and you have to pile some pressure on.
If you, like me, are drawn to the thrill of the fight, treat yourself to a few days of Wintons catting www.wintonsfishery.com or tel: 01444 236493.
Some anglers have reported over half a dozen fish in a session. If you've not had a crack for catfish before and are looking for a few good pointers tap into www.catfishconservationgroup.co.uk
Just make sure you've got enough strong string on your reel and everything's "secured down". Stepping up your rods on a carp/big cat water isn't a bad idea anyway, even if the cats don't flick your switch.
You'll need your big fish gear though including a 50 plus inch net, extra large unhooking mat and sling to match! 4 lb test curve rods, and 20 lb line aren't a bad combo.
All the latest inspiration, tips and guides to help you plan your next Advnture!