The best catfish lakes in the UK
Discover the best catfish lakes in the UK thanks to our expert assessments of each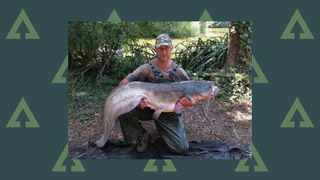 (Image credit: Angler's Mail)
Welcome to Advnture, the new home of AnglersMail.co.uk
Looking for the best catfish lakes in the UK? You've come to the right place.
Our experts have assessed six of the biggest and best catfish lakes in the country so you can find the spot that's right for you.
From the well-known Wintons Fishery in Sussex, to the extensive Cudmore Fisheries in Staffordshire, and everything in-between, we've broken down the six best catfish lakes in the UK for you.
Read on to find out everything you need to know about them, including the biggest catfish caught at each, ticket prices, locations and more.
Whichever of these top catfish lakes you choose to fish on, you're sure to find them teeming with catfish just ready and waiting to be caught.
Best catfish lakes: Wintons Fishery, Sussex
If you want to do battle with some big catfish, this three-lake fishery, nestled in the foot of the South Downs, is a prime choice.
Wintons' catfish go to over 90 lb, with plenty of 70- and 80-pounders reported.
On 6.5-acre Mallard Lake, the go-to Wintons water for catfish, the average size is 50 lb. It's not unusual to hear of an angler having a 1,000 lb-plus catfish haul from this 4-7 ft-deep lake. There are also big cats in 3-6 ft-deep, four-acre Heron Lake.
Legered 16-28 mm pellets tempt more catfish than any other bait, but boilies, meat, livebaits (caught on site), worms and leeches are all worth a try.
Fish a pellet on the deck, pop-up a bunch of worms with a polyball or deploy a dumbbell rig with a livebait for cats patrolling the upper layers.
If you adopt a pellet attack, use strong size 1-4 hooks, a reliable catfish hook link, such as 45 lb QuickSilver or 85 lb Ton Up, and 20 lb main line, though some anglers fish heavier tackle to cope with the hard-fighting cats.
These are not just catfish lakes. There are also carp to over 40 lb, and the fishery is friendly, safe and nicely landscaped, with well-maintained swims.
There's a tackle shop stocked with new kit from top brands, but there's also a selection of secondhand gear.
Other facilities include a shower, toilets, kettle, fridge, microwave, takeaways delivered to the car park and knowledgeable bailiffs who are always available for advice.
Big fish have been caught from every peg. The pick of them includes pegs 3, 7 and 11 on Mallard and 39, 41 and 46 on Heron.
Tickets: you need to be a member, costing £60 (April 1 to March 31), before you can purchase tickets, ranging from £35 for 24 hours up to £125 for 120 hours. Evening fishing is £10. Tel: 01444 236493. www.wintonsfishery.com.
Location: Folders Lane, Burgess Hill, West Sussex, RH15 0DR.
Best catfish lakes: Kingfisher Lake, Somerset
Kingfisher Lake contains approximately 50 catfish ranging from 13-80 lb, which were stocked in the spring of 2015, becoming Somerset's only officially licensed catfish water.
The lake has also produced carp to 27 lb, tench, roach and some golden rudd. The lake has two double swims and two single swims.
Legered halibut pellets (sold on site) or bunches of worms work well for the cats. They do love a livebait, too, but these must be caught on site.
Anglers who book a ticket to fish Kingfisher Lake will be given a Catfish Pro XL unhooking mat, specimen landing net and a weigh sling on arrival, to use during their session.
A number of trout and bream deadbaits are also available to purchase at the fishery, which also work well for the cats.
Tickets: £11 a day; £22 for 24 hours. Tel: 01278 732135 or 07838 152968. www.burtonsprings.co.uk.
Location: Lawson Farm, Burton, Bridgwater, TA5 1QB.
Best catfish lakes: Cudmore Fisheries, Staffordshire
This extensive complex includes five specimen catfish lakes, which are also carp pools.
The best spots for Cudmore catfish to 75 lb, including plenty in the 50-60 lb range, are near the vegetation by the islands and margins, with most caught at night.
Good baits include luncheon meat, large halibut pellets, squid and mackerel, bunches of maggots and boilies.
Anglers are catching up to three good-sized cats in 24-hour sessions.
Avoca Lake recently produced a cat of 75 lb.
Tickets: £9 a day; specimen pools £10; £30 for 24 hours, by prior arrangement. Facilities include a lakeside café and toilets. Tel: 01782 680919. www.cudmorefisheries.co.uk.
Location: Pleck Lane, Newcastle-under-Lyme, ST5 5HW.
Best catfish lakes: Fendick's Fishery, Norfolk
All five waters at Fendick's are technically catfish lakes, but Lake 3 holds the most, over 50, many in the 20-40 lb range.
A 97 lb cat was banked in 2011, though many believe that it has since died. There are also carp to 30 lb-plus and silver fish.
Top cat baits include livebaits (caught on site), big chunks of luncheon meat, halibut pellets and slices of liver.
Make sure you use strong tackle to cope with these powerful fish.
Tickets: day tickets (dawn to dusk) £10; £7 juniors; £18 for 24 hours. Tel: 07798 616477.
Location: Whittington, PE33 9GP.
Best catfish lakes: Lakemore Fisheries, Cheshire
Lakemore's catfish lakes are Horseshoe, Long and Golden. All three are stocked with quality Wels.
Eight-peg Horseshoe contains cats to over 75 lb and carp to over
30 lb.
13-peg Long Lake has cats to over 50 lb and carp to 25 lb.
Golden is home to catfish of over 40 lb, specimen carp, bream and roach.
Night fishing is available, which is certainly a good time to target the catfish.
Leger sea deadbaits, liver-flavoured boilies or a big bunch of worms.
Tickets: £30 for 24 hours on Golden and Long; £35 on Horseshoe. Other long-stay ticket options available. Tel: 07771 848801. www.lakemorefisheries.co.uk.
Location: Clay Lane, Haslington, near Crewe, CW1 5SQ.
Best catfish lakes: Rush Lyvars Fishing Lake, Hull
There's one lake dedicated to catfish fishing on this three-lake complex, and it contains fish to 35 lb.
They are currently feeding well, with multiple catches of up to six cats to over 30 lb reported. The first 40-pounder is expected to come out this year.
Seafood boilies, squid and bunches of lobs have been the best baits. Loosefeed pellets to draw them to your hook bait.
Tickets: £10 a day; £18 for 24 hours. Phone to check availability before you visit. Tel: 07582 248037.
Location: Hedon, Hull, HU12 8JU.
All the latest inspiration, tips and guides to help you plan your next Advnture!
Running from 1964 until 2020, Angler's Mail was the UK's leading weekly magazine devoted to coarse fishing, telling readers everything they needed to know about which fish to catch, where to catch them, and what kit they needed to do it. Now, loads of the magazine's expert advice can be found on Advnture.com, as a helpful resource for angling newcomers and experts alike.