The best catfish bait: how to select and use commercial stinkbaits to catch more catfish
Don't follow your nose, get our pick of the best catfish baits and expert tips on using stinkbaits that catfish can't resist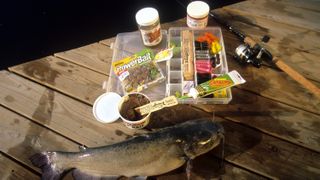 (Image credit: Keith Sutton)
The best catfish bait smells the worst. Awful odors have long been know to attract catfish. Manufacturers are lining up to offer these commercial 'stinkbaits' in different forms including dough baits, dip baits, and punch baits to help you catch them. So when choosing your best catfish bait, think about the type you need.
Pizza-dough consistency gives dough baits their name. Catfish find the scent trail they leave as they melt in the water hard to resist. But they don't always stay hooked when casting, particularly if it's hot. You can avoid this with mesh or cloth dough bait bags that contain the bait and spring-wound treble hooks to help the dough grip the hook. It's advisable to use thick dough mixtures that can be molded around the hook. Allow the bait to sit for 15-20 minutes after casting before relocating.
Dip bates won't cling well to a hook, having the texture of the kind of dip you dunk nachos into. This means they're fished with special lures called catfish worms. These grub-shaped plastic lures have holes, dimples, or rings that hold the bait. You simply stir the bait with a stick until smooth then dip in the catfish worm, drying it first to help the bait stick better. Poke bait into all the lure's openings with a stick and then cast it, let it sink, and wait for a catfish to home in on the scent. You can reinvigorate the scent by dunking it regularly in the dip to add more fresh bait.
Punch baits are dip baits but with various types of fiber added. When a treble hook is "punched" or pushed into the bait tub and pulled out, the fibers get snagged and the hook covered with bait.
In this guide, we've selected some of the best catfish bait that you can find. But that's only one important element of catching catfish. You need a rod and a line to go with that so kit yourself out with our guide to the best catfish rods and every angler wants the best fishing line. Finally, we've put all our expert tips on how to catch catfish in one place so you can hopefully land the catfish of your dreams.
The best catfish bait you can buy
Bee'-Jay's Catfish Dough Bait
This topnotch catfish catcher has a history going back almost seven decades
Specifications
Colors/flavors:
Original, Garlic, Blood, Glow
Reasons to buy
+
More than a dozen secret ingredients trigger catfish to feed
+
Easily molded around a treble hook
+
Shelf life of two to three years
Reasons to avoid
-
Catfish often swallow the baited treble hook, preventing healthy catch and release
-
Not well suited for fishing in heavy current
Bee'-Jay's has been catching catfish since 1953 when brothers Bob and Rudy Zurbuchen in North Kansas City, Missouri, came up with the secret formula still used today. The men spent countless hours testing mixtures until they hit on one catfish can't resist. They named it Bee'-Jay, the "B" standing for Bob and the "J" for Junior, which is what everyone called Rudy as a boy.
Original cheese-flavored Bee'-Jay's Catfish Dough Bait has added fiber to keep the bait on a hook. It works best when molded into a pear-shaped ball around a size 6 or 8 treble hook, covering the shank and points well. Fish on bottom or with a cork, allowing it to sit until the catfish-attracting scent permeates your fishing hole.
Four additional fish-catching flavors are available, too: Garlic, Blood, Lady Luck (cheese flavor with a pink tint) and Glow. The latter comes as pre-shaped dough balls ready to put on a hook and start fishing. It blends Bee-Jay's original bait recipe with light-emitting technology for fish to not only smell, but see. The Glow Bait will recharge when left under any type of light for six hours, and will continue glowing for six more hours.
Berkley Gulp! Catfish Dough
Scientists spent years formulating this extraordinary enticement for catfish
Specifications
Type:
preformed dough bait
Colors/flavors:
Bloody Blood, Bloody Chicken and Bloody Shad
Reasons to buy
+
Water soluble for much faster, broader scent dispersion than similar baits
+
Natural biodegradable formula
+
Catfish love the taste and smell
Reasons to avoid
-
Higher price per ounce than many other baits
Anglers believe the worse a bait smells, the more catfish it will catch. To make it so, they add some fetid ingredients to their secret-formula mixtures – things like Limburger cheese, putrid fish, congealed blood and animal entrails. Berkley's Gulp! Berkley' Catfish Dough incorporates a more scientific approach with the addition of less-odorous attractants produced through thousands of hours of laboratory research and field testing.
Each pre-formed bait nugget is made to soak up water like a paper towel, allowing copious amounts of the proprietary Gulp! scent inside to disperse throughout your fishing hole. Because the scent field is much larger than that created by other dough baits, catfish are attracted from greater distances and can quickly find your fishing rig.
We've found the durable, long-lasting dough works great on treble or bait-holder hooks. It's not as prone to fly off as many other baits. Packaged in resealable bags, it's also easy to store and transport. You can keep a bag handy in your tackle box so it's ready to use at a moment's notice, unlike natural baits.
Junnie's Wicked Sticky Catfish Dip Bait from Cat Tracker Bait Company
You may have to hold your nose while you prep for fishing with this bait, but that bad smell draws catfish like kids to an ice-cream truck
Specifications
Colors/flavors:
Regular, Sewer and Blood
Size:
15oz jar, 60oz bucket or 4 gal pail
Reasons to buy
+
Pungent aroma quickly gets the attention of hungry catfish
+
Double-sealed containers resist leakage at home, in a boat and during transport
Reasons to avoid
-
The horrendous smell is good for catfish, but not for catfish anglers or their partners
Junnie Mihalakis of Dubuque, Iowa founded Cat Tracker Bait Company in 1988 to market his specially formulated, highly effective catfish bait products. Dip baits were his specialty, and Junnie also designed many of the plastic catfish worms that make fishing with dip baits much cleaner and easier today.
The Wicked Sticky name wasn't just a humorous moniker. The Regular formula is a thick, cheese-based dip bait that will stick to catfish worms in the heaviest of currents. The cheese byproducts used to make it are recycled from the dairy industry.
The darker, richer Sewer Bait really smells like it came from a sewer, but catfish can't seem to resist the stomach-turning tang. Cat Tracker says it's most effective during hot summer weather, and having fished successfully with it for years, we'd have to agree. (Don't get it on your clothes or you might have to burn them.)
The key ingredient in the blood-flavored Junnie's Wicked Sticky Catfish Dip Bait is dry livestock blood, which makes this dip bait high in amino acids that stimulate a catfish's strong senses of smell and taste. This type is specially formulated for use in cooler water and air temperatures in spring and fall.
Magic Bait Stick-It Punch Bait
Cheese, fish and attractant oils blend to create one of the best enticements for catfish on today's market
Specifications
Colors/flavors:
Brown/original only
Reasons to buy
+
Long fibers in the mix reduce the sling-offs common with many commercial catfish baits
+
Four attractant oils added, not just one or two
+
When used correctly, your hands and clothes stay clean and bait-free
Reasons to avoid
-
One flavor only; if catfish refuse it, alternatives are lacking
-
Not effective on trophy-size catfish
The container pretty much says it all: "stick it in, pull it out, go fish – simple easy fun." That's how punch baits like this work. You use a stick or paint stirrer to push a rigged treble hook down into the bait, be sure the hook is well covered, then pull on your line so the hook comes out of the tub at an angle. Fibers mixed in the bait get snagged on the hook, so the gooey yucky-smelling punch bait won't sling off when casting.
What makes Magic Bait Stick-It Punch Bait really special is its unique combination of ingredients. Each batch contains a base of ripened cheese plus a special blend of ground fish and four attractant oils (liver, asafetida, garlic and shrimp). All this is mixed in small batches to distribute the attractants and fiber evenly throughout the bait. The resulting mixture has a super strong scent and flavor that's proven to drive catfish nuts. We've found it great for hooking up with eating-size blue and channel catfish, and occasional flatheads.
Rippin Lips Bootleg Catfish Dip Bait
Rippin Lips spent years testing different batches of dip bait and came up with two you can use to catch whiskerfish year-round
Specifications
Colors/flavors:
Sweet & Sticky, Bold & Bloody
Reasons to buy
+
Catfish love it
+
Having two different formulas gives options when catfish are tight lipped
+
Tubs have heat-gathering black lids that help keep bait soft and workable in cooler conditions
Reasons to avoid
-
That wonderful stinkbait aroma lingers if you accidentally get Bootleg on your clothing or boat seats
Founded in 2008, Rippin Lips Fishing of Chambersburg, Pennsylvania is one of the newest catfish bait companies (They make rods, hooks and a variety of other catfishing products, too.) That doesn't mean the company's bait products are any less worthy of your attention, though.
We think Rippin Lips Bootleg Catfish Dip Bait works as well or better than many higher priced baits that have been on the market for years. It's super sticky, like molasses, and clings to catfish worms much better than many lesser-quality enticements. But you'll still have to re-dip often, because small channel cats and blues gobble this stuff up really fast. When your rig is in the water, the bait gives off a powerful scent trail like a miniature chum line.
Following countless trials, Rippin Lips narrowed its line to two distinctive blends: Batch No. 17 (Sweet & Sticky) and Batch No. 131 (Bold & Bloody.) The former is a great all-purpose dip bait for use year-round in lakes or rivers. The latter is loaded with cheeses, real livestock blood and an extra kick of bite-inducing amino acids. It is more of a warm-weather dip and excels in lakes, streams and ponds in late spring, summer and early fall.
Stubby Steve's Chubby Stubby Pellets
These sparkly tidbits of fish food are eagerly devoured by catfish everywhere
Specifications
Colors/flavors:
Lightnin' Bug (yellow), Brown, Scorch Red
Size:
4oz/4-7 pieces per package
Reasons to buy
+
Super hard to sling off the hook; won't come off in heavy current
+
Different colors can be used for increased catches in various water conditions
+
No bait works better where catfish thrive on a diet of commercial fish chow
Reasons to avoid
-
Heavyweight adult catfish are more likely to dine on fish and other abundant forage, ignoring artificial baits like this
Virginia veterinarian Steve Munsey watched catfish in ponds eating commercial fish food pellets and had the same idea every catfish angler in that same situation has had: what I need is a bait that closely resembles that fish food.
That prompted Munsey to take actual fish chow and mix it with rubber latex to create a soft, flexible pellet that's easily impaled on a hook and, once there, is incredibly hard to remove. After three years of experimentation, those pellets evolved into Stubby Steve's, The Artificial Fish Food Lure. And those have now been created in a larger size for larger fish called Chubby Stubby Pellets.
Fish feeders are commonly seen on many private catfish lakes, where growth rates of channel catfish can be considerably enhanced by feeding them a couple of times a day. But Stubby Steve's Chubby Stubby Pellets don't have to be used where feeders are present. They work anywhere catfish swim. As soon as one hits the water, fish food particles and attractant odors disperse for an immediate chum trail. After fishing for a while you can use scissors to snip the ends off and you'll have a fresh "new" piece with exposed fish food. Keep doing that until you have nothing left.
Team Catfish Sudden Impact Fiber-Enriched Bait
Few baits rate higher when it comes to catfish appeal and hook-ability
Specifications
Colors/flavors:
original only
Size:
12oz, 24oz or 1 gal
Reasons to buy
+
Bait quality is unaffected by high outdoor temperatures; no need to store in a cooler
+
Long hair-like fibers incorporated in the bait help end cast-offs
+
Bait ingredients attract catfish very quickly
Reasons to avoid
-
Works primarily on catfish less than 10lb / 4.5kg; not a trophy catcher
Team Catfish's Sudden Impact Fiber-Enriched Bait is different from other punch baits on the market. Not only is the bait loaded with a variety of top-secret ingredients that draw catfish in and coax them to bite, it's also full of long hair-like natural fibers that get snagged on the barbels of bare treble hooks so the bait holds together on your hook, even in extreme summertime heat. Team Catfish says the bait won't fall apart even when temperatures reach 100-plus degrees.
Sudden Impact is definitely foul-smelling, but that pungent fragrance let's you know that eating-size catfish won't be able to resist it. Team Catfish has made the bait really easy to use, too. Just stir the mixture until it's soft and smooth, then push in a #6 treble hook. Pull out the hook and repeat until the hook is loaded to the desired level. You also can give the bait a good stir and then use your fingers to form a compressed ball about three-quarters inch in diameter around the hook. Cast it out, let it melt and get ready for action.
What to look for when buying the best catfish bait
With scores of commercial baits on the market, how do you pick the best one? From decades of experience, we've identified these five characteristics to rate the quality of the baits you try.
1. How much does it appeal to catfish?
A measure of how quickly a bait attracts a catfish to bite, if at all. This is probably the most important quality by which commercial baits can be rated and the reason we buy catfish baits in the first place. If a bait does not rate high in cat appeal, it is useless to the angler.
2. How well does this catfish bait stay on the hook?
A measure of the catfish bait's propensity to stay on the hook, especially when casting. If the bait falls off or melts off the hook too quickly, the catfish angler's catch rate is likely to drop. The best catfish baits cling to the hook, or to a catfish worm in the case of dip baits, even when the angler has made several casts. The last thing you want is to lose your bait before you've caught anything.
3. How bad does this stinkbait smell to you?
Whether or not a bait produces an odor objectionable to the angler; the intensity of that odor. The stinkbait bouquet if you like. Despite popular misconceptions, catfish fans do not enjoy smelling like entrails and old socks. And stinkbaits don't necessarily have to be objectionable to human senses in order to attract catfish.
4. How messy is this catfish bait?
Some baits stick like glue to human skin, rods, reels, boat seats, etc., creating an excessively messy situation. That can be troublesome, especially on nights when the angler is slapping pesky mosquitoes. The best catfish baits aren't too messy to handle and won't leave you with sticky, stinking reminders of your catfishing trip on your clothes and gear.
5. How much does this catfish bait cost?
The price of a bait. Current markets usually fall within these ranges: inexpensive (up to $0.50 per ounce), moderately expensive ($0.51-$0.99 per ounce) or expensive ($1 and up per ounce). Catfish anglers should also take into account the cost of peripheral equipment (catfish worms, specialty hooks, etc.) that is required to fish a catfish bait.
All the latest inspiration, tips and guides to help you plan your next Advnture!
Keith Sutton's passion for outdoor adventure has taken him to blue-ribbon fishing destinations on four continents, making him a true expert in his field. Along the way, he's become one of America's best-known outdoor writers and photographers and earned the nickname "Catfish" because of his passion for chasing those whiskered warriors. He has written 13 books, including Hardcore Catfishing, Fishing Arkansas, The Crappie Fishing Handbook and Out There Fishing, and in 2012, he was enshrined in the National Fresh Water Fishing Hall of Fame as a Legendary Communicator.