Is the number of UK anglers growing?
Colin Mitchell asks whether we can ever know how many anglers there are in the UK – the numbers don't stack up!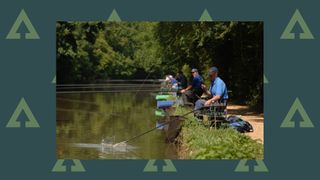 (Image credit: Angler's Mail)
Welcome to Advnture, the new home of AnglersMail.co.uk
I've often wondered just how accurate the figures are for the number of anglers in the UK. We know that a record 1.5 million anglers bought licences in 2009, an increase of 500,000 from 2000.
Yet in the late 1970s—early 1980s there were figures bandied about of 2m anglers… that obviously doesn't ring true if you believe those 2009 figures. Something or someone obviously got figures wrong there!
During 2014—15 we were told there were 1.2m licence sales and figures suggest that last season there was a drop to 1.1m licence buyers.
Note that I said buyers! How many people went fishing and didn't actually buy a licence?
Yes, I agree they should, just like I have every year since I started fishing more than four decades ago. In those days you needed a different licence to fish in different water authority areas of the country and as I travelled a bit that often meant three or four licences every season. That came to an awful lot more than the £27 we pay now… and we were only allowed to fish with one rod per licence!
So where is this slump?
Facts and figures can be used in different ways to suggest different stories. We all know there is a slump in the number of juniors going fishing – but are there some very young anglers coming through who do not have to buy a licence?
Official figures tell us that there are a lot more pensioners going fishing – no surprise as they are long-term anglers who have got older and people are now living longer.
Fishing tackle shops are shutting down – three near me in the past three months alone – but is that really a guide to there being less anglers?
The shops that remain open are mostly well-stocked and that will have helped to force the demise of their competitors.
Plus there are now many much larger tackle shops than we used to have, which will encourage people to travel to get all they need in one hit.
And of course there is mail order via the internet which makes a massive difference to some people (even though it's not like supporting your local shop where you not only get gear and bait but usually good banter too). So what's the reality on the bank?
Never seen the place so busy
Last week Music Mike and I decided on a slightly later start to a local day ticket water, just an hour later than normal, but when we got there the car park was solid.
I have NEVER seen the place so busy, not even when there is a match on and the water is boosted by day ticket anglers on a nice sunny day.
Luckily there is another bigger venue just a short drive away so we immediately zoomed off down the road. You can guess what happened – this place was solid too, the car park totally full.
The bailiff, as he knows us, let us walk around the three lakes and make a decision on whether we wanted to fish before buying a ticket. There were so few swims left that we declined and set off on our travels for one last attempt at a day's sport.
Two of our club waters we could have gone to were hosting matches – and with an already healthy demand for day tickets on the remaining spots we knew to avoid those venues. So it was a trip into the wilds to a venue well hidden away, which you can only get to by car.
There were just two anglers there! Result…Another seven anglers turned up after us and that meant the water had the numbers we would expect on a quiet day.
The Big One
A few weeks ago I was at The Big One fishing show in Farnborough, excellent except for the problems getting into the car park, and especially good because of the extra floor space giving plenty of room to move about.
Around 20,000 anglers went to the show over the two days. Remember they paid to get in – they were there to look at new gear and buy stuff and some had travelled significant distances to get there.
One exhibitor told me had recovered the cost of his stand in the first 90 minutes of the first day… So do we believe the licence figures, the number of anglers on the bank or the sales of fishing tackle?
Whichever you think is right or wrong, there is no doubt that angling is still one of the most popular sports-hobbies around. And rightly so!
All the latest inspiration, tips and guides to help you plan your next Advnture!
Running from 1964 until 2020, Angler's Mail was the UK's leading weekly magazine devoted to coarse fishing, telling readers everything they needed to know about which fish to catch, where to catch them, and what kit they needed to do it. Now, loads of the magazine's expert advice can be found on Advnture.com, as a helpful resource for angling newcomers and experts alike.