Vintage rods: a nostalgic look back
New equipment is great, but vintage rods hold high appeal for many.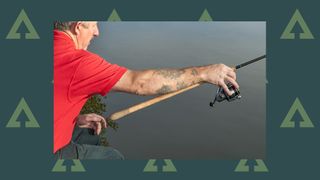 (Image credit: Angler's Mail)
Welcome to Advnture, the new home of AnglersMail.co.uk
Colin Mitchell shares his memories of vintage rods...
There's no doubt we now have the best fishing gear ever produced – but many anglers of a certain age will still hark back to the days of their favourite piece of kit.
More often than not that item is a rod. And over the years there have been some amazing rods about!
My first rod was an old garden cane but soon I progressed to a six-foot long solid glass job with a plastic handle that was discovered at a Jumble Sale.
Then I moved on to my pride and joy at seven foot long, a white spinning rod – Milbro if I remember correctly – which was used for everything (yes even the odd spot of harbour fishing for coalfish!).
Later, the ultimate tool came into my possession, an 11 foot three piece 'match rod' from Bernard Sealey, rather than the more recognisable Edgar. It was in two sections with a separate butt and believe me this was something special as it was a hollow glass tool and was unbelievably light compared to everything else we had been using.
From then the mists of time become a bit confused as so many rods seemed to come and go (well ok they rarely went, but were stashed away 'just in case'). But I do remember my East Anglian Rod Co Tipster rod – as you can guess it had an incredible tip action; and its smaller brother leger rod, both finished in a sort of green hollow glass.
And of course there were the Shakespeare Internationals, arguably the benchmark rod for any would-be match angler. I had the 12 and 13ft and have to admit the shorter was something else to use!
We'll skip past the closed face reels that bore the same name – let's just say they didn't do such a fine tackle company so proud as the rest of their gear.
The carbon revolution
And after the advent of the hollow glass rod came carbon, the amazing new material we now all take for granted.
Way back then – more than three decades – it was awesome. Rods that were lighter, responded totally different to glass and of course which carried a bigger price tag.
Not long after they were 'born' I was part of a match group backed by Craddocks to fish the Scottish National and we all got to use one of their new rods. Sadly we had to give them back…
But I'd seen and felt enough to hurtle down to Ken Collings' KC Angling, my nearest shop those days, to buy two of their own carbon rods that were created around the still-famed Normark blanks. I still don't know how I was persuaded to sell them a few years ago…
Next up was a range of boron rods from Shakespeare. These were very much an acquired taste, bit like Marmite. No doubt though that they were part of rod revolution history.
Now…well you can buy ten carbon rods for what we paid for the first ones, and most of them will be useable!
Like most things though, the more you pay the better you will get with mainstream brands, although the quality of rods you can get for around £50 is awesome!
As much as I like a bite of nostalgia, I don't think I will be going back to the garden cane…
When it comes to this time of year with colder nights, shy biting fish and sometimes clearer water do you stop using groundbait?
Big mistake! Groundbait can be a killer in these conditions but used wisely it can also be a bite maker!
I also have one area of my swim where I feed groundbait no matter what the conditions. If it is colder I riddle the mixed bait to remove any feed or lumps and feed very, very steadily…quite often feeding a golf-ball sized lump and then no more until I have had a bite or fish or two.
When the water is clearer I much prefer a darker groundbait and quite often bulk it out with molehill soil which also makes it that bit darker and heavier to get to the bottom.
The added bonuses are the bugs and other fish-attractive items that remain after the moles have dug the soil and that's why I collect fresh hills.
Another trick is to include just a very, very tiny amount of actual feed in the groundbait in the form or live or dead maggots, casters and chopped worms.
I really do mean a tiny amount – for example maybe half a dozen pinkies, or similar.
It's amazing how this small amount of feed can turn fish on to feeding on a day when they look as though they have shut up shop.
All the latest inspiration, tips and guides to help you plan your next Advnture!
Running from 1964 until 2020, Angler's Mail was the UK's leading weekly magazine devoted to coarse fishing, telling readers everything they needed to know about which fish to catch, where to catch them, and what kit they needed to do it. Now, loads of the magazine's expert advice can be found on Advnture.com, as a helpful resource for angling newcomers and experts alike.